Barn finds are very popular these days in the classic car classifieds world. The term itself is often applied to literally any car storage scenario which can raise a few eyebrows. Many are genuine "barn finds", locked away and forgotten about for decades. Regardless of how the term is used, barn/garage finds always get classic car enthusiasts just a little bit excited. We all dream of one day of stumbling across an old classic parked up, covered in dust, each layer telling a story of the cars past. In our latest film we talk to Alan Gleaves about his search for a Triumph TR7 and how it lead him to find a very special car.
The story of the Triumph TR7 is one of "what might have been". It was after all the sports car that was supposed to carry forward the TR legacy. And the struggling British Leyland group desperately needed a fast selling car. Their answer was a very British take on the popular wedge concept.
Designed by Harris Mann, it was a radical break from tradition. Despite the firms best intentions, the TR7 was dogged with controversy from the moment it was launched. Triumph TR6 fans felt that the new TR7, with its modern wedge design, was a step too far away from the more muscular and well received TR6. And then there was the cars build quality reputation. Numerous strikes at the Speke factory in Liverpool in 1977-78, affected the production of the early cars, which were noted for being poorly built and suffered from inadequate corrosion protection.
Despite the negatives, the new Triumph was a big hit in the US where it was first launched in 1975. Even the UK didn't get the new TR7 until 1976 as BL wanted to push for the more lucrative US market. Despite the initial success in the US, the cars reputation affected sales. Improvements were made when production was shifted to the firms Canley and Solihull plants. But the changes arrived too late to save the car. Even the long delayed Rover V8 powered Triumph TR8 wasn't enough to save it.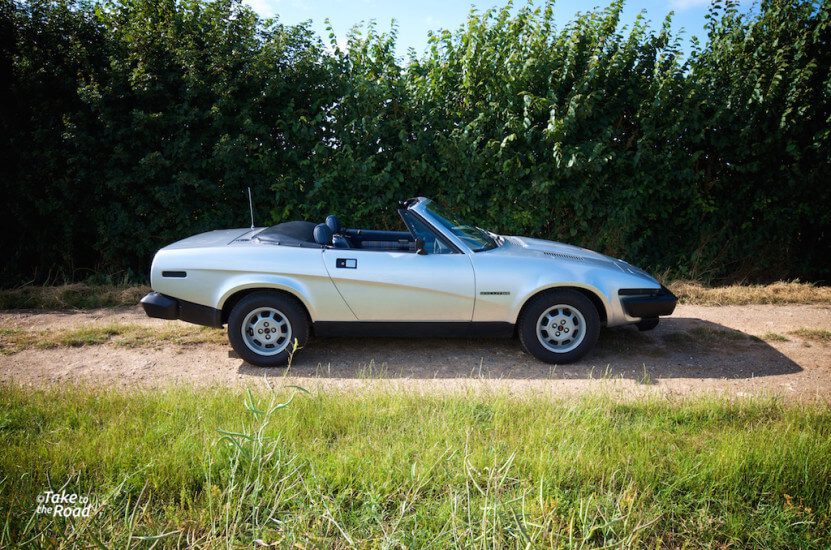 You could say I have started this story on a slightly negative note. It is something you can't avoid with the TR7 however. Had it been a success and stayed in production for longer, history might have been kinder. But that is something that each Triumph TR7 owner knows only too well and takes in their stride. Despite the history and the controversy, Alan always had his heart set on owning a TR7 one day. He fell in love with Triumphs answer to the wedge design as a kid and that fascination ultimately led him to the purchase of his 1981 Triumph TR7 convertible last year.
For us classic car enthusiasts, searching for a car can be a painstaking exercise. It can be very exciting hunting high and low for "the car". But at the same time it is very hard to resist the urge to jump on the first one you see. You just want it! Because of the TR7s reputation, prospective buyers really need to be careful and know what to look out for. There are an awful lot of basket cases out there. And with the TR7s reputation for rust, rotten examples are best avoided. Which is what makes Alan car quite special.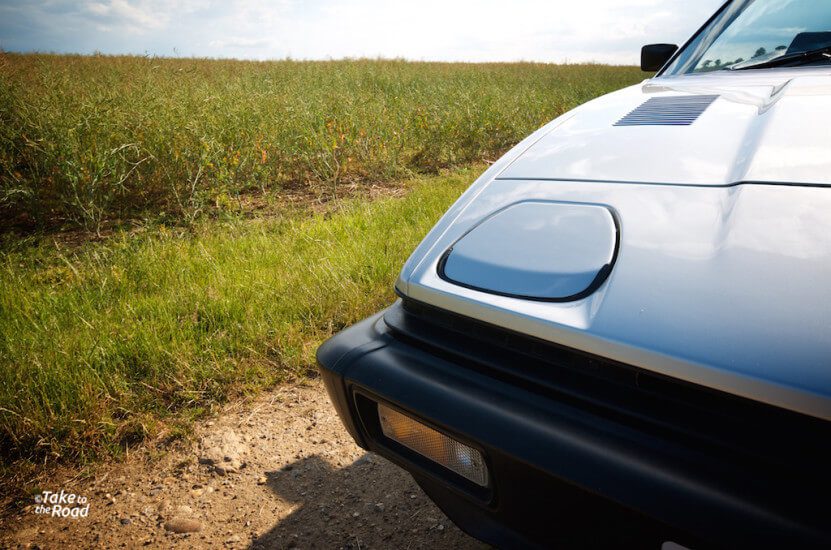 After searching long and hard for a good TR7, Alan finally stumbled across a silver convertible which hadn't moved in over ten years. There was just 8,500 miles on the clock. At this stage the atypical skeptical enthusiast instinct kicks in, questioning the validity of the mileage. Unfortunately little history came with the car so officially its 8,500 miles were unwarranted. But there are times when you have a gut feeling and know that the condition of the car speaks for itself. And that is exactly what Alan felt when he saw the car in storage. Yes it needed recommissioning. The radiator had silted up, the hood was faded and tired and there were a few electrical items that needed attention. But… there was no rust! The body was immaculate, its paintwork looking as it did when it left the Solihull factory.
In fact the whole car was remarkably well preserved. Usually when a classic is "dry stored" for over ten years, especially in the typical UK garage, there is a high likelihood that some rust will have set in. Our lovely climate here is normally never more than a few days away from damp and only properly climate controlled garages can keep it at bay. With this TR7 it was clearly stored very carefully, away from the dreaded damp. Therefore credit must be given its four previous owners who obviously looked after this car. It may have only covered 60 miles in ten years but that didn't mean it was completely neglected like so many TR7s were when they were parked up.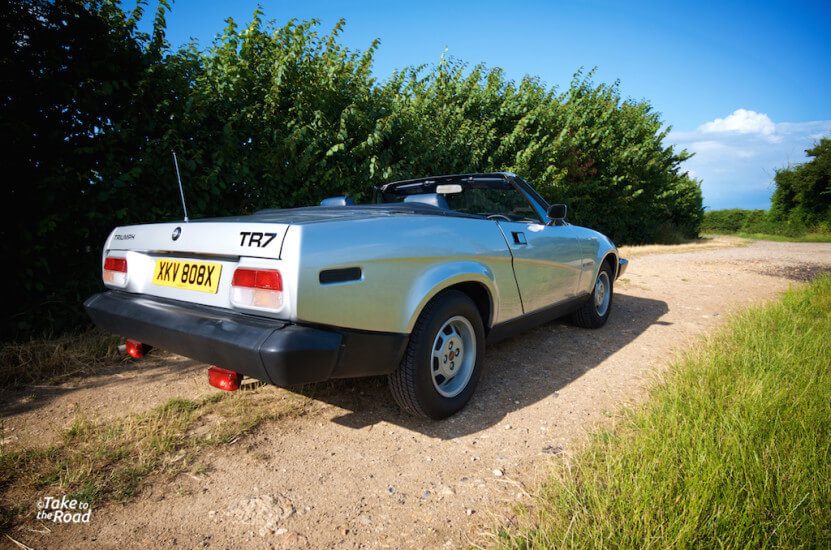 When I first set eyes on Alan's Triumph TR7, I was immediately taken with how fresh it looked. The Argent Silver paint looked in amazing condition. As did all of the body trim and the bumpers. The whole car gave the impression it had been restored only a few years ago. The interior was also in superb shape. There were a few marks here and there but nothing to detract from the over all condition of the 34 year old Triumph. Its bold tartan cloth seats were just as vivid as they would have been in the Triumph dealerships showroom in 1981. And the blue leather was a nice combination with the silver paint (Maserati used a similar combo with the 3200GT). As part of the recommissioning of the car, Alan replaced the old black factory hood with a new blue hood. Not exactly as it left the factory but Alan felt the colour worked and it does.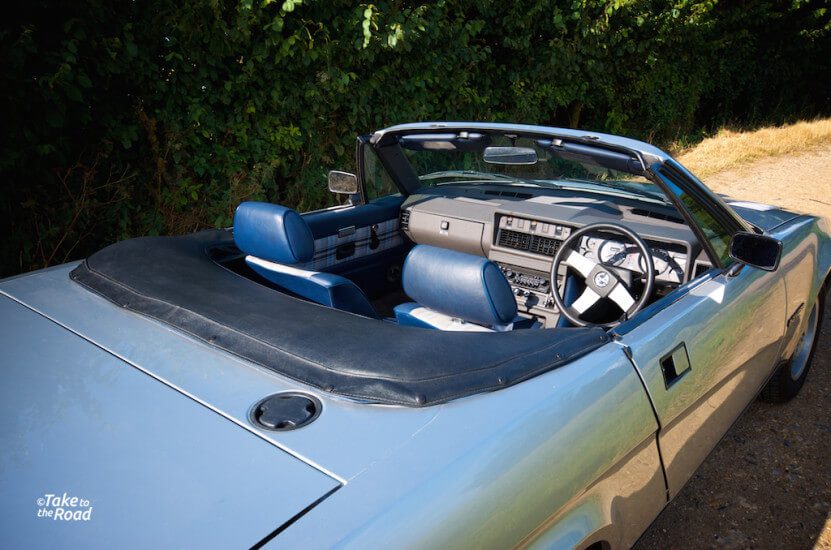 The TR7 has often been compared to the Fiat x1/9 due to their similar wedge designs. As the owner of a Bertone x1/9 I was really interested to see how the TR7 interior compared. I have to say it is actually very roomy and very comfortable. The cabin is nowhere near as cramped as the x1/9, though the Italian cars seats offer more bolster support. Obviously being a full convertible means there is much more "air" around you than in the Targa x1/9. But I would actually say the TR7 is more comfortable to drive long distance than an x1/9. Plus it has a big boot so it is also more practical.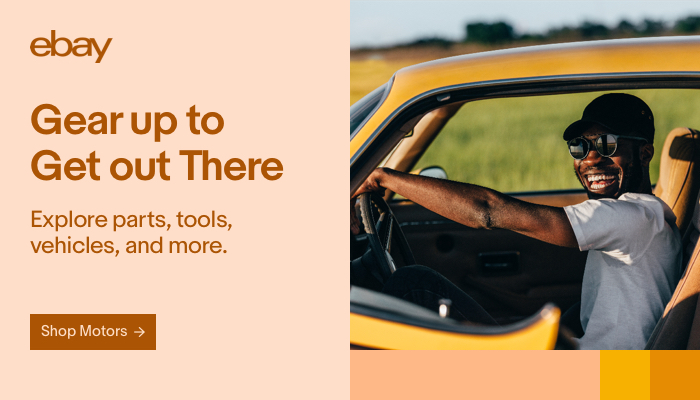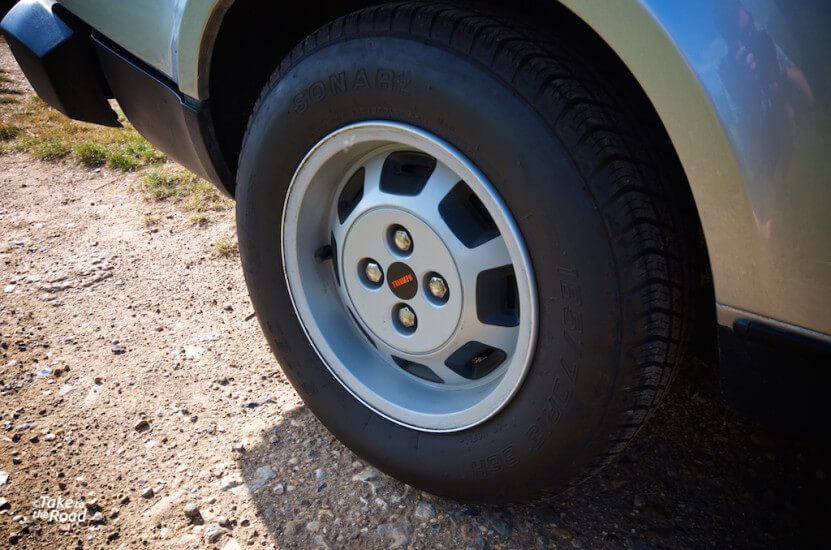 Performance wise, the Triumph Dolomite derived 2.0ltr engine is actually quite nippy. The car feels very responsive in the lower gears and it can keep up with modern traffic very easily. It doesn't have the more throaty note of the TR6 six cylinder or its extra 45+BHP. But the TR7 feels a different car altogether. It was after all aimed at the US market where it was assumed its customers were more interested in comfortable cruising than with being able to chuck their TR into a bend with the back end kicking out. The TR7 suspension isn't setup for that type of driving. While the Rover V8 would obviously sound more epic, especially with the top down, the Dolomite engine suited Alan's car just fine.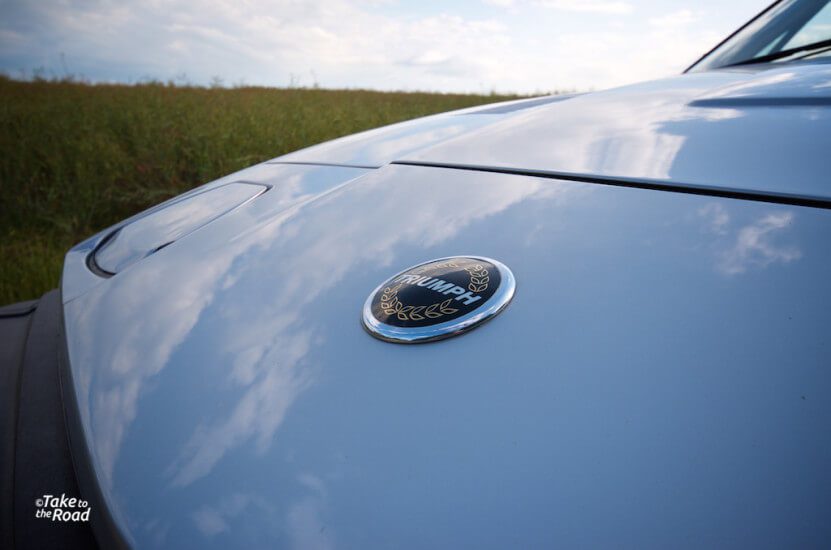 With classic cars more popular than ever before, it comes as little surprise that the Triumph TR7 is now becoming more appreciated and understood, more so than it was in its own time. This has been helped by a growing fan base and a wide range of specialists who can refine a TR7 and make it more reliable. Alan's story shows us that if you look hard enough you can find the right car.
As "barn/garage finds" go, it is the type of gem we all hope to come across one day. And when you do find the one, knowing it's yours is just as rewarding as the drive itself. For Alan he eventually found his dream car and was rewarded for his diligence and patience. And as one of the last 1,600 Triumph TR7s built before the car was cancelled in 1981, Alan knows he owns a wedge shaped slice of Triumph history.
Check out more photos from our shoot on our Facebook page: