There is a saying among the car enthusiast community that you aren't a true petrol head, until you have owned an Alfa Romeo. I have yet to drive – let alone own – an Alfa so I guess that doesn't make me a true petrol head … for now.
Much has also been made about the joy and pain that comes with owning a car by a marque that at times has outshone Ferrari and Maserati. A glance over Alfa's portfolio of past cars reveals some simply stunning designs. Take, for example, the jaw dropping Tipo 33 Stradale, or the aggressively beautiful 8C, or even the practical yet sleek 159 saloon. All have an elegance and beauty that just seems to come naturally to Alfa's car designs. And there are many more I could reference, such is the depth of Alfa's portfolio. It also helps to employ a design house that has penned some of the greatest cars ever created: Pininfarina. And the Alfa Romeo 1750 Spider Veloce, also know as the Duetto, was one of these cars.
The design was the last to involve the master himself Battista "Pinin" Farina and it was a project worthy of one of Italy's greatest ever car designers. It was a shame the great man died only a month after the original 1600 Duetto was revealed to the public in 1966. Little did he know that his design would endure for 27 years.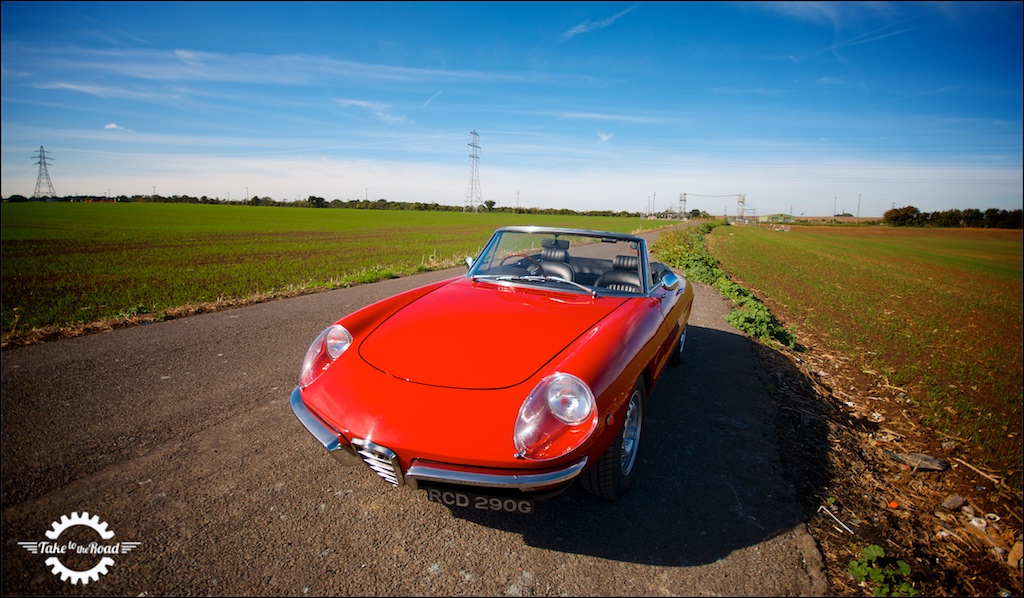 The Alfa Romeo 1750 Spider Veloce is like a Renaissance masterpiece on display in a fine art gallery. You walk past, glance and then realise you need to stop to take in what stands before you. What strikes you first about the Spider is its shape. It's just beautiful and is actually surprisingly simple with an almost uniformity between the front and rear. The sloping form, which earned it the '"Boat Tail" nickname (one of many it acquired), give the convertible an extremely elegant and pleasing appearance.
Coming from an era when cars were treated to lashings of chrome, it is somewhat refreshing that the 1750 wears a very restraining amount of it. Everything from the front to rear bumpers, to the door handles, the wing mirrors, the front grill… all feel like subtle brush strokes that are the finishing touches on a masterpiece.
They are perfectly proportioned and help enhance the car's shape. The covered headlights, a common practice in that era, keeps the front end streamlined and curvy. You really can just sit and admire the Spider for hours. The simplicity of the exterior is matched by the simplicity of the interior. The vinyl seats (which actually look and feel like leather) are comfortable with lots of leg room. The cockpit itself presents you with a clean and simple painted dashboard, matching the exterior colour. There are a minimum number of gauges meaning the dash is not fussy or cluttered. There is nothing here to distract the driver.
It really is a lovely example of the "less is more" principle. The angling of the fuel, oil and temperature gauges towards the driver is a nice touch and reinforces that this is a drivers' car. The gearbox which is positioned quite far forward, has it's gear leaver angled back allowing you to rest your hand, poised ready for the next gear change. And, for those of us used to modern cars, the floor mounted pedals seem slightly unusual but not out of place.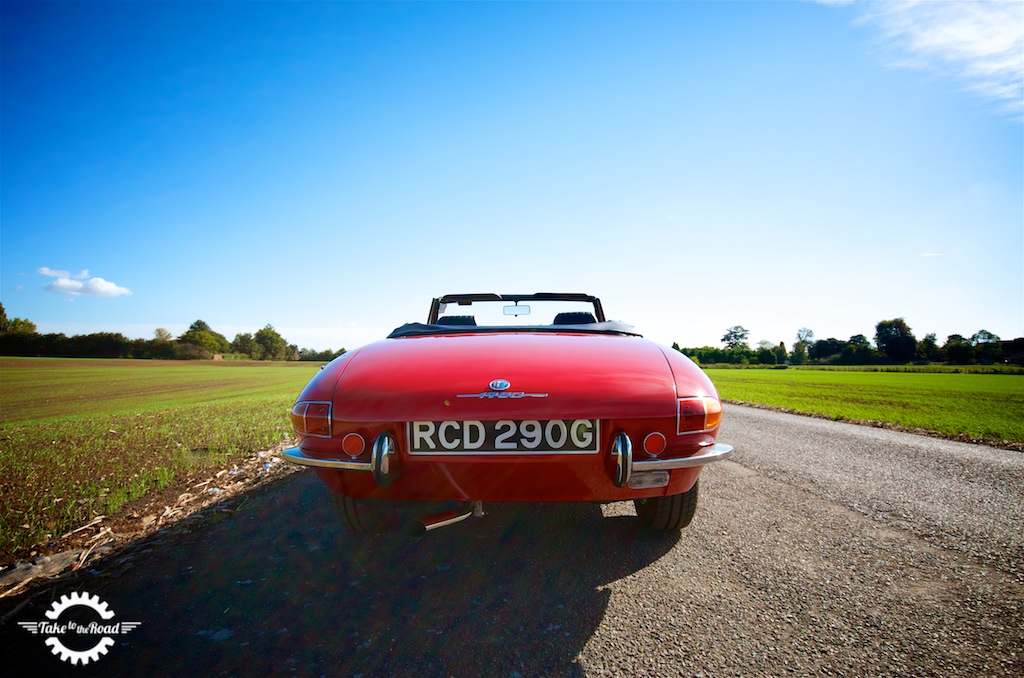 One could be forgiven for assuming that the Spider, based on it elegant looks, is a quiet and sedate car. As soon as the 1750 twin cam engine fires into life, you realise you are in for a treat. There is an eagerness from the engine and a brief hint of what is to come with a blip of the throttle. As it pulls away and the twin carbs open up, you suddenly realise this is a very rapid car, going from one gear to the next in quick succession. It immediately puts a smile on your face. And that smile turns into a very wide grin as the revs build and the engine roars. It has a wonderful rasping note that encourages you to drive quickly, very quickly.
The soundtrack is fabulous and like typical Italian twin cams it just loves to rev, giving the impression the car packs much more than its 115BHP. At this stage, I'd like to point out this is my experience as a passenger. One can just image what it is actually really like to drive. It is clear that Alfa managed to find the perfect balance between a comfortable, stylish cruiser and a capable racer. It has the pace and handling to tackle any road, keeping up with modern traffic with ease. And yet it is just as happy cruising along in a sedate and civilised manner. The perfect mode of transport for a trip along the idyllic Almalfi coast. Or Lake Garda. It's in that league.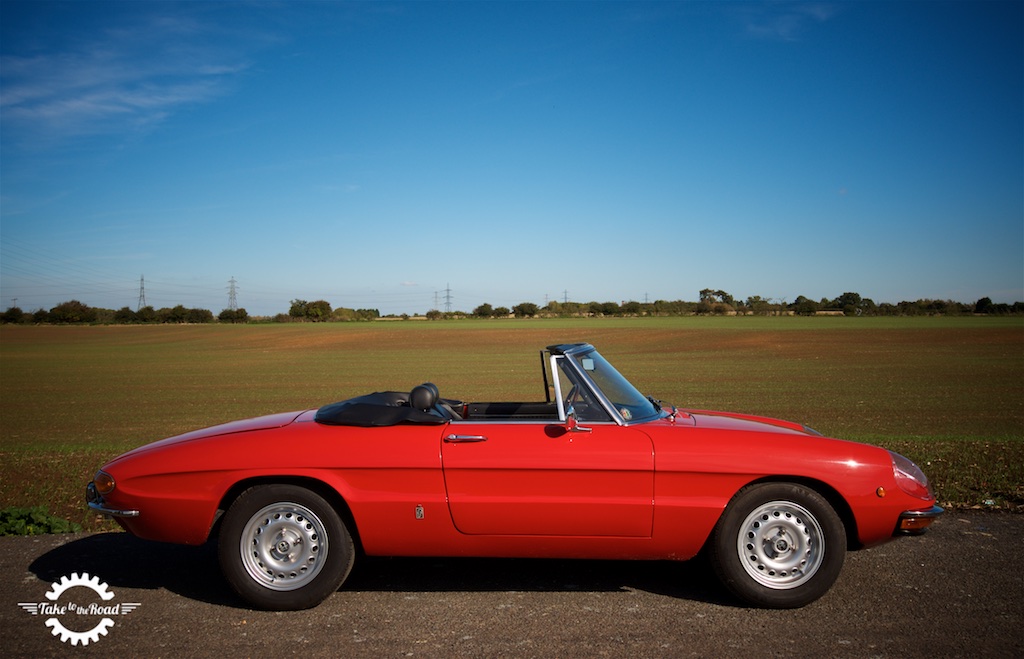 Of course one can't talk about the Alfa Romeo 1750 Spider Veloce without mentioning the film The Graduate. Directed by the late Mike Nichols (who won an Oscar for Best Director), it launched the career of a young Dustin Hoffman. The other on screen star was of course the then newly launched Alfa 1600 Duetto. Its sleek lines, red paint and racy looks fitted perfectly with Hoffman's on screen character. And it appealed to many a young aspiring gent from that generation. I mean who wouldn't want to be Benjamin Braddock, speeding along the freeways in a shiny new Italian convertible, the wind in their hair, listening to Simon and Garfunkel's Mrs Robinson on the radio. Not a bad combination really.
Article Photography by Deirdre Moynihan ©