Electric and hybrid cars are all the rage these days with all the major car manufacturers scrambling to offer their own take on this new and fast growing sector of the automotive industry. Most seem to be playing catch up to Tesla who are leading the way and have been for some time. This increased competition has lead to rapid advances in the industry, primarily in the area of battery efficiency, which has always been the achilles heal of electric cars in the past. These technological developments have finally made mass produced eco friendly cars a reality. And they haven't been confined to just brand new cars. A few enterprising individuals have been beavering away with attaching electric motors to old cars for years.
Richard Morgan of Electric Classic Cars has been doing just that and has created an impressive 100% electric 1965 VW Beetle. His approach takes a fresh look at classic cars, treating them to a full electric conversion whilst maintaining the classic look. And I was fortunate enough to take his electric Beetle for a test drive.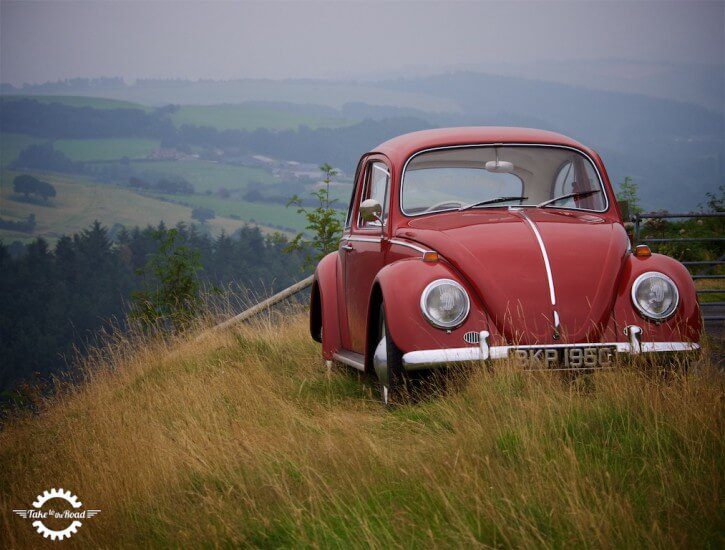 When I spent the day filming with Richard and his electric Beetle down in Wales (watch the interview here), I was really impressed with the whole package. The classic 1965 VW Beetle looked fantastic in its stock guise and there was nothing to give it away, until you switched it on and drove off. At that moment the classic Beetle went from being a cute and charming old car to something very different… something from the future. The whir from the electric motor sounded so unusual. We've become so accustomed to the sound of the flat four boxer engine that anything else seems odd at first. And it does sound odd. Especially when you sit in the car for the first time.
As the day passed and we moved from location to location, I was amazed at how the Beetle drove as it zoomed along the roads ahead of me. It was quick and glided round corners with ease. So when Richard gave me the keys at the end of the day, I couldn't wait to try it out for myself.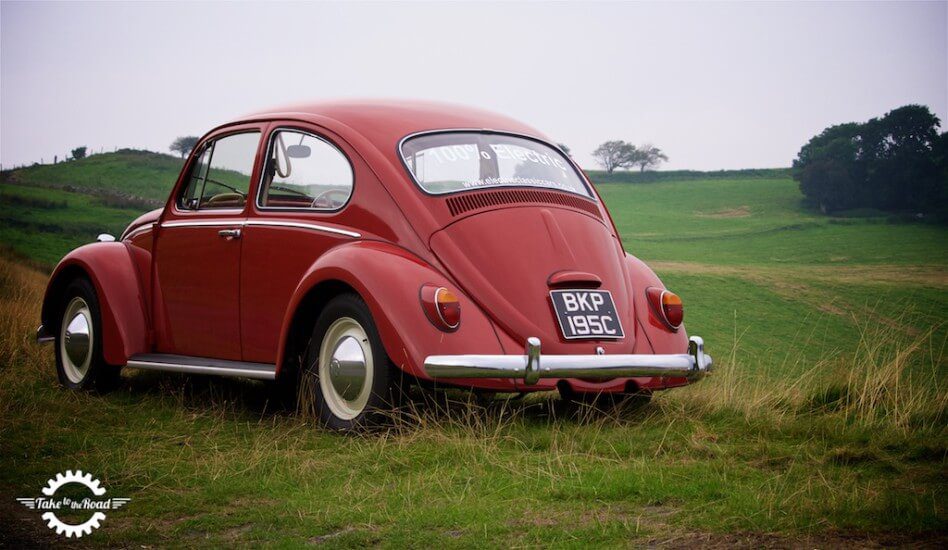 My first impressions of the Beetle was that while it was 51 years old, it also felt rather new. The car had been freshly restored by Richard so it was in great condition. But the rest was down to the sound coming from the "engine bay". It was very different to the norm which added something to the cars charm. Everything on the exterior and the interior was stock and it looked exactly how a 1965 VW Beetle should look. And that is this cars party trick.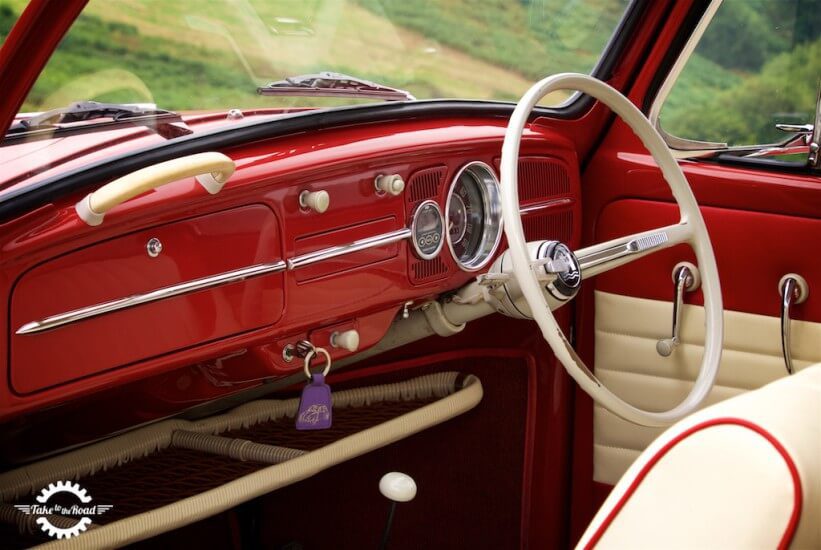 Turning the car on produced an electric hum from the motor. There was no ignition cranking to fire a combustion engine into life. You just turned the key and it was instantly on. I put the car into 3rd gear and I was off. The motor whirred into life and the electric Beetle seemed to glide away as if by magic. It was quiet and it almost felt effortless.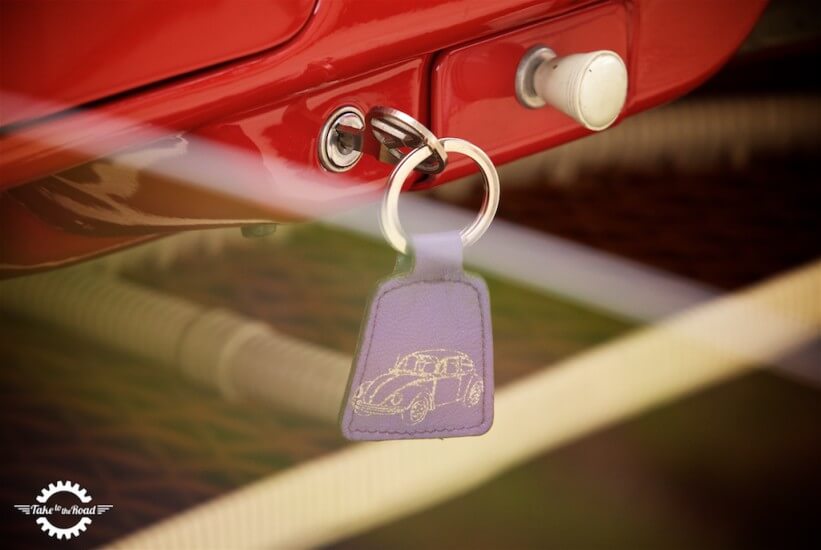 Now at this stage I should point out that during the film, I didn't mention the gearbox at all. I guess I was so wrapped up in the electric Beetles driving experience that it slipped my mind. But to be honest the reason I didn't mention the gearbox was because it wasn't needed. The motor has so much torque that you can pull away in 3rd gear and as I was driving on mostly A/B country roads, I didn't need to change up into 4th. Basically I was driving an automatic which made the whole driving experience feel effortless.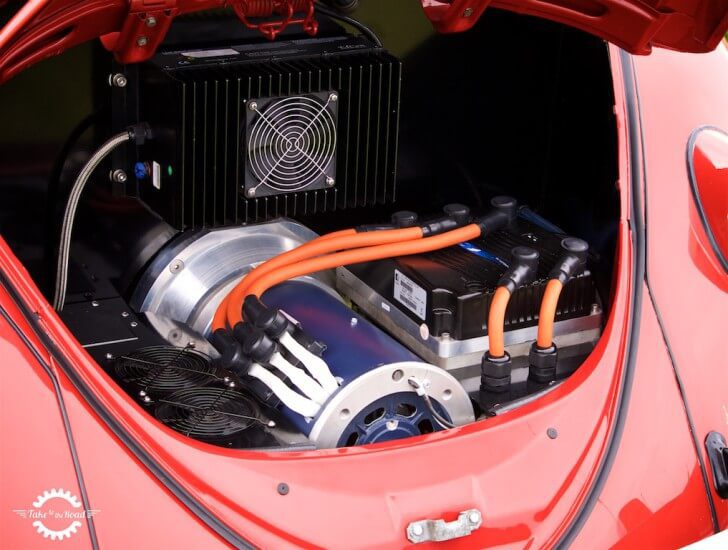 As I zoomed along in the Welsh countryside, I fell in love with how the electric Beetle drove. The power delivery from the motor was instant. In eco mode the throttle response was impressive but if you wanted to make things go faster, a quick flick of a switch on the dashboard and you had what is best described as "insane mode".
The acceleration pushes you back in your seat and it really takes you by surprise. The acceleration is so quick it actually becomes addictive. On a couple of occasions I had the odd "modern" car tailgate me. I was driving what appeared to be a slow and old Beetle after all. The best way to deal with that was to show them what they were dealing with. I would have loved to have seen their faces as I zoomed away leaving them for dust. That was a lot of fun!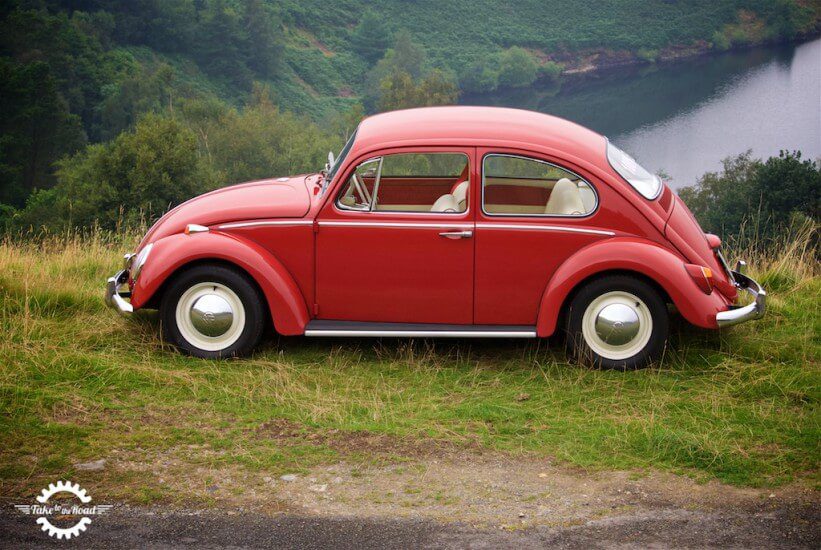 The Beetles handling was also huge fun. It was so good I found I was able to push it into corners at speed and just power out of them. Thanks to the anti roll bar at the front and the rear camber compensator kit, it stuck to the road like a limpet. And it was even using period correct skinny tyres. You could add some bigger rims and tyres for extra grip if you wanted.
The steering was also light and precise and thanks to the balanced weight distribution, the Beetle felt planted on the road. The brakes were good for an old classic. Not amazing by modern standards but they worked well to reign in the huge amounts of torque on offer.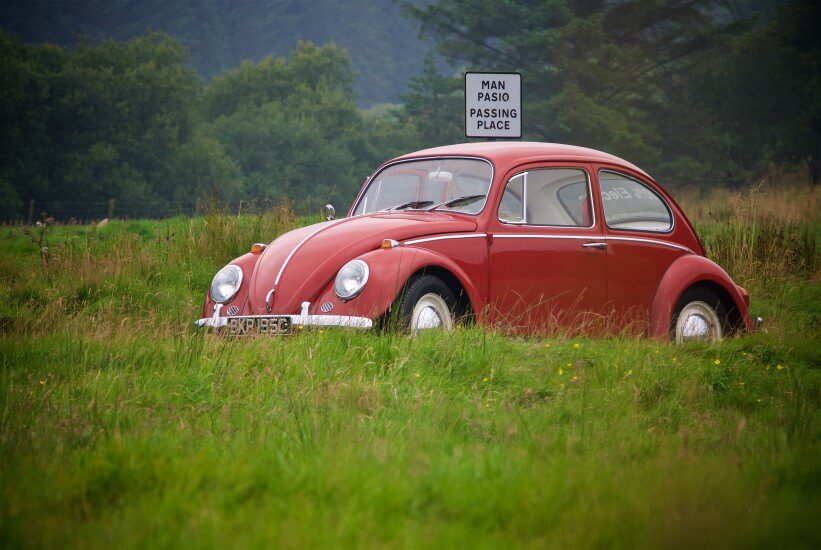 The more I drove the car the more I found I was enjoying the drive. It was fun and exciting and a real adrenaline rush. Did I miss the sound of the petrol engine? Yes I did but the electric motor made its own satisfying sound as it spooled up and got faster and faster. It really did make it sound like a spaceship. It was cool, it was quick and was different. Yes the petrolhead part of me is a bit torn over this car but at the same time I loved it.
For many petrolheads this conversion isn't for them. It's missing the petrol, the engine and the accompanying sounds and smells. And for some purists this car is no longer original as its missing its factory installed engine. Yes the original gearbox is still used but its no longer a matching numbers car (though Richard does retain the original engine should the owner want to swap it back in).
But this is where Electric Classic Car's approach is different. They see a converted classic car appealing to those who've always loved the idea of owning a classic, but have been afraid to get one. Richard's electric Beetle really is a plug in and go classic. The inherent problems that usually go with owning and maintaining a classic are gone. It is virtually maintenance free. All you need to check are the brakes, suspension and gearbox. There's no engine oil to change, no risk of the radiator overheating and no carburettors to tune. And thanks to the zero emissions coming out the back, this electric Beetle would be welcome in any city.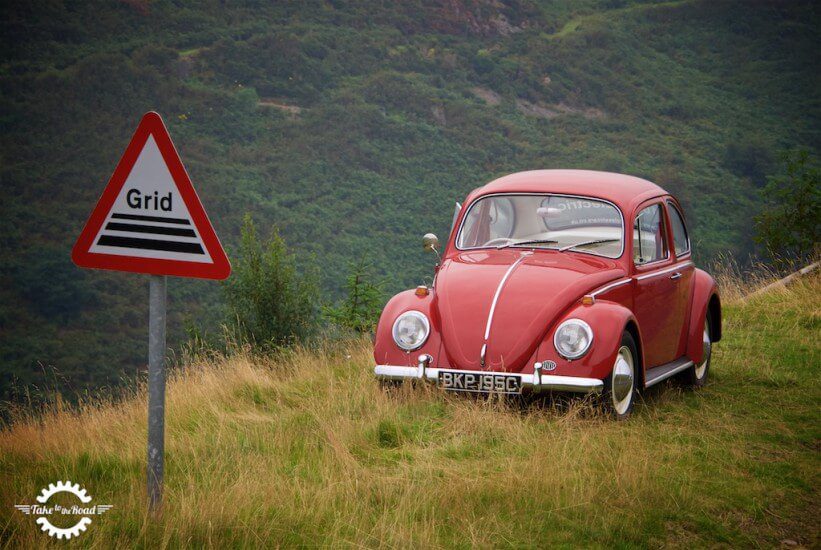 So is this the future for classic cars? Yes I believe it is one of the many futures that lies ahead. With pollution in our biggest cities rising, the push towards electric cars is only going to become greater. And classic cars won't be immune to this. I do think there is a market for converted electric classic cars. They won't appeal to everyone but they will have their place in the new and fast growing EV sector. I mean what better car can you have to go alongside your Tesla or your Nissan Leaf? An eco friendly classic electric Beetle to go alongside your eco friendly modern family car? I think that works very well indeed.
For more information on what Richard Morgan and Electric Classic Cars can do head on over to their website.