Saying that someone is dedicated to classics is a phrase that could be applied to most classic car fans. Not everyone shares the same level of passion or interest however, as for some its more about the style and the look than about saving and restoring a piece of automotive history. But one thing is certain. We are all united by our passion for classic cars.
I first met Darren Sullivan Vince at a Waterloo Classics Car Club meet on the 18th June last year. Chatting away about cars, as you do when you are at a car show, I quickly realised that Darren was more than just a fan of classics. As we walked down Lower Marsh Street Market in London, admiring the many classics that had turned up, he showed me around his Volvo 1800ES.
He described how the car had sat for over twenty years and that it was all in bits when he acquired it. He rebuilt the whole car himself, with the exception of the bodywork and paint. It was finished in Aston Martin Silver Birch, not an original Volvo colour but it was one he felt suited the lines of the Volvo estate. And we have to agree. Its a colour that works really well on the Scandinavian shooting brake.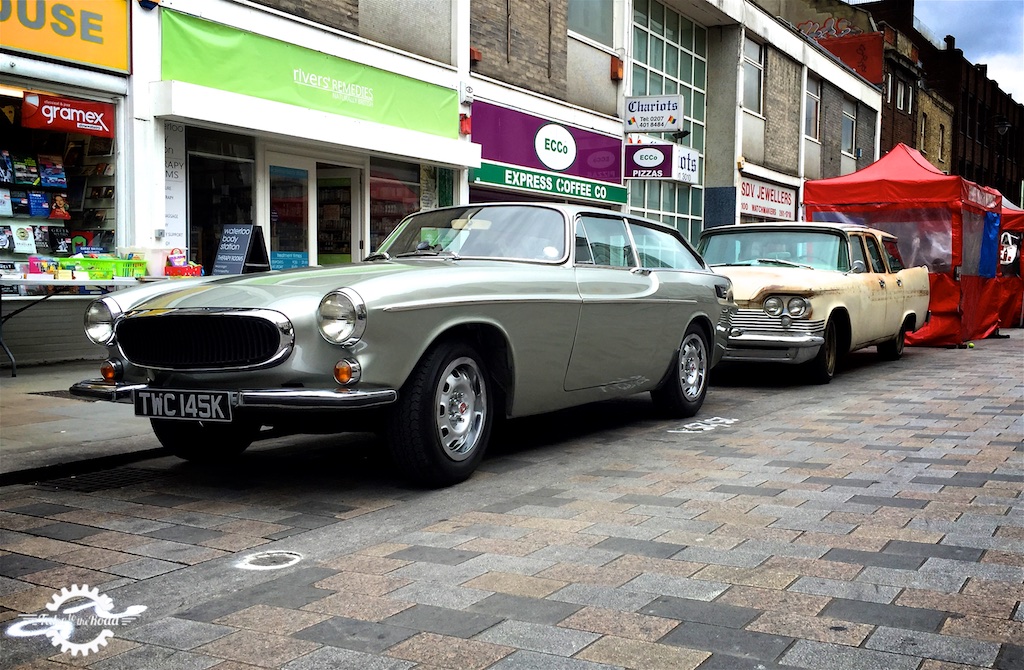 He then went on to mention his other cars… a Triumph Spitfire Mk4, a recently acquired BMW 502 restoration project and another project car, a little Austin A35. At this point I knew that Darren was more than just a classic car fan and that he had a story to tell. I mean its not everyday you meet someone who is so into his cars that he goes and sets up his own classic car club. This is just one of the many reasons why I believe Darren is dedicated to classics.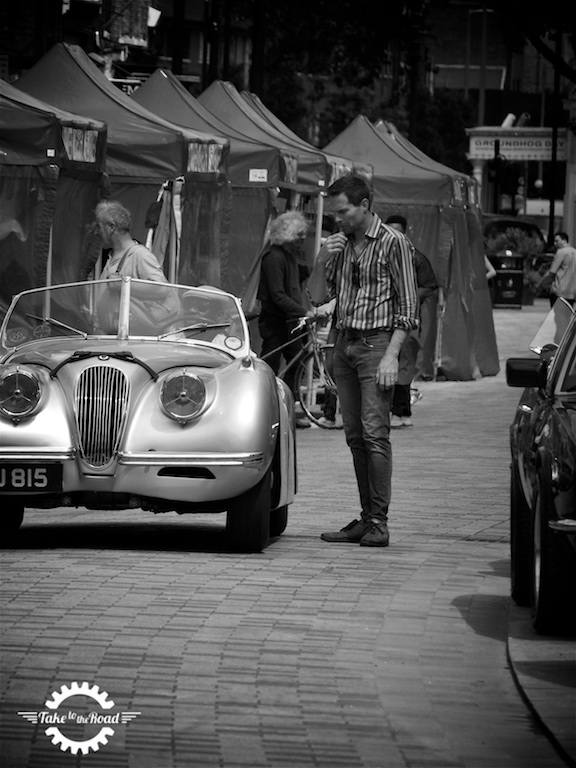 Owning a classic car in London isn't easy. The streets are congested, its hard to find parking and worst of all, finding a place to store your pride and joy out of the elements is next to impossible. So having a garage, let alone a workshop is something that most classic car owners have to do without. And its something that really frustrated me when I lived in London with my Bertone x1/9. Not having a place where you can tinker and work on your car is extremely frustrating, especially when you have a long list of jobs that need sorting. Basically, if you have an old car, you need a garage. Its as simple as that. Darren and some of his friends however were very lucky and stumbled on an absolute gem of a location for their cars. On the south side of the Thames, they managed to find an unused secure underground car park that is now home to a fascinating collection of classics. Thanks to the buildings flexible rules, some car owners have been able to convert their double parking bays into secure garages, creating the perfect storage and workshop combination. Its something we classic car owners all dream of and when Darren showed me around the man cave, this hidden jewel of underground classics, I have to say I was just a little envious.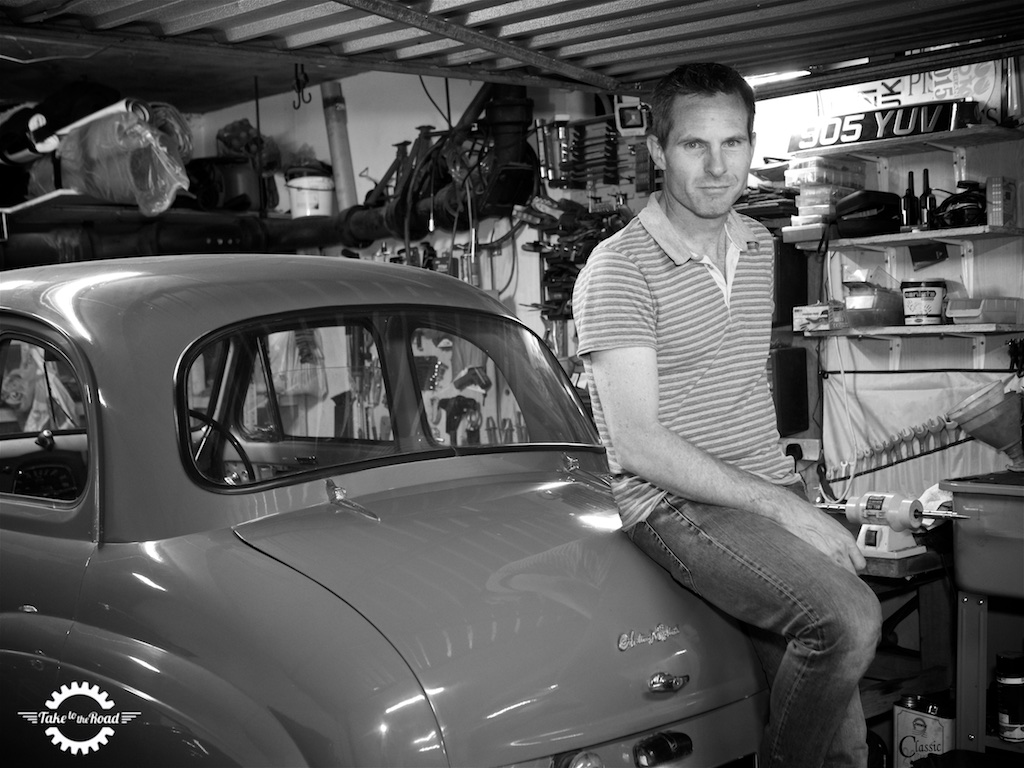 What I liked the most about Darren's workshop is that it was an honest enthusiasts garage. It was functional with all the necessary tools to work on a car. He had used the space to rebuild his Volvo 1800ES, to upgrade and improve his Triumph Mk4 to Mk5 specifications and he was using it to get his little Austin A35 back on the road. There wasn't any room for the BMW 502 "Baroque Angel" but that was at the body shop having a nice shiny new coat of paint applied. It wasn't quite a revolving door system that he was operating, but I really liked the idea of acquiring a project classic to sell on and help pay for the restoration of another. It doesn't always work but when it does, its a nice feeling.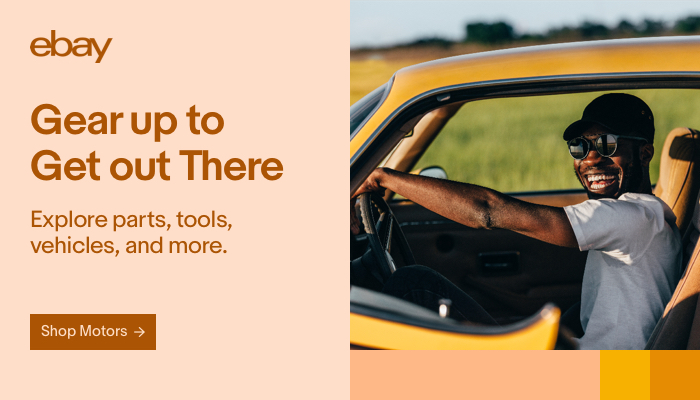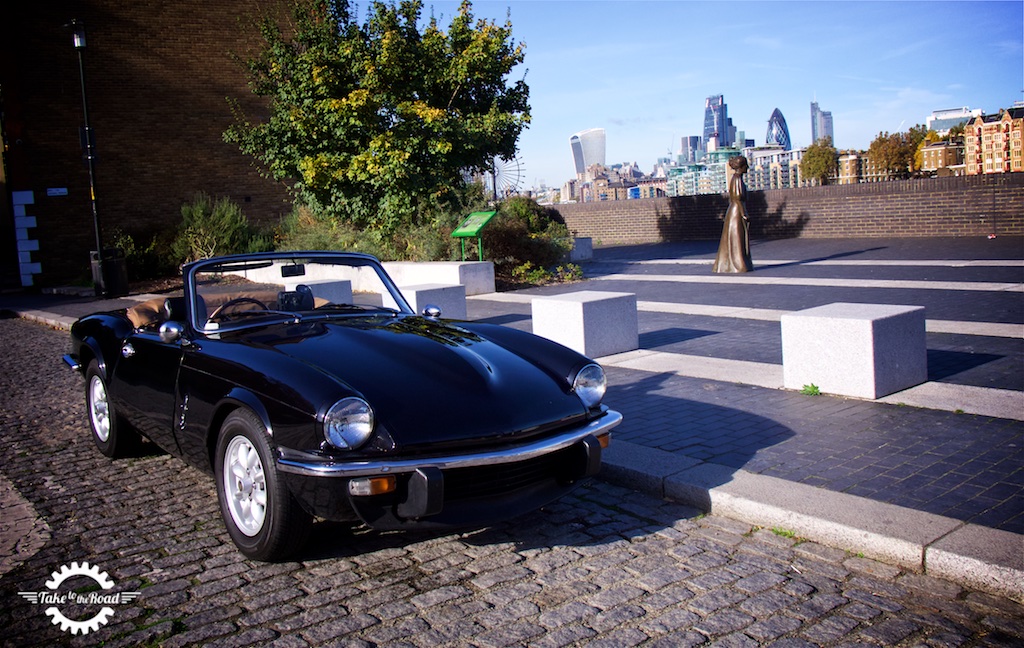 His current collection of classics are all fascinating thanks to their different characteristics. The Triumph Spitfire MK4 actually looks quite mean with its deep black paint finish. The Spitfire is a small roadster especially when its parked alongside a modern car. It sits very low to the ground and to me has always looked a very small car, but appropriate for its time. But for some reason Darren's Spitfire seemed bigger. Not quite a muscular as a GT6 but it had a presence to it. It sounded good too with a nice rasping note from the exhaust! And it drew quite a few admirers during the film shoot by the Thames that day.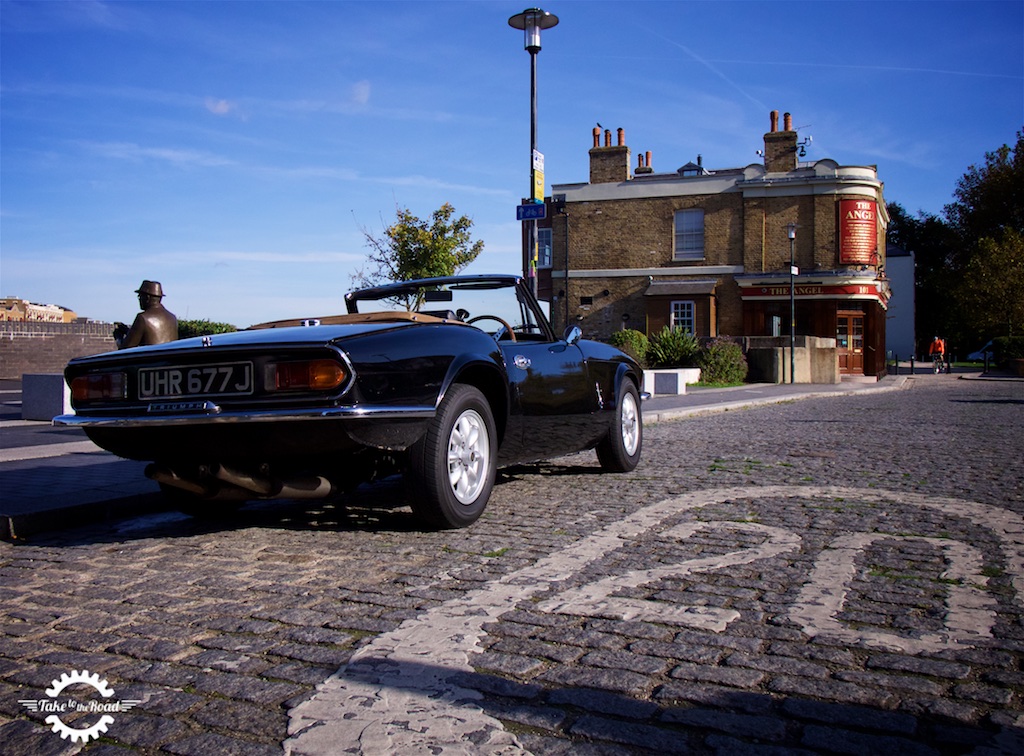 Hi other car, the Volvo 1800ES was very cool indeed. That's not a phrase you'd normally associate with a practical estate, but the P1800 was and still is the coolest coupe every designed by Volvo. So by default, the ES estate is also cool. It just has more room for stuff in the back, like a picnic basket, as Darren's has. I actually drove the Volvo for a little during the film shoot and I immediately fell in love with it. The engine was lively with good acceleration and the clutch and gearbox were excellent. Despite its size and age, it coped very well indeed with the busy London traffic. I liked it so much that now I want one. And I think our two Beagle hounds would like a nice classic estate to drive around in. Yep! That's sold that idea then!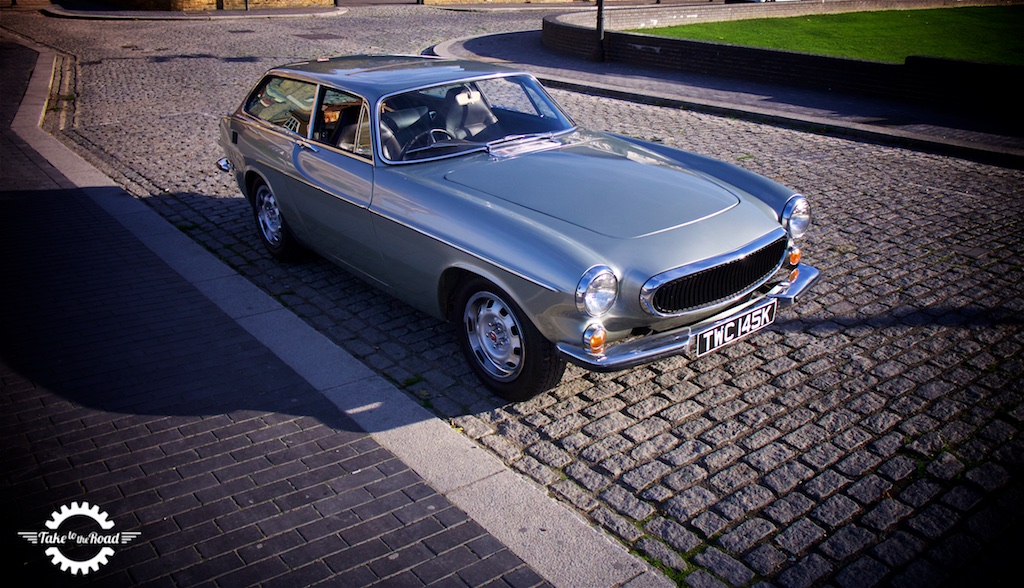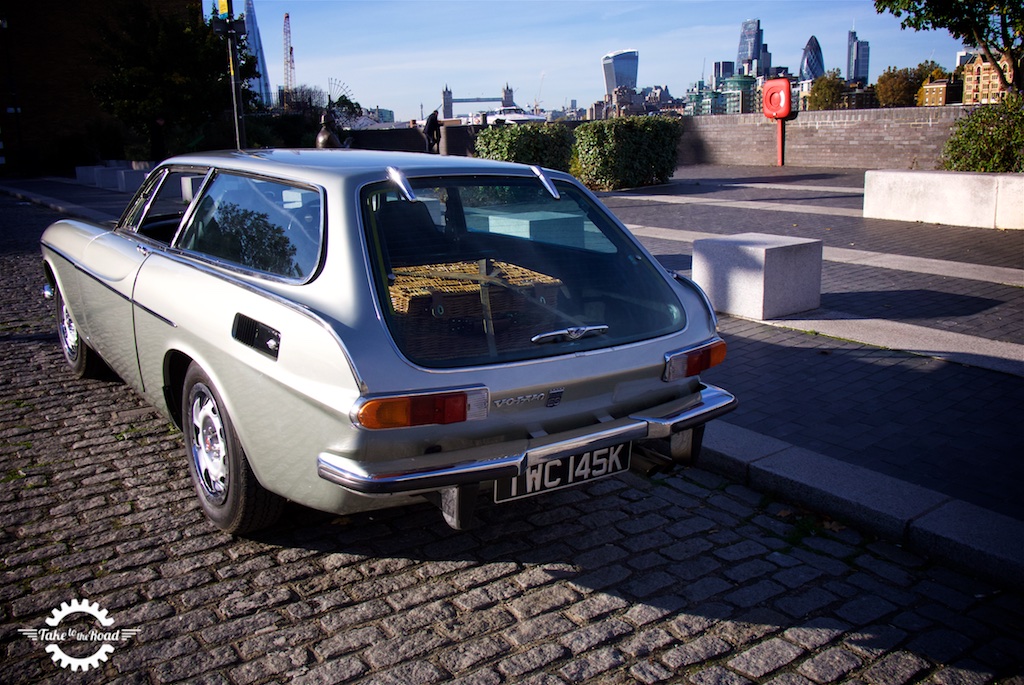 Moving onto the little Austin A35, as it was a project it didn't have an MOT so it could only be driven around the car park. And its noisy muffler would have woken the dead. But it was a charming and fun little classic. These compact sedans were everyday family cars back in the day, ferrying families about with minimal fuss and minimal luxury. They were frugal cars and were a product of their time. Nowadays the style and looks of the A35 stirs huge amounts of nostalgia and are an ideal starter classic. Who knew that one day a whole Austin A35 would be used to help restore a BMW 502 V8 engine!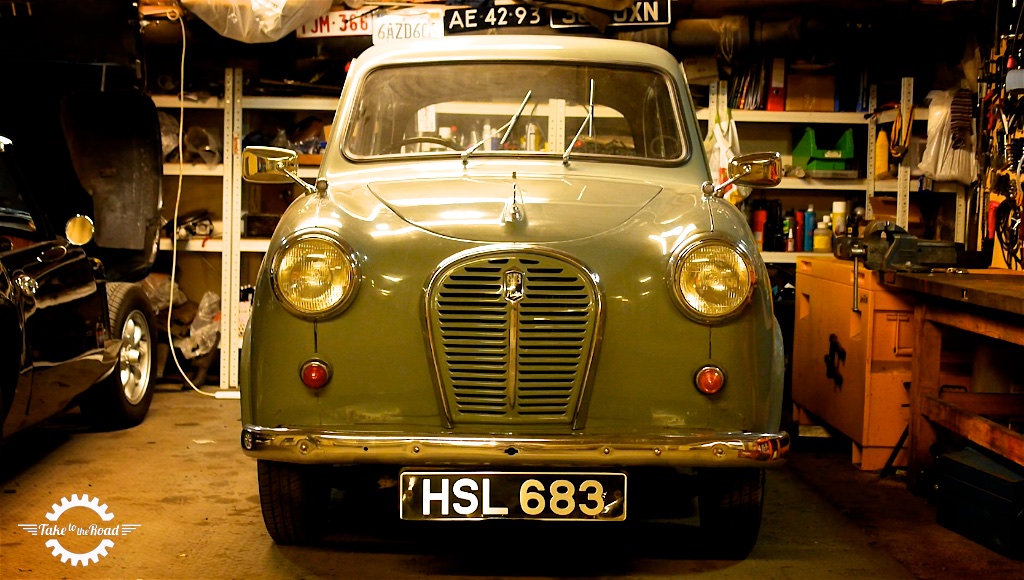 So is Darren dedicated to classics? Yes he is. Given the range of cars he has owned, from his Austin Healey Sprite, to the Healey 100-6, his Morris Minor to restoring his Volvo and taking on the task of putting a BMW 502 back on the road (which is a challenge all by itself)… it shows how much passion he has for saving and restoring old cars. Even the little Austin A35 he managed to rescue from a collection where it had sat for years. He may be using it to fund the BMW restoration but its another classic saved and back on the road. Which is what its all about. So I really admire Darren's passion, his enthusiasm and dedication to classics. By founding the Waterloo Classics Car Club, he's helped bring enthusiasts together in the city of London and its also helped to revive Lower Marsh Market. That in itself is something to be proud of. And sometimes its just about finding a time and place to relax, to have your own space and spend time with your car and forget about the worries of the world. It certainly is a zen time that many of us yearn and strive for.
For more information on the Waterloo Classics Car Club head on over to their website.