Yes folks you read that correctly! Take to the Road has released its first ever music video called Whiskey in the Tank, which is full of classic cars of course. A couple of months ago our Italian friends and fellow YouTubers The Demented Monkeys contacted us to say that one of their group had come up with a song, inspired by our motto "Just Go Drive". They chose inspiration from the iconic 1970s rock track "Whiskey in the Jar", performed by the Irish rock band Thin Lizzy and of course sung by the late Phil Lynott. You are probably well aware by now that I am Irish so I was honoured and humbled to have a tribute song written for Take to the Road. Also for it to be one of the all time great Irish rocks song (later covered by Metallica of course) was just great.
So a big thank you to Modest Frank, Fred Longsword and The Demented Monkeys for coming up with the song. We probably won't win best video at the MTV Music Awards, or get nominated for the Eurovision, but at the end of the day it is all about the cars and not the kudos.
After The Demented Monkeys released their own video using the song, they suggested I make my own version so we could do a dance off, sing off, classic car erm off… basically see who can make the best video from their classic car footage. Of course I agreed! It is a fun little piece and is very different to what I normally do on my YouTube Channel. So it was a good laugh making it. And what better than to mix my love of music with my love for classic cars. So without further ado I present to you Whiskey in the Tank. I hope you all enjoy it.
Competition Time and Vote for the best version of Whiskey in the Tank!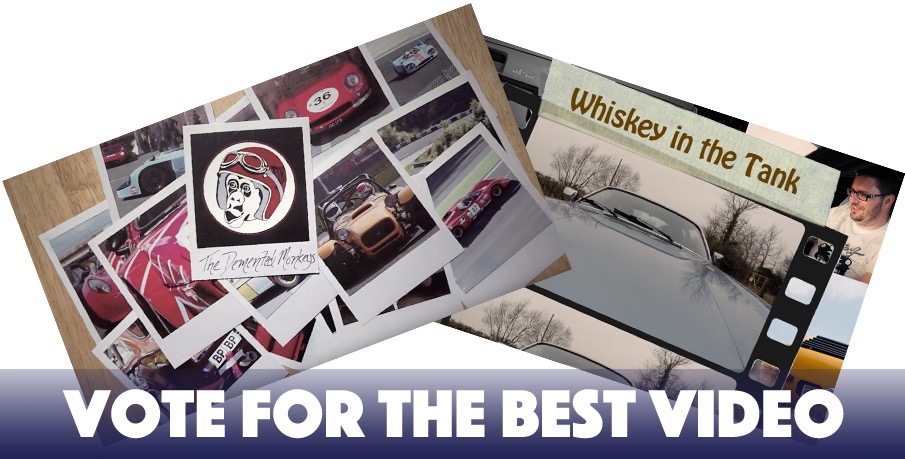 Taking inspiration from LL Cool J and the crew of TVs Lip Sync Battle, we want to vote for the best music video. And we have a cool prize for the winner of the competition! The winner will get a personal shout out (along with their classic car, if they have one) in our next feature film, immortalized in YouTube history for ever!
All you have to do is this:
1. Watch and like Take to the Roads Whiskey in the Tank
2. Watch and like The Demented Monkey's Whiskey in the Tank
3. Vote in the poll below for your favourite (Poll Now closed)
4. Then Subscribe to our e-Newsletter here to complete your competition entry*
*Closing date for entry is 17th March at 12pm (midday). And yes that is St Patricks Day! We will announce the winner later in the day on Twitter and Facebook. Only e-Newsletter Subscribers will be entered into the draw.