A couple of weeks ago we spent some time at Classics Central Auctioneers 8th November sale at Bedford Autodrome in the heart of Bedfordshire. Company owner, classic car enthusiast and serial classic car collector Justin Lazic kindly invited us to attend both the viewing day and the auction itself. While there we had the opportunity to interview Justin and find out what Classics Central is all about. Watch our interview film above to find out more about Justin's passion for classics and his mission to source high quality, affordable classics for his auctions.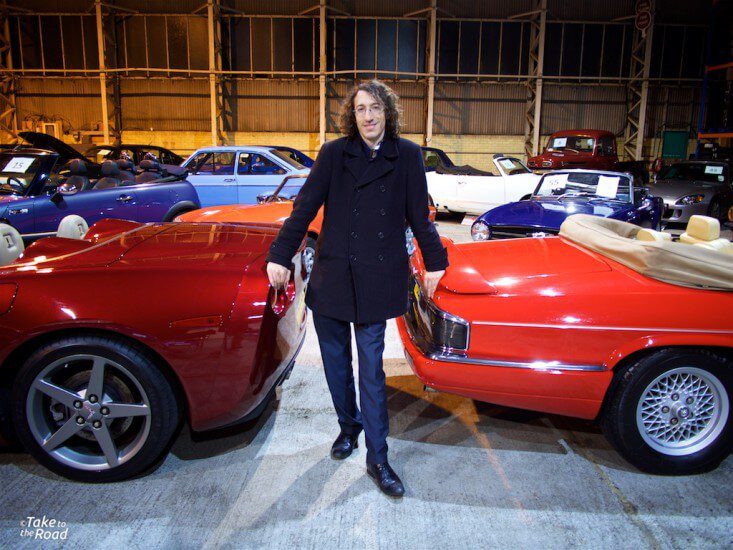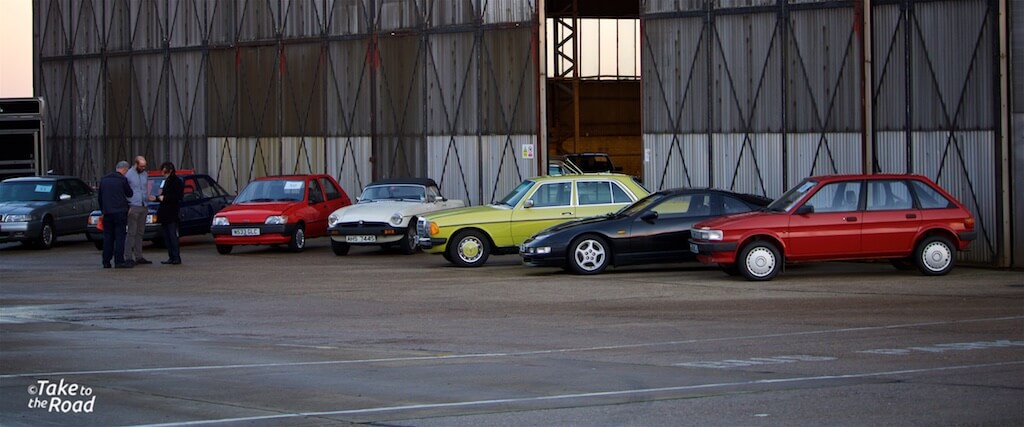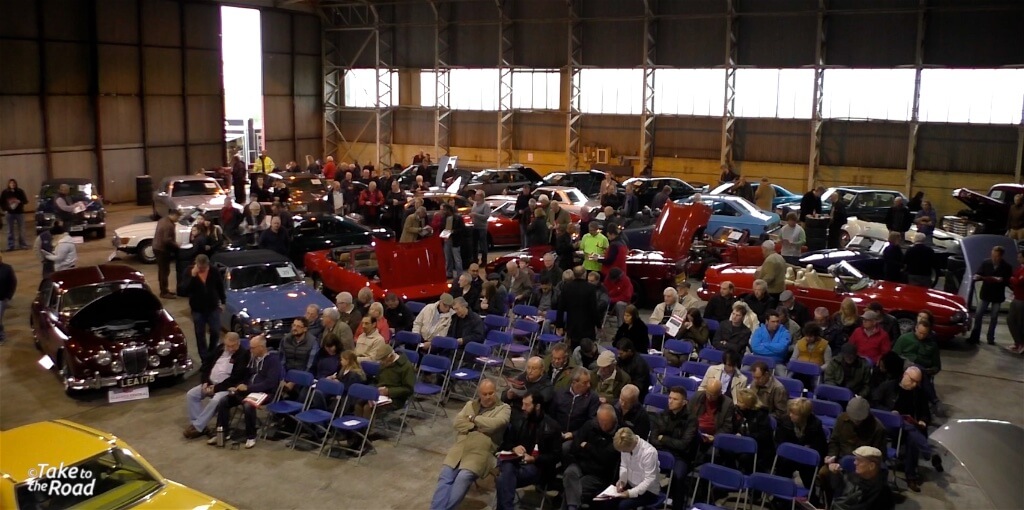 What impressed us most about Classics Central's sale was the spread of cars from no reserve, like the 1990 Nissan 300ZX (sold for £1,500 + premium), all the way up to the 1963 Jaguar Series 1 E-Type (estimated at £100,000 but unfortunately didn't sell on the day). There really was something for everyone which is exactly the kind of choice Justin and his team want to offer buyers.
With high end classic cars prices leaving so many cars out of touch for the majority of enthusiasts, it is refreshing to find an auction house that caters for the budget/starter classic buyer and the serious collector/investor. It is a rare combination to find in the today's classic car auction market.
We would like to thank Justin and his team for the invite and his hospitality over the weekend. Maybe at the next sale, when we aren't wrestling with camera gear, we might actually bid on a car or two!
Classics Central's next sale is on 28th February 2016. More details can be found on the Classics Central website.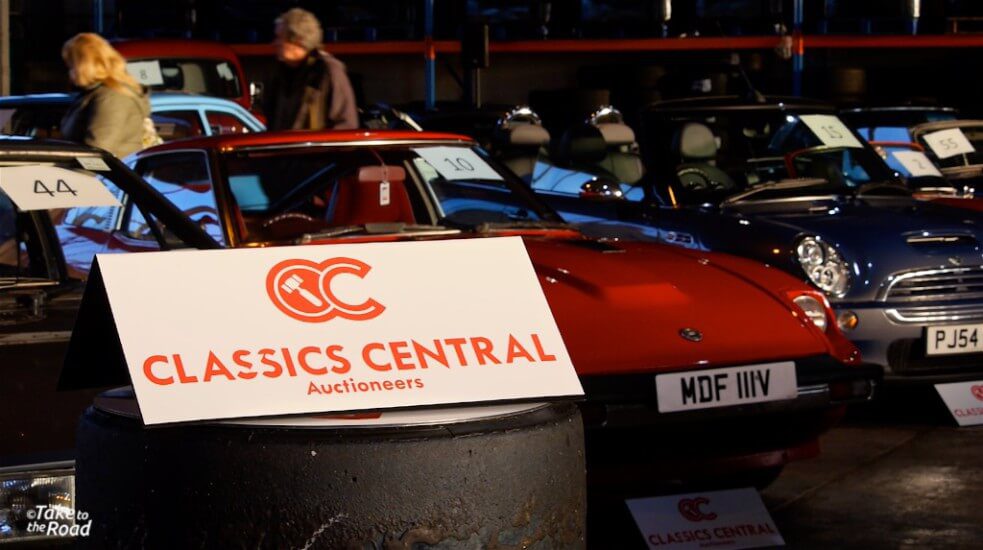 Auction Highlights
The best part of the weekend for us was getting the opportunity to spend two days with the 50+ classics cars on sale. Being able to get up close and inspect these cars was a great opportunity. It was a real kid in a candy store moment and with some many cars to chose from, it was hard to know where to start. We did learn that the Honda S2000 is not one for us as the interior is too cramped (so disappointed by that!!) and that the bucket seats in a 1979 Porsche 911 Targa are way too narrow and not comfortable (though that would be an easy fix). Quite a few cars caught our eye over the weekend and had the funds allowed, we would have loved to have bid on a couple. Below are the ones which would have made it into our collection.
Lot 9 1966 Mercedes Benz W111 230S Fintail 
Auction Estimate: £13,000 – £17,000
Sale Price: £11,500 + premium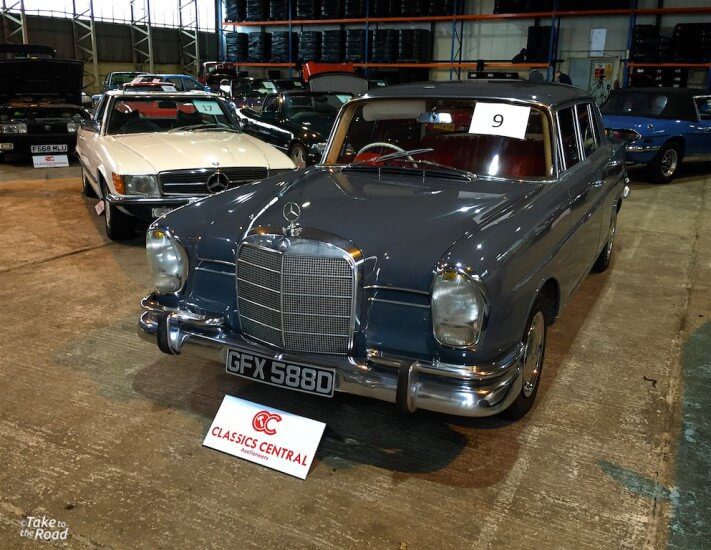 Of all the cars on sale, the one that spoke to us the moment we saw it in the catalogue was this wonderful 1966 Fintail. It was our favourite over the whole weekend. We've always had a thing for Mercedes saloons from the 1950s and 1960s and have always felt they have lived in the shadow of Mercedes coupes and convertibles. This has been reflected in market prices, which have remained low for years. Which means Fintail's offer a lot of car for the money. What we loved the most about this Fintail was its presence.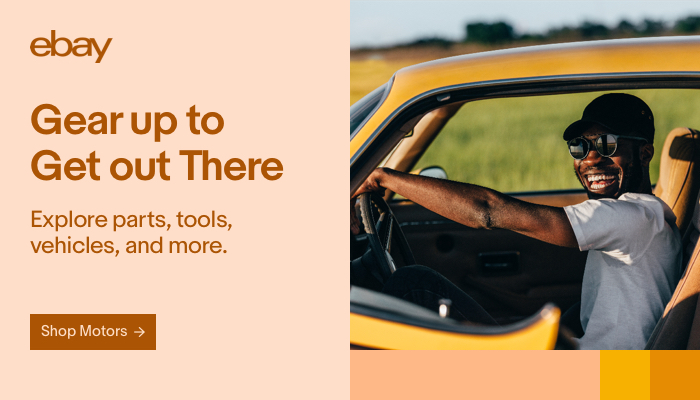 Finished in battleship grey, it looked very imposing and commanding but with an elegance and quality that only a classic Mercedes can pull off. It's contrasting red leather interior was a lovely combination with the grey exterior. Everything from the classic ivory white steering wheel to the seats had that Mercedes quality to it. And one feature that really impressed were the footwell lights that came on when you opened the door. A simple detail but for a car from 1966, it was impressive. As comfortable classic cruisers go, this Mercedes Benz 230S Fintail ticked all the boxes for us. It actually sold for a record price which goes to show that values for good Fintails could well be on the rise.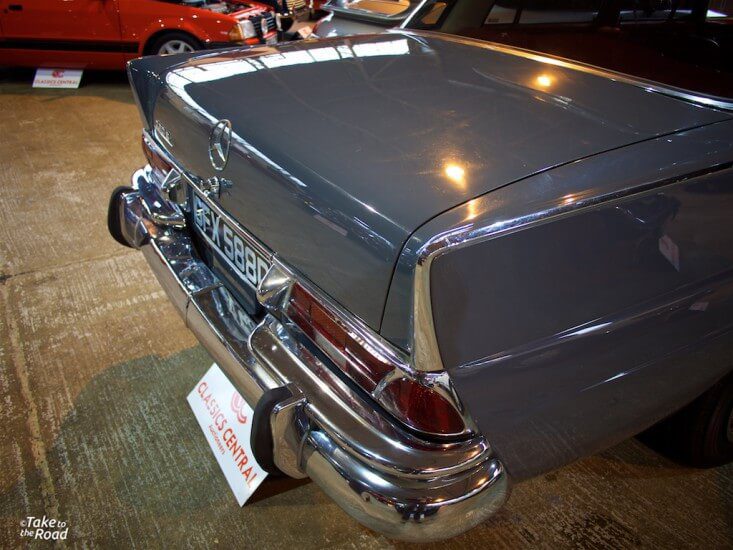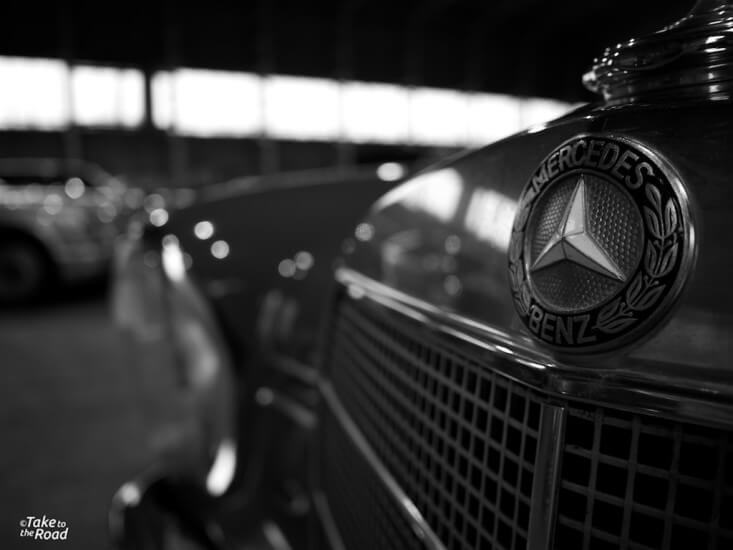 Lot 41 2006 Chevrolet C6 Corvette
Auction Estimate: £25,000 – £30,000
Sale Price: TBC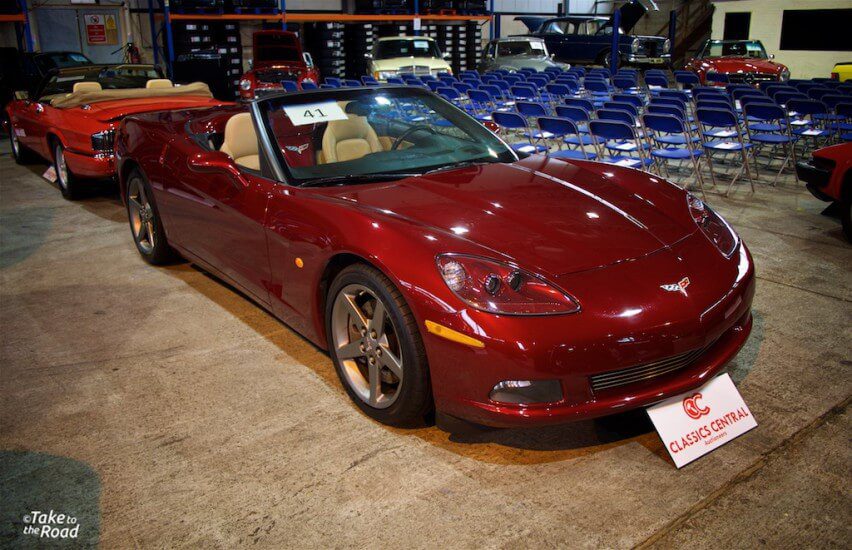 Its rather obvious that this one made the highlights as we got to drive it that weekend (watch our review film here). If any car could represent American V8 muscle cars, it is the Chevrolet Corvette. The C6 generation marked a new era for the model after languishing for years with the disappointing C4 and marginally better C5. The C6 had a much improved suspension, a revised interior and of course, the powerful Chevrolet LS2 V8.
A couple of things about this C6 surprised us. First of all it is a big car in the flesh. It may only be a two seater but its long. And second, it is extremely comfortable with acres of leg room. If you watched our driving review film, you will remember I said it was comfortable more than once. I wasn't really sure what to expect with the C6 but as soon as I sat inside, I was taken aback by how nice it was. The seats were just right and for once I was able to sit in a sports car that had leg room and then some.
With over 400BHP on tap and with an automatic transmission, the C6 is a comfortable cruiser designed for eating up the miles. When you need it, the acceleration will get your adrenaline flowing and put a smile on your face. And the sound of that V8, that smile only gets wider. Before the auction we didn't want a Corvette C6… now we do!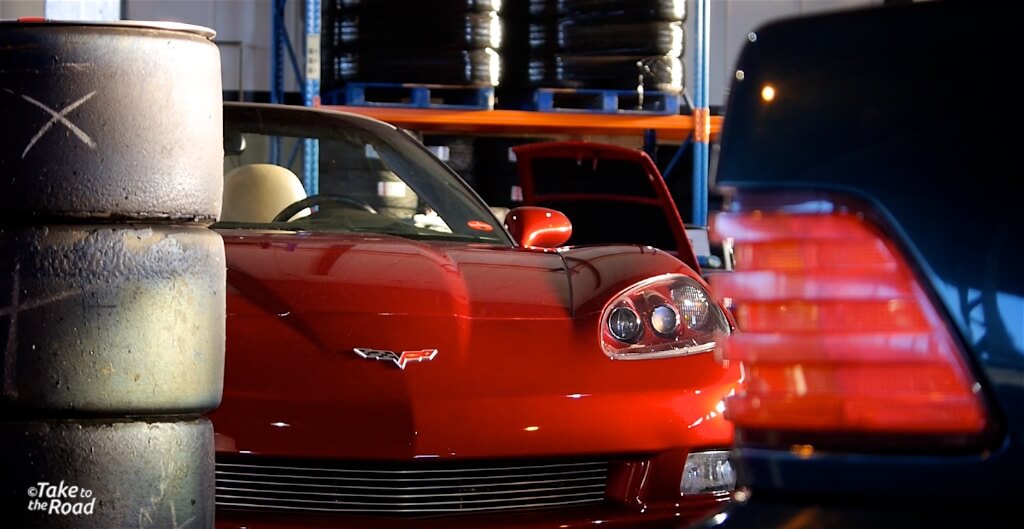 Lot 46 1963 Jaguar MK2 3.8
Auction Estimate: £22,000 – £26,000
Sale Price: £22,000 + premium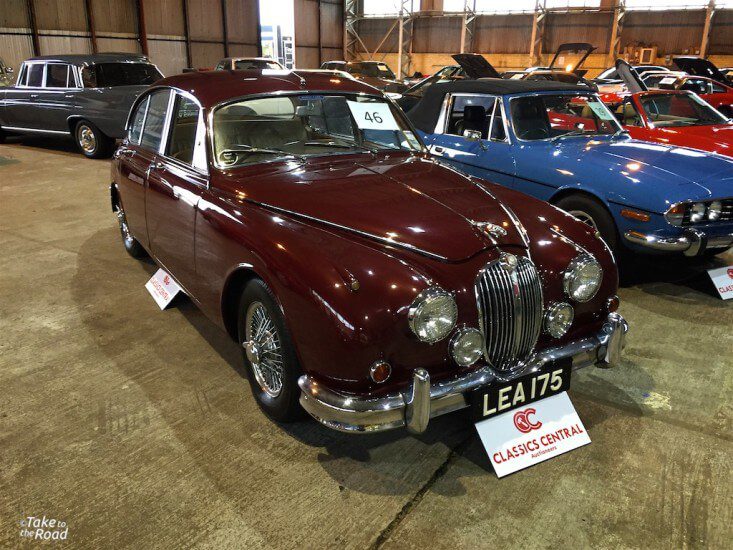 This particular MK2 brought back some happy memories as it wore the same colour as our old Daimler V8 250… opalescent maroon. This time instead of a Daimler V8, there was the Jaguar 3.8ltr straight six under the hood. What surprised us the most about this MK2 was its condition. It was all original and was very well preserved. Everything from the chrome to the paint, the leather and the wood had a lovely patina. It even retained its original dynamo which further demonstrated the originality of this car.
It may have been an automatic, which would put off some collectors, but for us, an auto 3.8 would make a great choice for a comfortable and easy to drive cruiser. With original and untouched Jaguar MK2's becoming harder to find, especially in 3.8 guise, the sale price of £22,000 plus premium meant it was a really good buy for the new owner.