Today marks a milestone for Take to the Road with the publication of our 100th post. It seems like only yesterday that we featured our first car (our Volvo P1800S film) so it has come around fast. So what classic car have we chosen for our 100th post? While researching for this article we decided we wanted something a bit special. Something unique. So we have chosen to feature a Jowett Jupiter Mk2, a sports car that never got beyond the design stage.
The story of Jowett began in Bradford in 1901 when the company was founded by brothers Benjamin and William Jowett. They were pioneers of the early car industry in Britain and gained a reputation for building light and affordable cars. During World War 2 car production was suspended and after the war, the company introduced the aerodynamically styled Jowett Javelin saloon in 1947. The new saloon was successful on the racing scene achieving class wins at the Monte Carlo Rally and the Spa 24 Hour, both in 1949. Spurred on by their racing successes, Jowett decided to use their flat four 1486cc engine in a new sports car. And so the Jowett Jupiter Mk1 was born.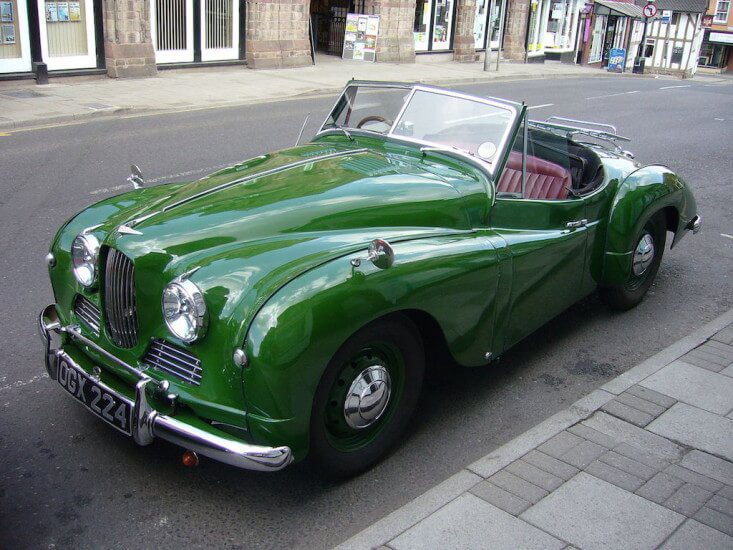 Debuting at the London Motor Show in 1949 and later at the Geneva Motor Show in 1950, the Jowett Jupiter was an aluminium bodied convertible with a chassis designed by Austrian engineer Robert Eberan von Eberhorst (who designed the Auto Union Type D Grand Prix car). It utilised independent front suspension with anti roll bars and the engine was fitted in front of the front axle. The Javelin sourced 1486cc engine was fitted with two Zenith carbs and with a higher compression ratio, produced 60BHP. The engine was mated to a four speed column shift gearbox. Thanks to the tuneable suspension, light weight body and its eager engine, the Jowett Jupiter gained a reputation for excellent handling. Like the Javelin, it too found success on the racing scene with class victories at the Le Mans 24 Hour in 1950 and at the Monte Carlo Rally in 1951.
As was the tradition for many British car manufacturers of the period, coach building work was assigned to other firms. Coach builders such as Stabilimenti Farina, Ghia Suisse, Abbott of Farnham and Richard Mead produced numerous examples of the Jupiter. Stabilimenti Farina produced four fixed head coupes with one car finishing a Class 2nd and overall 5th at the 1952 Monte Carlo Rally.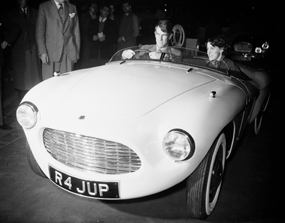 Keen to continue their racing successes, the Yorkshire based firm developed the Jowett Jupiter R1 in 1951. Three cars were built and entered in the Le Mans 24 Hour in 1951 and 1952. Further development lead to a fibreglass bodied Jupiter R4 which was debuted at the 1953 London Motor Show.
However, despite its competition success, all was not well at Jowett. In 1953 Ford took over Briggs, whose factory in Doncaster built and trimmed the Javelin for Jowett. Ford sold the Briggs factory to Fisher and Ludlow who were then taken over by BMC. In the resulting upheaval Jowett found that it had no one to build its cars or commercial vehicles. Production was halted while a suitable coach builder was sourced. In 1954 they sold their main factory at Idle in Yorkshire and by 1955 the company had ceased trading, bringing an end to Jowett Cars Limited.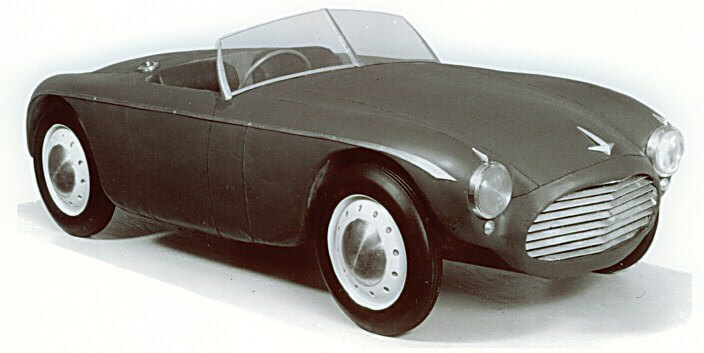 At this point you are probably wondering what the above has got to do with the Jowett Jupiter we have chosen to feature. Before the company folded, plans were drawn up for a Jupiter Mk2. It's design shared much with the Jupiter R4 but it never entered into production. However in 2008, Jowett enthusiast and restorer Allan Fishburn acquired the drawings for the Mk2 and began building a one off Jupiter Mk2.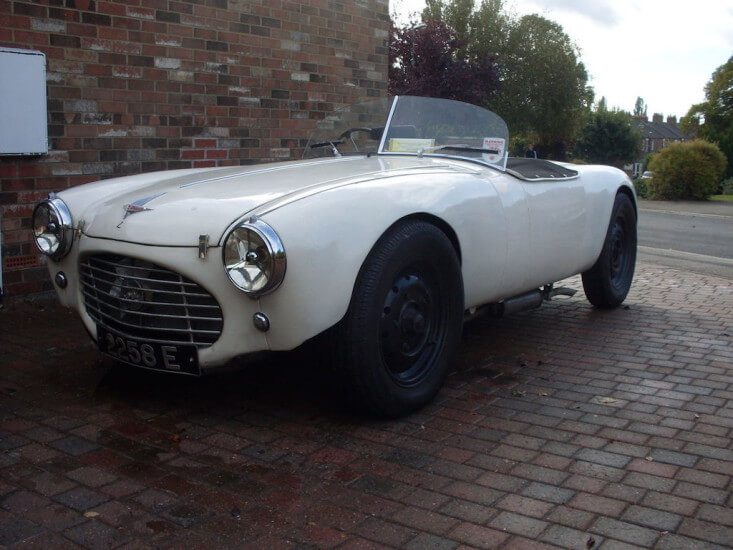 According to the listing, a 1953 Jowett Jupiter chassis was sourced, over which was created a hand beaten aluminium body. A rebuilt Jupiter engine was also sourced which was mated to a Ford Pinto 5 speed transmission. The car is described as being on the road and as being a well sorted and nice driving car. The seller is advertising the car on behalf of Allan Fishburn.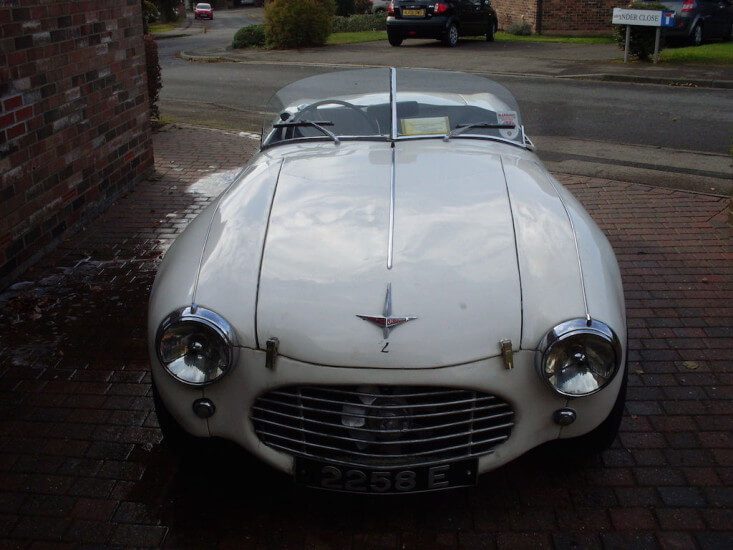 When we first stumbled across the listing for the Jowett Jupiter Mk2 we first thought it was a period Siata racer. The Siata 300BC immediately sprung to mind. We can also see a little AC Ace and Daimler SP250 in there as well. And as the seller notes there is indeed a likeness to the Ferrari 166. The design of the Jupiter Mk2 is quite striking, much like the R4. Its the kind of car that would draw a lot of attention at the likes of the Goodwood Revival. And with its light weight body and lively engine, we bet this recreation moves pretty rapidly and would be a good cruiser thanks to the five speed gearbox. We actually think it would feel right at home racing round the Goodwood circuit.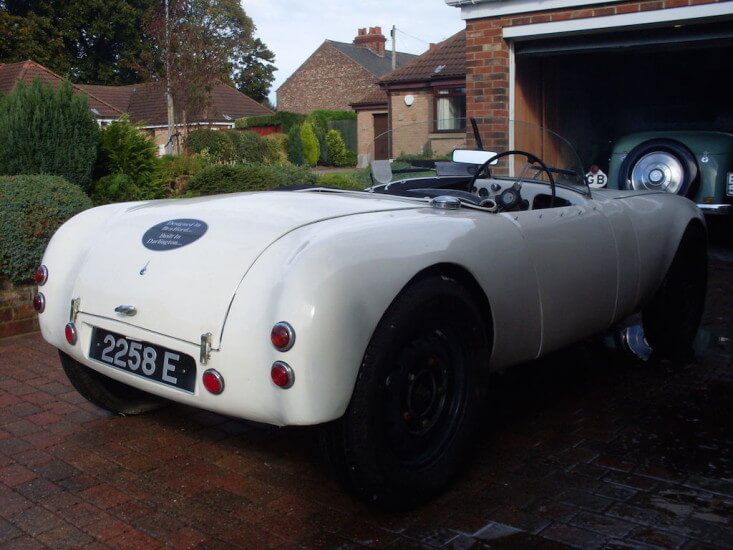 The lack of a convertible hood shows that this is a proper, old school, fresh air racer. Though not ideally suited for sudden downpours. The interior is very simple and appears to use Jowett parts. The steering wheel in particular appears to be a genuine. The dashboard reminds us of the style found in an MGA, simple painted metal with the gauges clustered in the centre. We particularly like the split windscreen, it is so period. Personally we'd fit a set of wire wheels to this one to complete the sporting look. But apart from that we really like this Mk2 recreation as it is.
While it is technically not a period "Special" as it is more an interpretation of what the manufacturer had intended, this Jowett Jupiter Mk2 is special in it's own right due to its uniqueness. It must have been a real labour of love for its creator and would have taken considerable time and effort to put together. His craftsmanship provides a glimpse of where Jowett could have gone with their Jupiter sports car had they not gone out of business. It could have been Yorkshire's finest motoring hour. But sadly it wasn't to be. We think it would be a great choice to take on classic car runs and events. Just remember to bring an umbrella.
This Jowett Jupiter Mk2 is located in Norton, Teeside and has an asking price of £16,000 which is open to offers.
More details can be found here on eBay