Series 6 of Salvage Hunters Classic Cars has arrived with 5 brand new episodes premiering on Quest from Wednesday 5th January. This time round Drew Pritchard and Paul Cowland take on a fascinating and eclectic mix of classics, from an early Lotus Esprit to a feisty Alfa Romeo 2000 GTV. And in response to feedback from fans, the show has dedicated each episode of this series to one car. Which means we get to see even more detail of the very cool classics that Drew and Paul have bought to restore and sell on again.
Take to the Road sat down with Paul to have a good chat about Series 6 and cars in general. Originally Drew was meant to join us for the interview but he got stuck on the motorway after running out to buy a Subaru Impreza. So Paul did his best Drew impression in his absence! Read on to find out what is coming up in Series 6 of Salvage Hunters Classic Cars…
So Paul both you and Drew are back for a brand new 6th series of Salvage Hunters Classic Cars, just in time for holiday season, helping to take our minds off everything that's going on in the world. There's nothing like some classic car escapism to cheer us all up. And since Drew isn't here you can answer for him as well.
Paul – Yes! I will answer on Drew's behalf! He'll have said stuff about chairs, painting it black, something about Viera Lynn, The Archers, Bauhaus, Saga holidays, style, urbanism… that's probably what he would have said… Ha ha! Seriously though, its amazing we are at Series 6! We worked very hard filming during the lockdown and not one crew member got COVID! There was lots of testing and isolating which we stuck to religiously and it worked. So we've got 5 new cars coming up and each episode is a full one on each car. So it is less cars but more detail, which is what fans have wanted. But yeah the joy of making a show like this for TV is making one that fans want to car. We're both car people so we keep it as real as possible and as close to how it works in the trade. Every person we meet, they are the real owners and real trades people that worked on our cars. The prices are correct as well and its that detail that both me and Drew hope is our calling card. And because of that people can watch it and as you say it really is an hour so you can get away and indulge in some car telly.
That Lotus Esprit was a bit special wasn't it? Such an iconic piece of design and one of the finest wedges cars ever drawn. The fact yours was likely a genuine press photo car must have been a real goosebump moment for you both.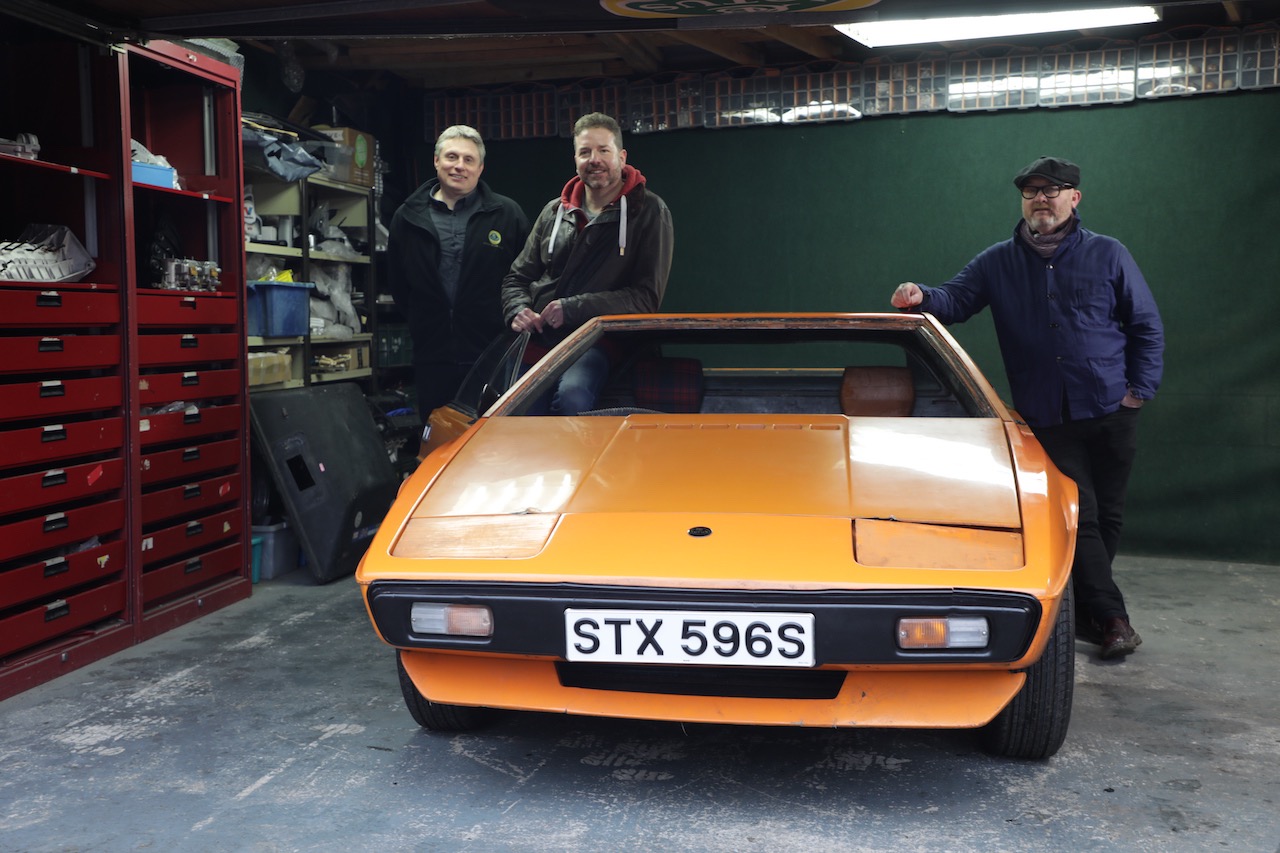 Paul – Yeah the Lotus Esprit episode… all the lads of our age, we all wanted one because of the Bond connection. I mean who doesn't want an S1 Esprit? And we decided that if we were going to do one, lets do an early car, lets get the best guys that do the body work, lets get the best guy to do the interior. We did blow our minds just a bit on the cost but we did get the money back. And our car was 1 of 15 in that orange, only 3 had audio delete so they had no aerial and our car never had one. The photograph we show in the episode was taken 2 days after our car was built and the other 2 orange radio delete cars were finished months later. We can't say 100% its our car but the weight of evidence suggests its our car in the photo outside the Lotus Design Studio. For me it is one of the most beautiful designs of that period. I was actually talking to Peter Stevens recently and he told me how he was really nervous about designing the X180 and restyling Giugiario's work. Anyway he was at the Geneva Motorshow on the Lotus stand and Giorgetto Giugiario came up to him and gave him a hug! Just imagine the relief that you would feel as a designer just to know you have done it that well! With our car it was great to rewind it back to the original factory build sheet and restore it to how it was, exactly as it left the factory and exactly as it appeared in that photo.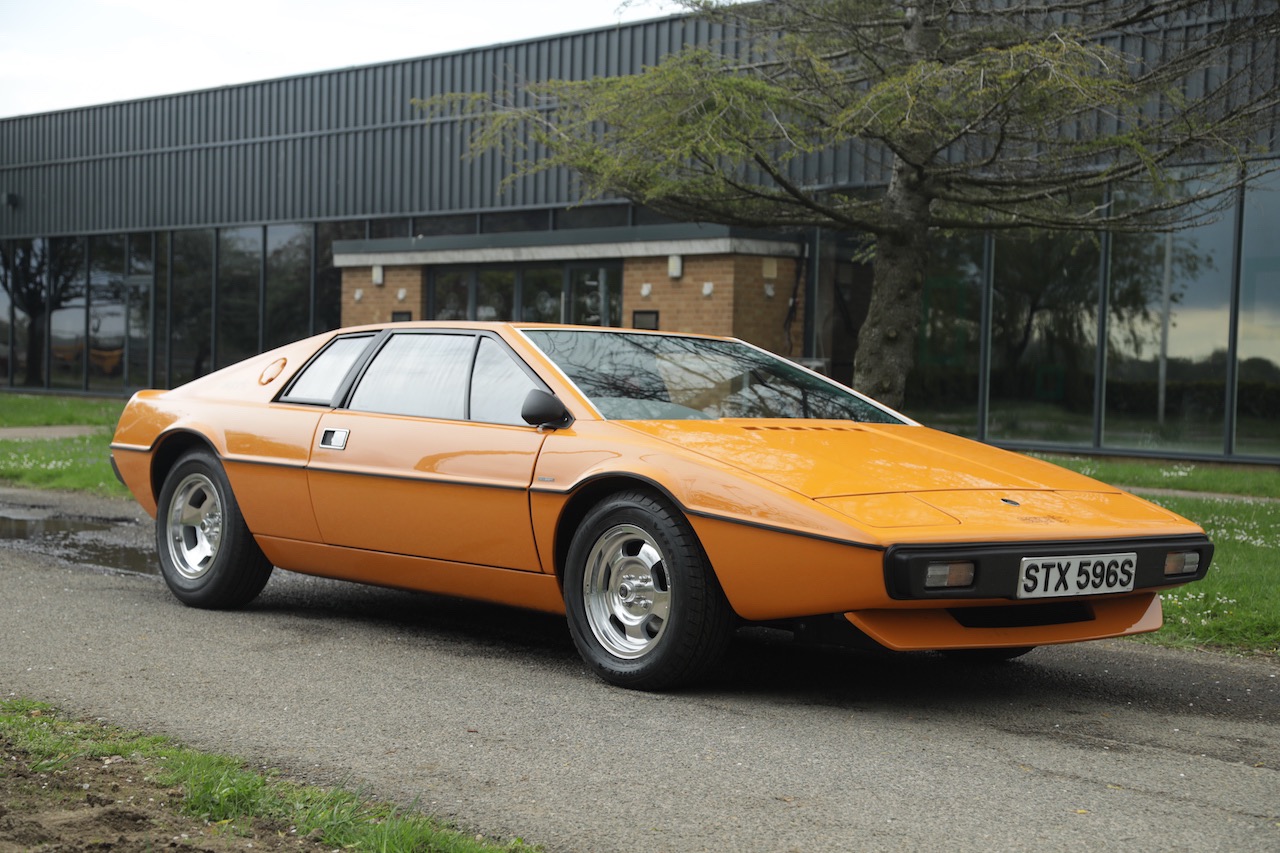 So Drew isn't a fan of the Triumph TR4? I was actually surprised by that as it ticks all the boxes of a classic British sports car. Was it a childhood related memory that put him off to start with?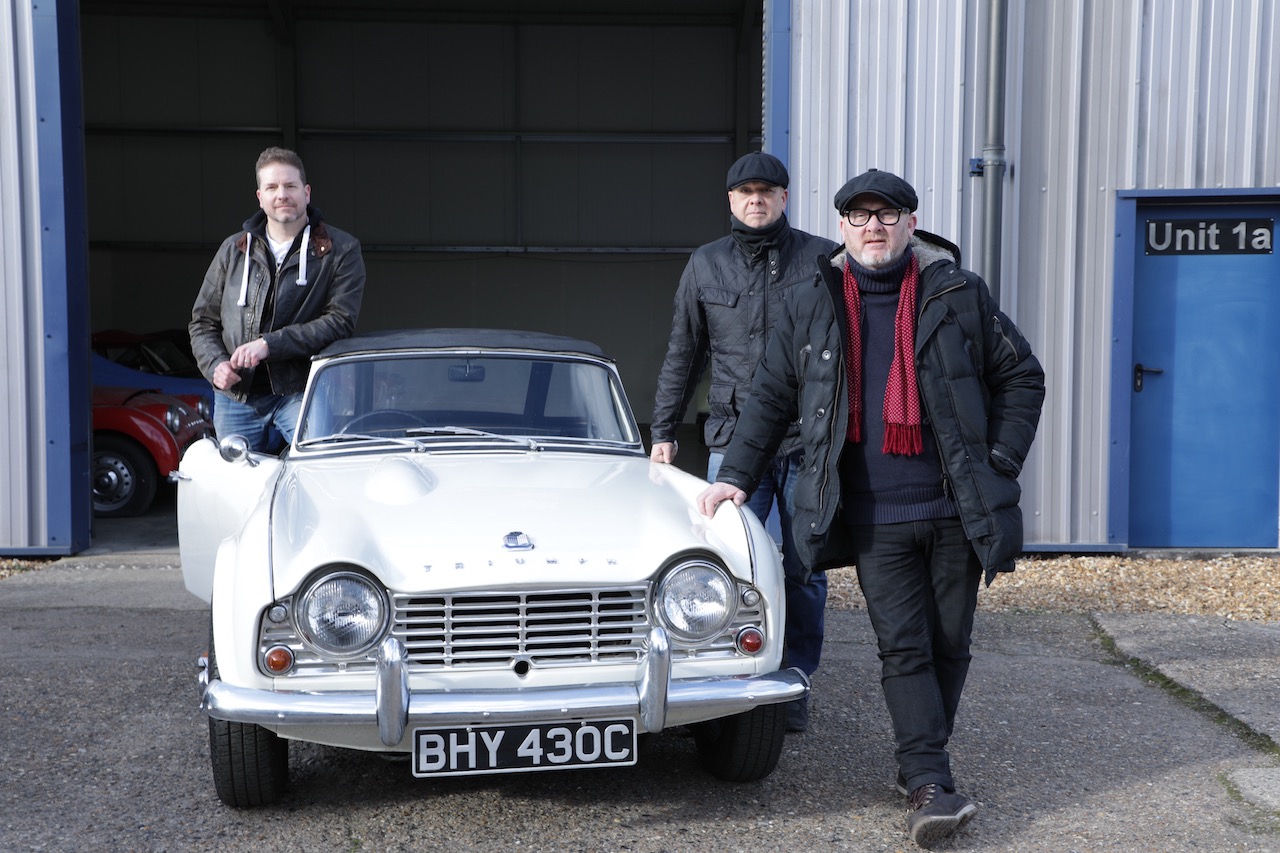 Paul – You know Drew has this weird thing where he has a hate and dislike for all British sports cars, particularly those from the 1960s. For no good reason! MGB's he doesn't like. Any Triumph he doesn't like. Anything from the Rootes Group… he doesn't like. So there must be some traumatic experience he has blanked out of his memory. But when you watch the episode through, he actually loves Michelotti cars and at that time when he worked at Triumph, Michelotti could not put a foot wrong! Even Drew appreciates that, even if he's not a massive fan of whats underneath. What sits on top is pretty stunning. And with Drew its like having a small child, so its like saying if I let you do the colouring in, will you get more involved with what I'm doing? That's how I got him emotionally invested in our Triumph TR4. We did have a difference of opinion on reinstating the wing vents from the Zoom prototype. I wanted to weld our recreated vents into the wing, you know make them in steel and let them into the wing like Michelotti had done with the prototype. Drew didn't want to do that as he felt that if we welded it in and then didn't like it, it was a huge amount of work to undo it. So we just bounded it in instead. I also wanted it on wire wheels as the prototype had them but Drew doesn't like wire wheels. But to get the original vent from the Zoom prototype, a piece of metal that Michelotti would have touched was pretty special.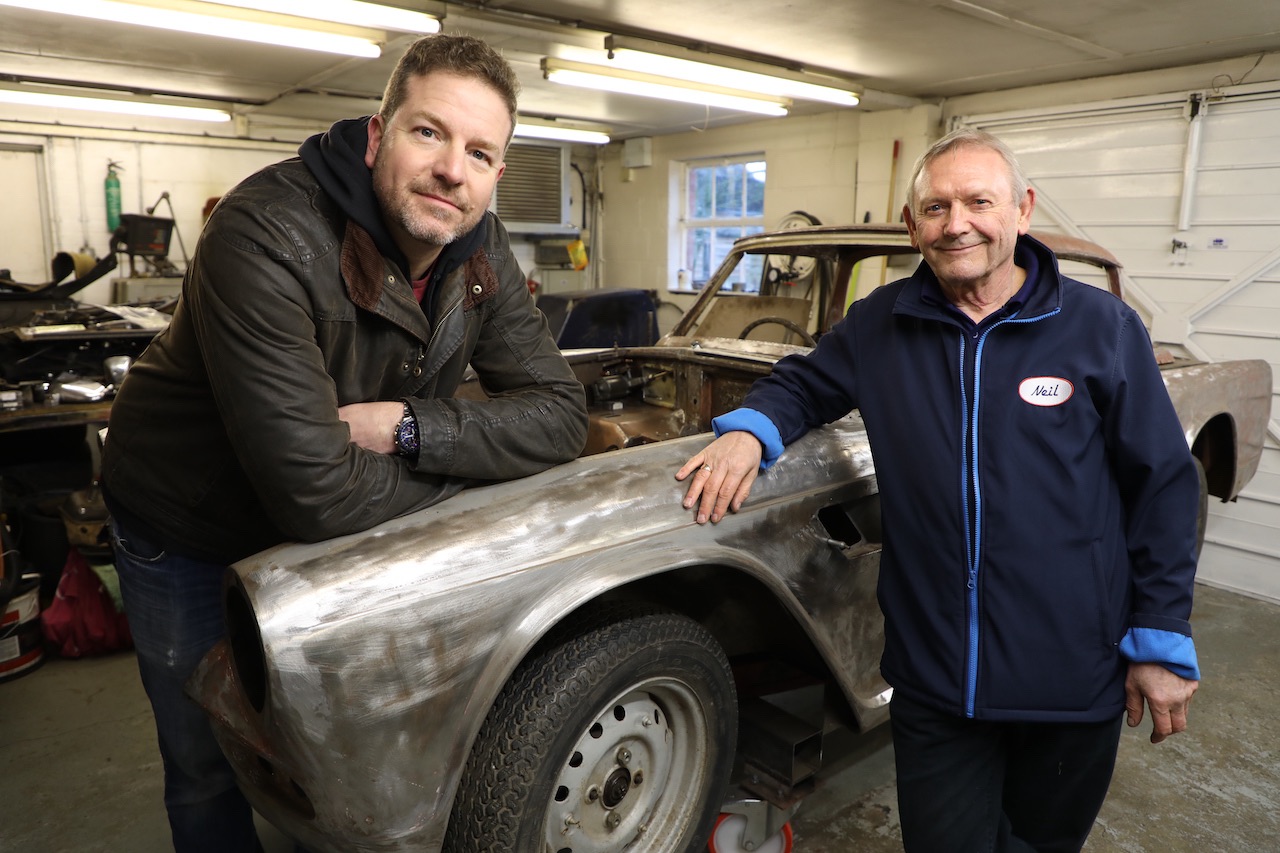 The Vauxhall Viva was a lovely heart warming story with a lot of emotion. What a find as well to come across a period modified car, untouched since. It was a shining example of how much passion is wrapped up in these boxes of metal on wheels. Its former owner Mike would have been looking down and smiling.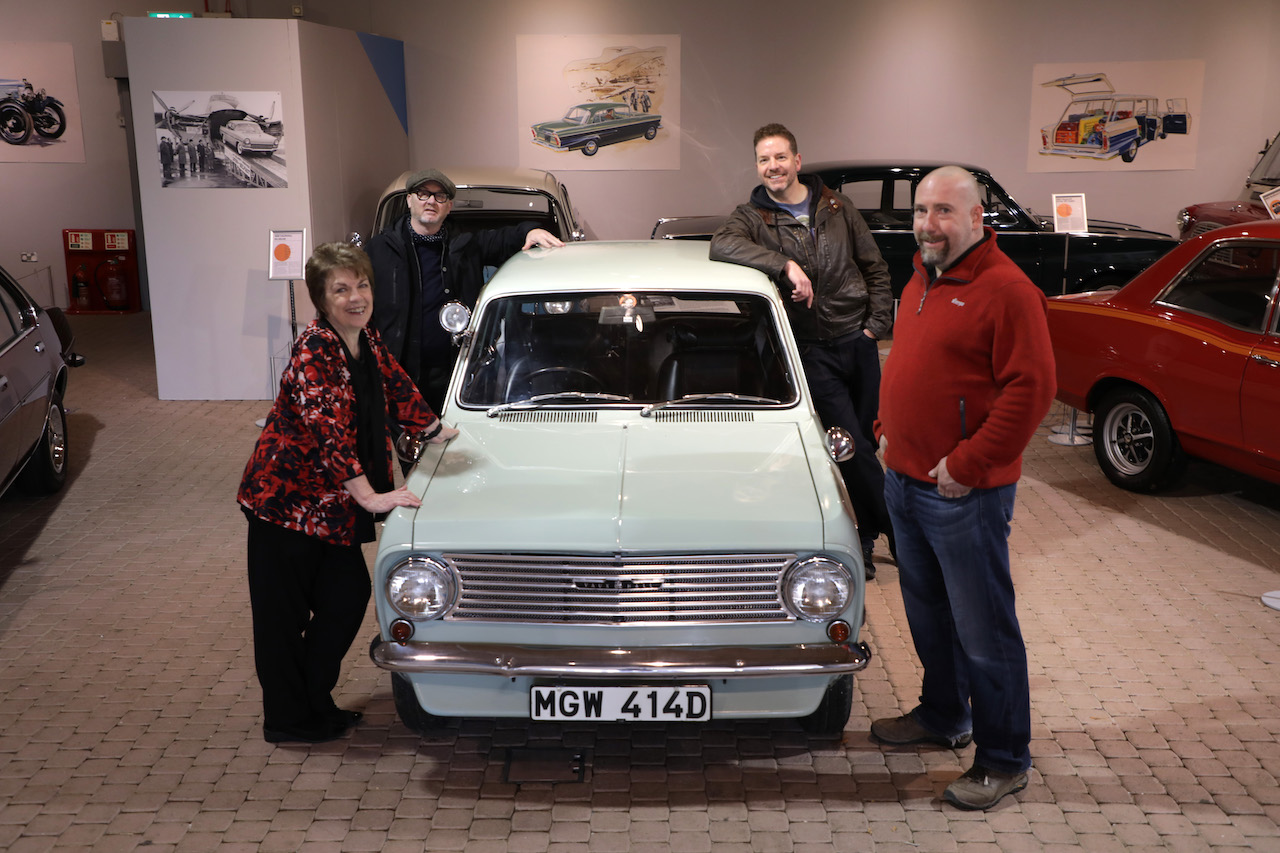 Paul – It's mad isn't it! As you know the story Mike's Mum bought the Viva for him when he was 17. I think he was an unusually tasteful modifier and did them to a very good standard, at a time when modified cars were quite loud to look at. The Triumph dash, the aftermarket sports seats, the retrimmed rear seats to match the fronts, electric windows that integrated beautifully… it all looked so OEM it just blew my mind! He was about 15 years ahead of his era really with what he was doing with his car. We didn't get to show it in the episode as we didn't have time but he actually had an anti rollbar made in America as a one off to his specification. It was amazing! And he had the Koni shocks done to his spec as well. He was actually an engineer by profession so he knew what he was doing. And then to go to Blydenstein to get the engine done… its dream spec really! I had a hunch it was the really deal under the bonnet because of the way it was finished. But there was no way to tell without going back to the bare block and finding Blydenstein's initials. So to go through that process and find his initials on the engine and then to find an original magazine article of Mike's car that confirmed its spec was something else. So when we approached Mike's widow about the car we did it in a sensitive way as we weren't sure if she wanted to be involved. When we told what we had done with her husbands old car, she could wait to see it! For the last 20 years of their marriage, the car had moved from garage to garage and Mike unfortunately never got it back on the road. So it was a very special car for us to bring back. It was a lovely story really.
The Alfa 2000 GTV had Drew written all over it until the auto box reveal. I don't think we've seen Drew's heart sink so much! But fast forward to the end and what a car… Drew was absolutely ragging it wasn't he around the Welsh version of Lake Garda?! Which is exactly how you drive a GTV. Fast and loud with the twincam warble and twin carbs on song… they make you feel so alive. There's a real zing feeling when you drive a hot Alfa.
Paul – It was brilliant wasn't it? We didn't tell Drew about the auto box. Our mechanic John spotted it at auction and said it was really good, except for the 3 speed automatic. So we bought it over the phone and didn't tell Drew. So that whole scene of us going down and viewing the Alfa was all genuine. He had no idea! But it was so cheap! If it had have been a manual car it would have made £25,000 easily. You see as soon as I said it was a South African car I think Drew thought it was going to be like the Ford Cortina we bought for the show before. Someone had spent a lot of money on that Alfa, it was so good! Plus because it was an auto we knew it hadn't been thrashed. It probably just cruised around in the South African sunshine so it likely had a very easy life. It was a weird spec to be honest and I think only South Africa got the automatic option and the shifter was a bit of an ugly fit compared to how the manual looks. Because they retained the input shaft during the swap over it was a relatively straight forward change over to a manual, using a refurbished gearbox, pedal box and an uprated diff. I make it sound easy, but we have talented lads in the garage that did a great job on it. And I have to say what a man Charlie Skinner was, who did the differential conversion for us. The way he setup the lash on the diff, the whole process with the shims and the tolerances took 40 minutes each time… he did it 9 times when we were there filming! For TV just showing it once was enough as it just shows the process, but he wanted it to be done right and wasn't happy until it was bang on. He kept going until it was literally just perfect! He was unreal! A real perfectionist. And yeah, coming back to Drew at the end when he drove it… he was loving that day! It was the perfect day, red hot day, the roads were empty and we had a lovely pub lunch with the crew and then we went for a lovely drive in the sunshine. Its at that point you realise you get paid to do your hobby.
The e21 is one of the classiest BWM saloons ever and is timeless. It still looks as good today as when it was launched. And Drew managed to paint a car black with no arguments and modify it as well with your approving nod. It's just taken 6 series for Drew to come round to it.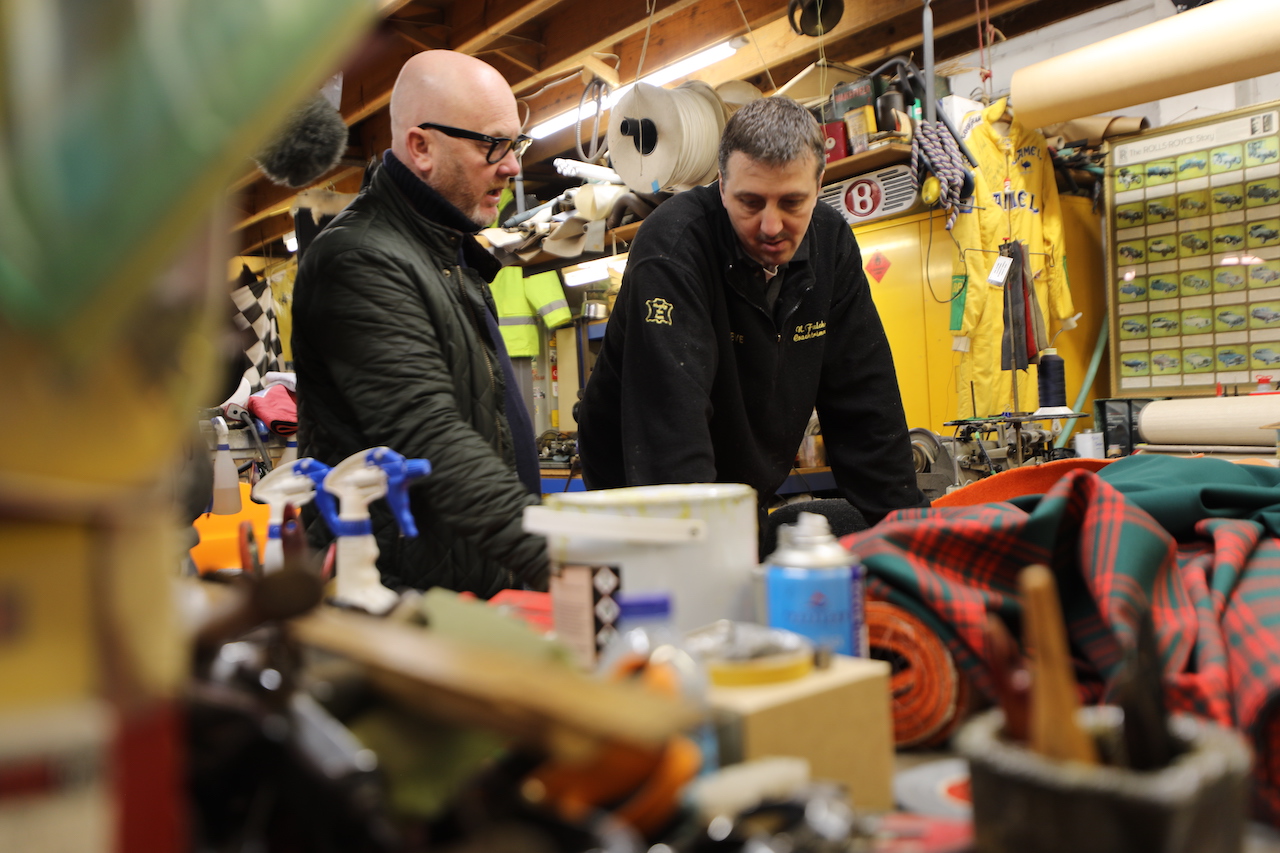 Paul – I think its actually contractual Niall! He's allowed to paint one car black per series, otherwise he pulls out of the show… or storms off to his trailer. Ha ha! Seriously though the e21 is a lovely car and really defined an era. Its a clever design actually, as you can see the 02 and the e30 in it and its the last of the sharknose Beemers really. It was a fun car to do it and was a genuine barnfind. We went to see so many cars that were described as barnfinds and as you say they were just sat there forgotten about beside the owners house. Our car had been stored in a barn for something like 12 years. The sellers brother genuinely bought it down the pub for about £20 and then it just sat there all that time. It hadn't been started for about 6/7 years and it genuinely did start first time on camera pretty much on the button, with a bit of fresh fuel in it. And it drove round on seized brakes for the whole shoot. We did briefly consider repainting it in its original colour and there aren't many left but we decided to go black. And rather than calling it an Alpina on telly, we decided to give it the German tuner look, which we all know who that refers too.
So with Series 6 now out, will we finally see revealed the decades long restoration of the Jensen Interceptor? The opening credits for S6 look promising since it gets a sneak peek in it.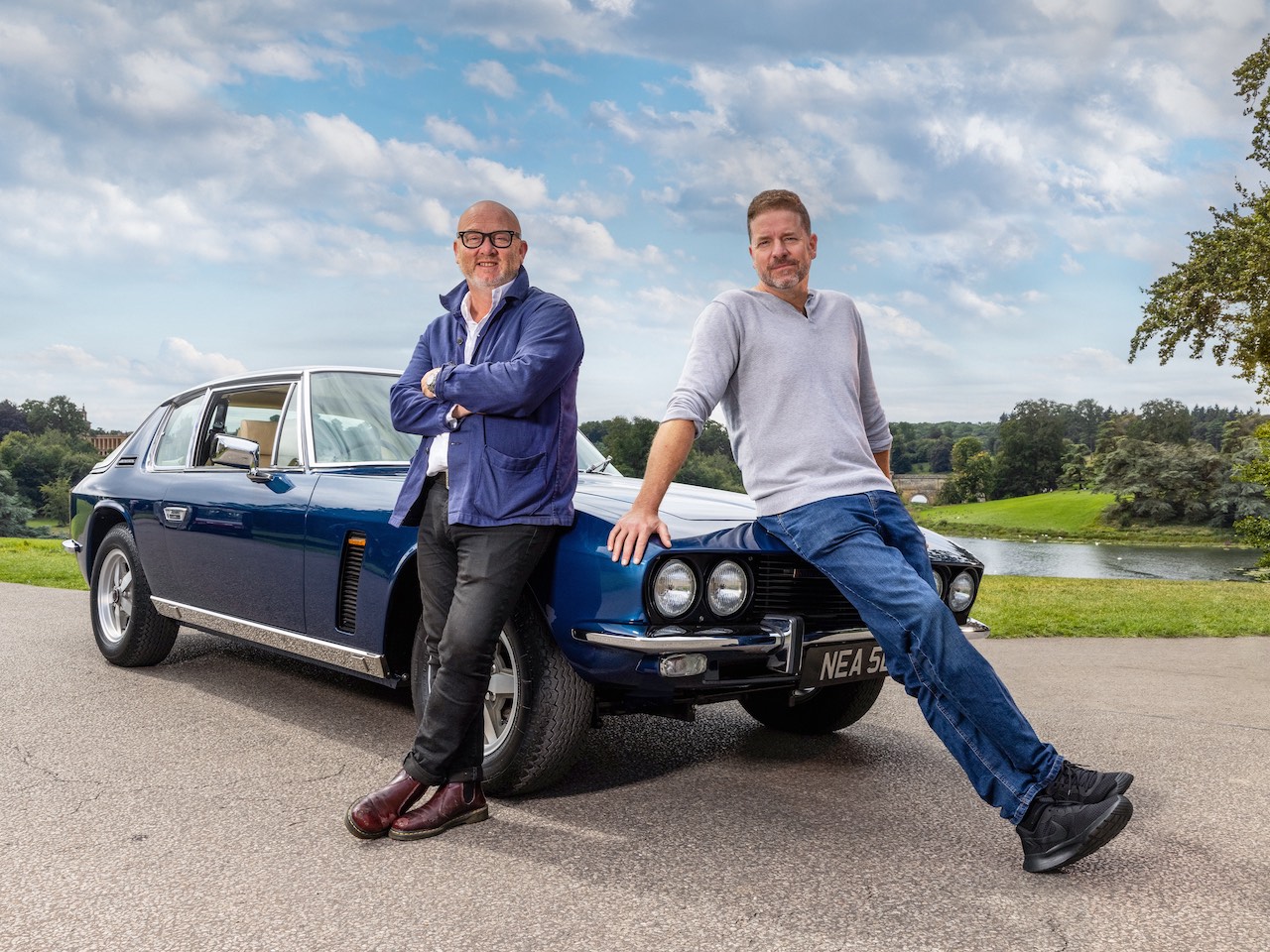 Paul – Ha ha I actually think you'll see that one next Christmas. I'll bet you the Jensen will come out in December 2023… Series 8. And what i love about that car is it was literally the first day of filming, over 3 and a bit years ago that we got that car. And the Jensen is going to literally bookend the show for Series 8. And you'll see why in the episode, because we replaced so much of the entire car! There is a reason for it but I won't spoil it.
And Paul, how goes the car collection? Ever growing as we speak?
Paul – Outta hand Niall you know how it is!! Since we spoke last we're up to 58 cars… its gone a bit crazy! A Renault Espace is the latest addition and a lovely Subaru GLF.
Paul Cowland was talking to Niall Julian
Series 6 of Salvage Hunters Classic Cars airs on Quest at 9pm from Wednesday 5th January and is available to stream on discovery+