Salvage Hunters Classic Cars is back for a brand new 3rd Series on Quest and Take to the Road has scored another exclusive interview with the shows now veteran presenters Paul Cowland and Drew Pritchard. This time we bagged a whole 1 hour face to face chat with the lads during a special event at Studio 434. There was of course lots and lots of car banter with a little bit on antique furniture. Salvage Hunters Classic Cars is fast becoming one of the finest classic car shows on TV and deservedly so. Here's what the lads had to say about getting to a 3rd Series.
They say 3 is the magic number. So with Salvage Hunters Classic Cars returning for a 3rd series, it must feel pretty special?
Paul – We're very lucky really. Its a bit like a band once you get in your stride. You always have the slightly awkward second album but once the 3rd comes along you are kinda into your groove. And now everything to do with the production, the crew, the cars, the lads in the workshop and the way Drew and I work together, it just sort of clicks. Around the middle of series 2 everything just clicked. And the show just plods along, we don't set any silly deadlines and you can just follow the car as it gets done.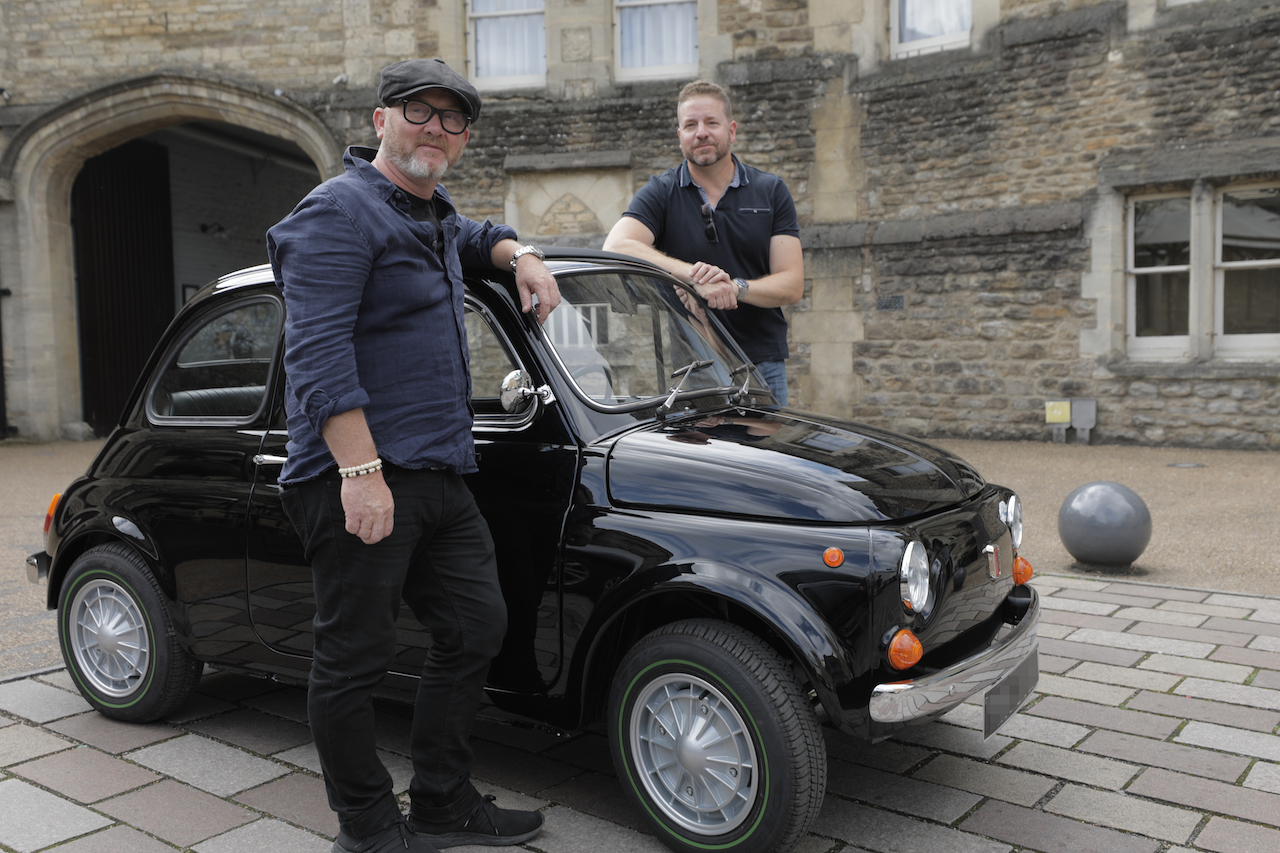 Drew – It's just been fun. And it's been fun from day one. But I think Series 3 is by far the best one. We are really in the groove. The team is brilliant and our restorers are fantastic. We haven't changed the message either. We are making a car program for car people that isn't too nerdy that it turns people off. There's no false jeopardy, there's no BS or silly catch phrases. We want to show really interesting cars being restored by interesting and talented people. It's the cottage industries that we love promoting that really help make the cars special.
You've bought some rare and stylish cars for this series. In particular the NSU RO80 and the Renault Alpine GTA are stand outs. What drew you to these particular classics? (no pun intended)
Drew – Ha ha! Going for a car like the RO80, it is a very intelligent and interesting choice and it's a car not a lot of people know about. And for me, I'm gonna say it, it actually has a little hint of Bauhaus about it! It is just a great car! I remember my Dad and a friend patching one together when I was a kid but it had already had the V6 engine conversion. And I hadn't really seen one since. There's only 36 on the road in the UK and the guy we got ours off had 29 of them! When we finished with ours it was a little gem. With the Alpine, I'm a massive 911 fan and in fact I've just bought my 16th! The Alpine GTA had a real edge to it. It was a "close but no cigar" to the 911. But it was nice to be driving around in something that people didn't know what it was and you weren't going to see another in a hurry. It was very chic.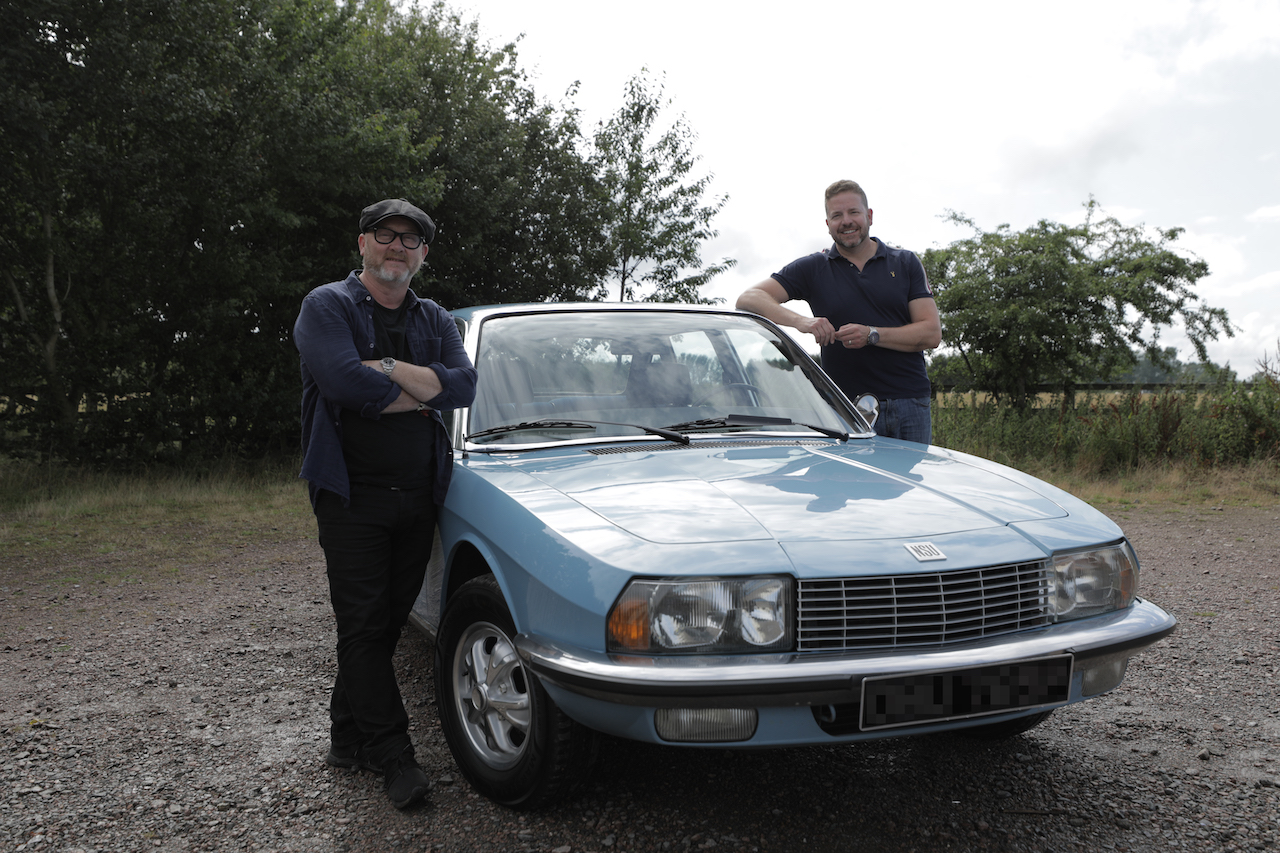 Paul – Ha you should write the scripts… if we had one! What I love about cars like the RO80, they are unknown and a bit maligned. A bit like the Triumph Stag, people say "oh the engine is rubbish". If you actually get one that's been maintained properly, its actually a brilliant engine. And it is the same with the RO80. Before this car I had moved one before but never driven one. It just blew us away and it shifted my opinion of that car to a different plain. It was exceptional! With the Alpine GTA we wanted something that was more current, since Alpine is back making cars. We picked it because it was Renault's go at doing a Porsche 911. And they almost did too. Dynamically that car is surprising! And the GTA is a hundred times rarer than a 911, plus at a fraction of the price.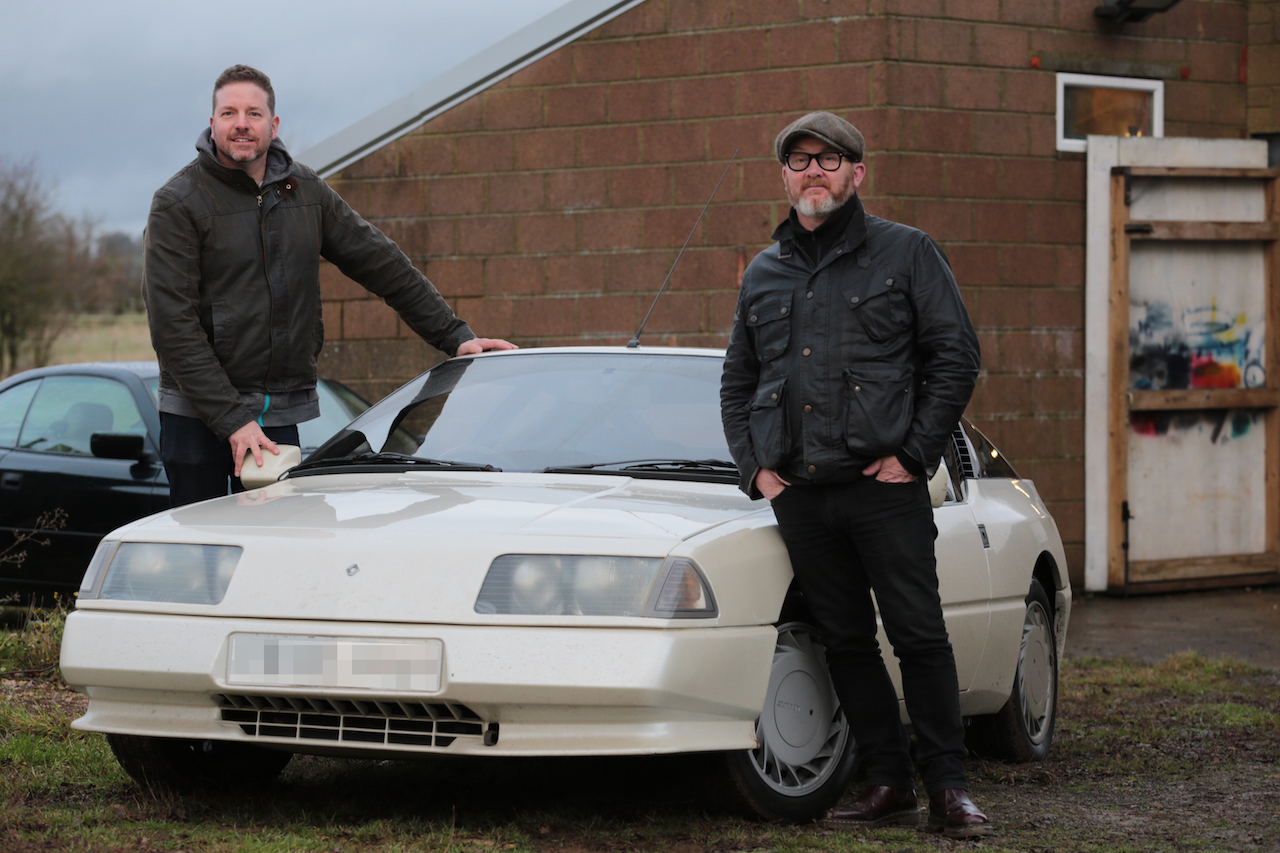 Another cool car you picked from the 1980s was the Toyota MR2 Mk1, a fun little sports car that changed the market. Why is it not more popular compared to say the Toyota Corolla Twincam?
Paul – Both are amazing cars and both have the same engine, the 4A-GE which is an absolute gem! An utter gem! You have to admit it is the best sounding induction noise ever! Go on Drew admit it! We have footage of your little face lighting up. The flip side though is that someone has packaged a mini supercar in an affordable format. Even for a big 6ft 4″ lad like me it's a great driving position. I think it is fabulous and I love origami style cars anyway. But coming back to the Corolla, it was that bit more practical having a hatchback and it has rear seats so you can take your kids to school in it.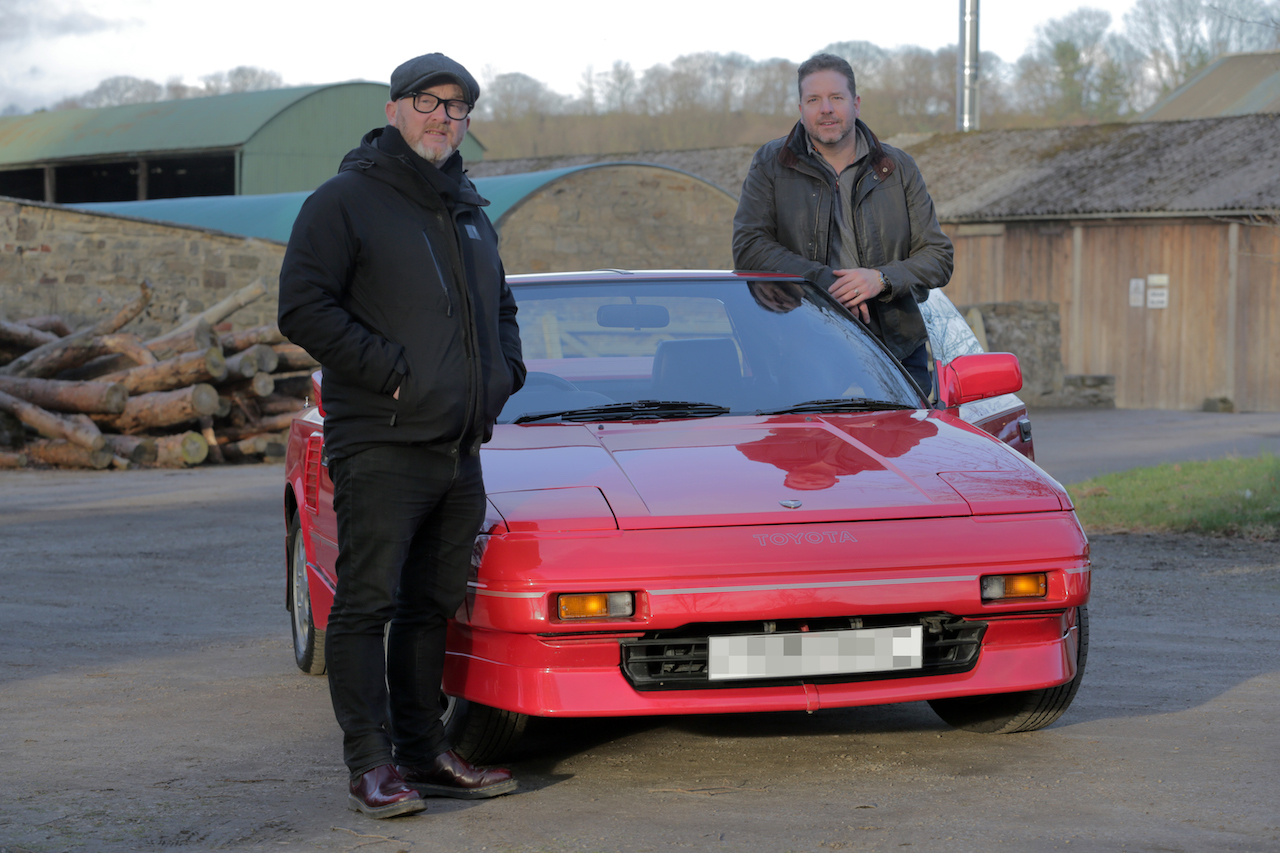 Drew – Oh God! No… it was a red disaster! Ok I admit it was a good engine noise. But I can't love those cars. It just goes against all of my principles. I've spent my life buying and restoring beautiful objects. Then this disgusting red pile of badly thrown together plastic arrives… the state of it! I was embarrassed being in it! I just looked at the placement of the fuel filler cap and I thought you lazy sods. It's just badly done, the whole car! I just don't get the whole Japanese car thing. I've only owned two and they were terrible. The only exception being the Subaru Imprezza. I love them. But that's about it.
Which car has caused the most disagreement between the two of you? But it looks like we've covered that already!
Drew – On no we've had another one since then! That black horrible thing… another Japanese car. This thing was just… oh God… and I thought the MR2 was bad. What was it? Paul said we had to go look at it, we had to! A Honda CRX SiR. I've never had such a visceral reaction to a car, it actually turned my stomach. It amazes me that we actually still produce stuff like this. I thought it was an utter waste of somebodies life to produce it. I actually said I want nothing to do with it! Sure the engine is a screamer, its great. But it is just a horrible little Grannies car with a big engine in it. It just made me sad…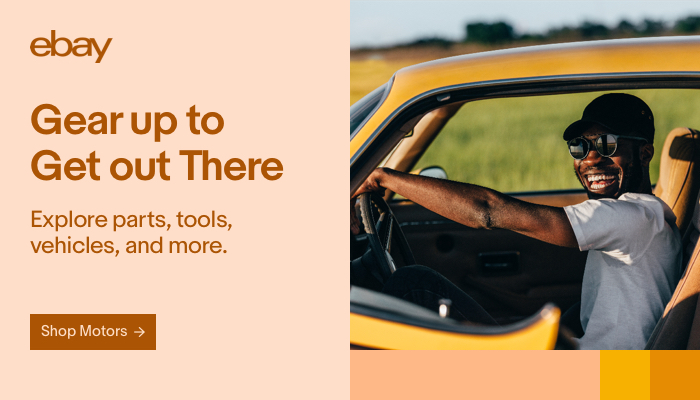 Paul – Yup its the one! V-TEC, LSD, Glass Roof, Factory Black… it is the Unicorn Honda CRX. And we found one and it was immaculate! Which pleased me greatly! Get it on a B Road and it is brilliant! It's a superb JDM car. So you can look forward to that one coming up in the next series ha ha!
Were there any purchases that appeared sound and revealed hidden horrors once it got back to the work shop?
Paul – Actually this series wasn't too bad. It was actually quite plain sailing, we were lucky. Out of all the cars in Series 3 there wasn't really one problem car in terms of hidden horrors. This has been our lucky series. Even the BMW 2002, which can rust badly, was the easiest car to do. It was a gem! We actually had a funny bet on that one but we won't spoil it. So keep an eye out to see what it was. Even the Fiat 500 which looked worse on the outside, when we stripped the shell it was actually very good.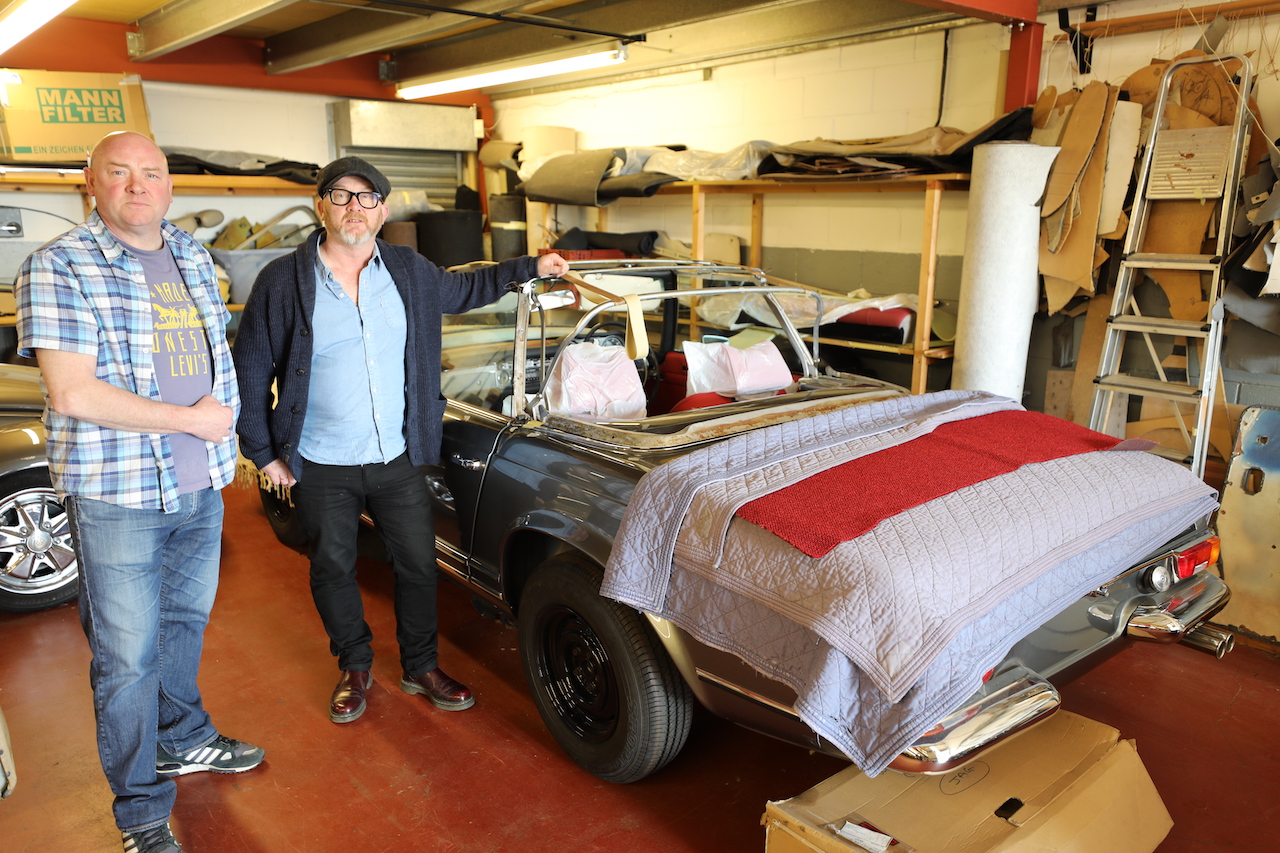 Drew – Yes the BMW 2002 was beautiful. No welding! No painting! It was incredibly good. And yes there was a bet, annoyingly!
Which classic stood out as a favourite in this series?
Paul – Alpine GTA! Easy… for all the reasons mentioned above.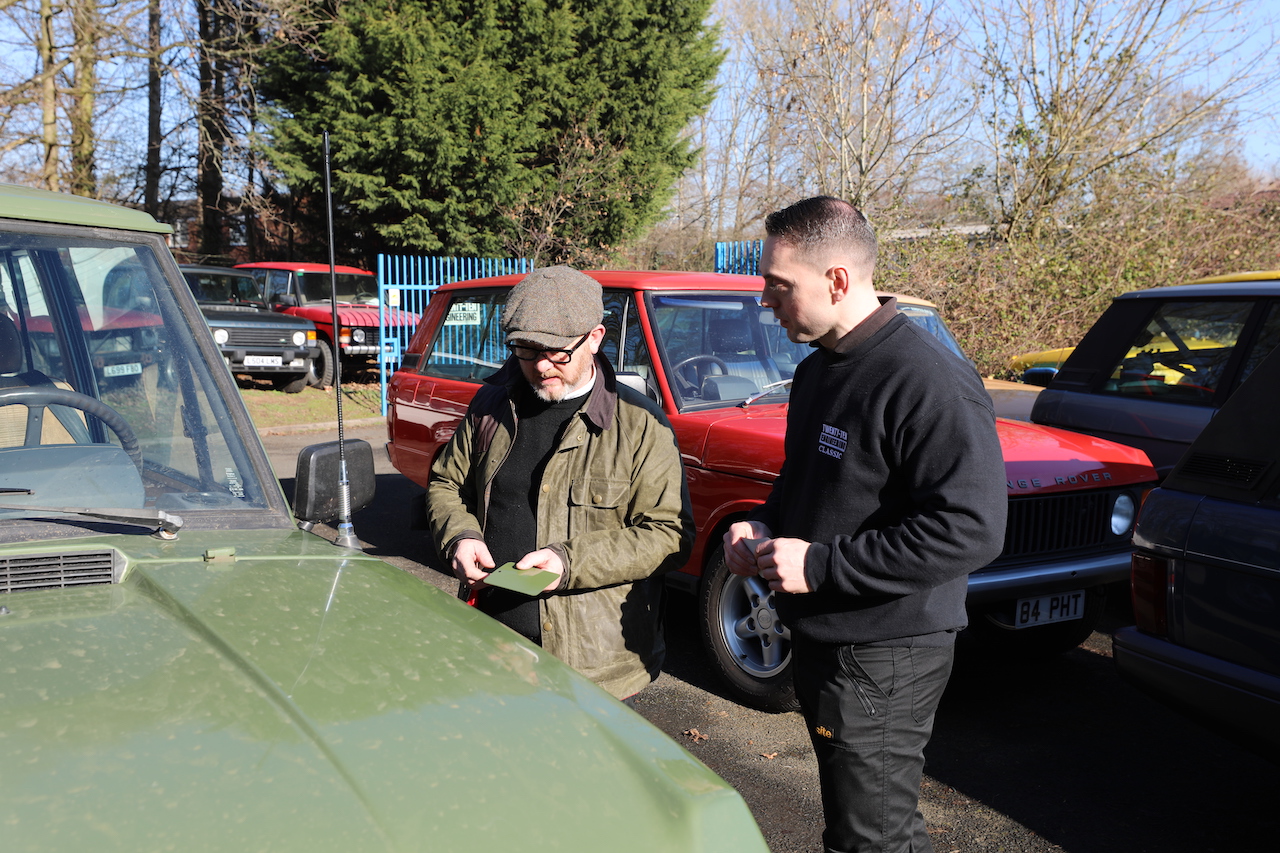 Drew – The Range Rover! Yup easy… there's just something about an old Range Rover, there really is.
Both of you were on the Discovery stage at the NEC Classic Motor Show last year. It is amazing how huge that show is and it is a full on experience. How you both recovered yet?
Paul – Yeah its mad! The biggest in Europe isn't it! I just love it. Its great because we get to hang out with our channel buddies and we have a lovely telly family. So its a chance to be on tour almost, a bit like crap rock stars. Its great meeting fans and hearing their feedback. And we do listen and take feedback back to our producers.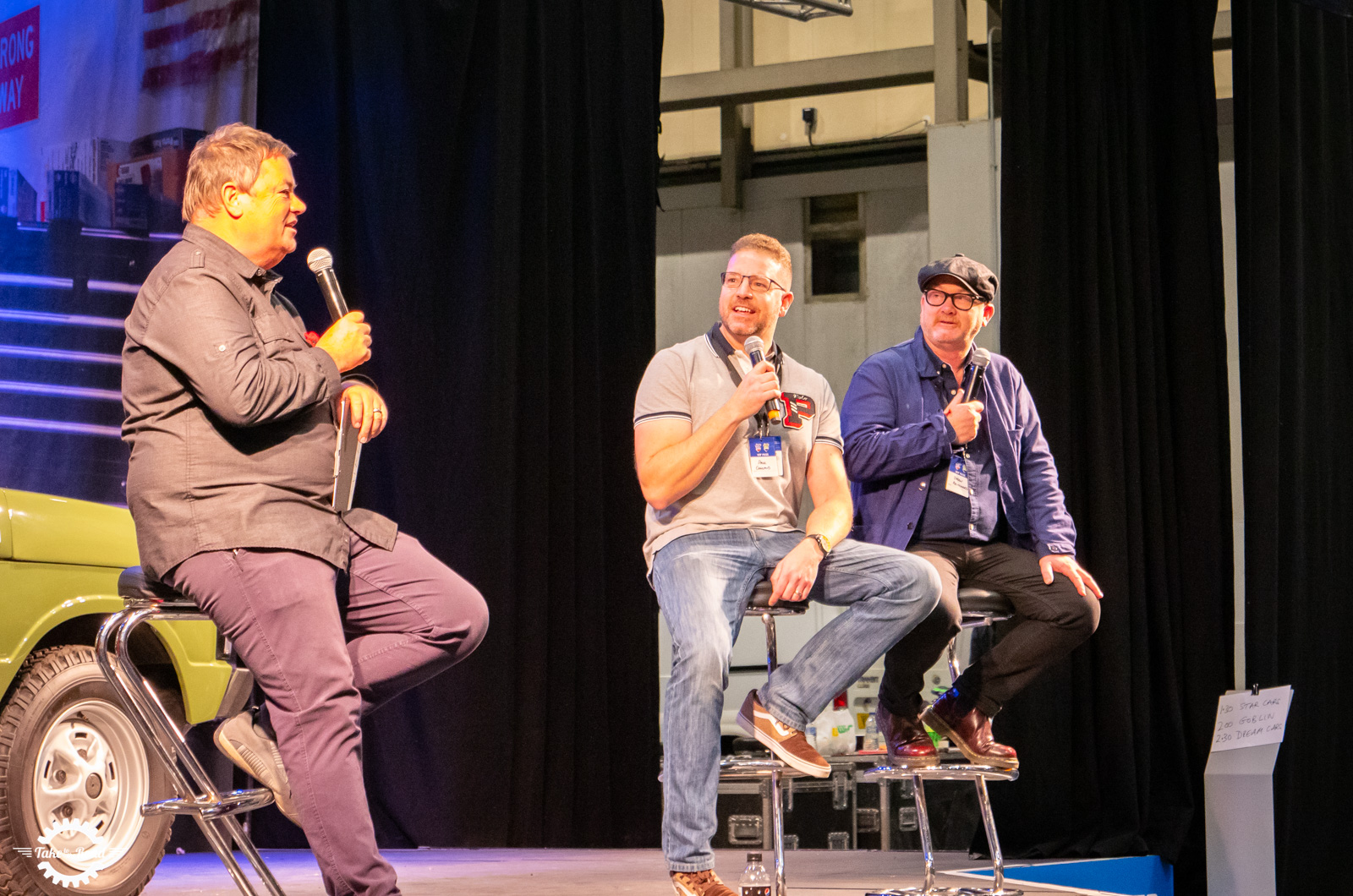 Drew – At first I didn't like doing these shows because I'd never done anything like that before, but now I absolutely love it! It feels really good.
Drew has any one come up to you at a classic car show and asked you to sign the leg of a Queen Anne chair?
Drew – No but they have got me to sign my name on their arm so they can have my name tattooed later. I've had that. But I do have people everyday and especially at car shows, you know when you are walking around chatting about cars and then their phone comes out and they go "my Mum has got this table can you just look at this?". It does happen! All of the time! But I always make time for people who watch the show, because we wouldn't be here without them.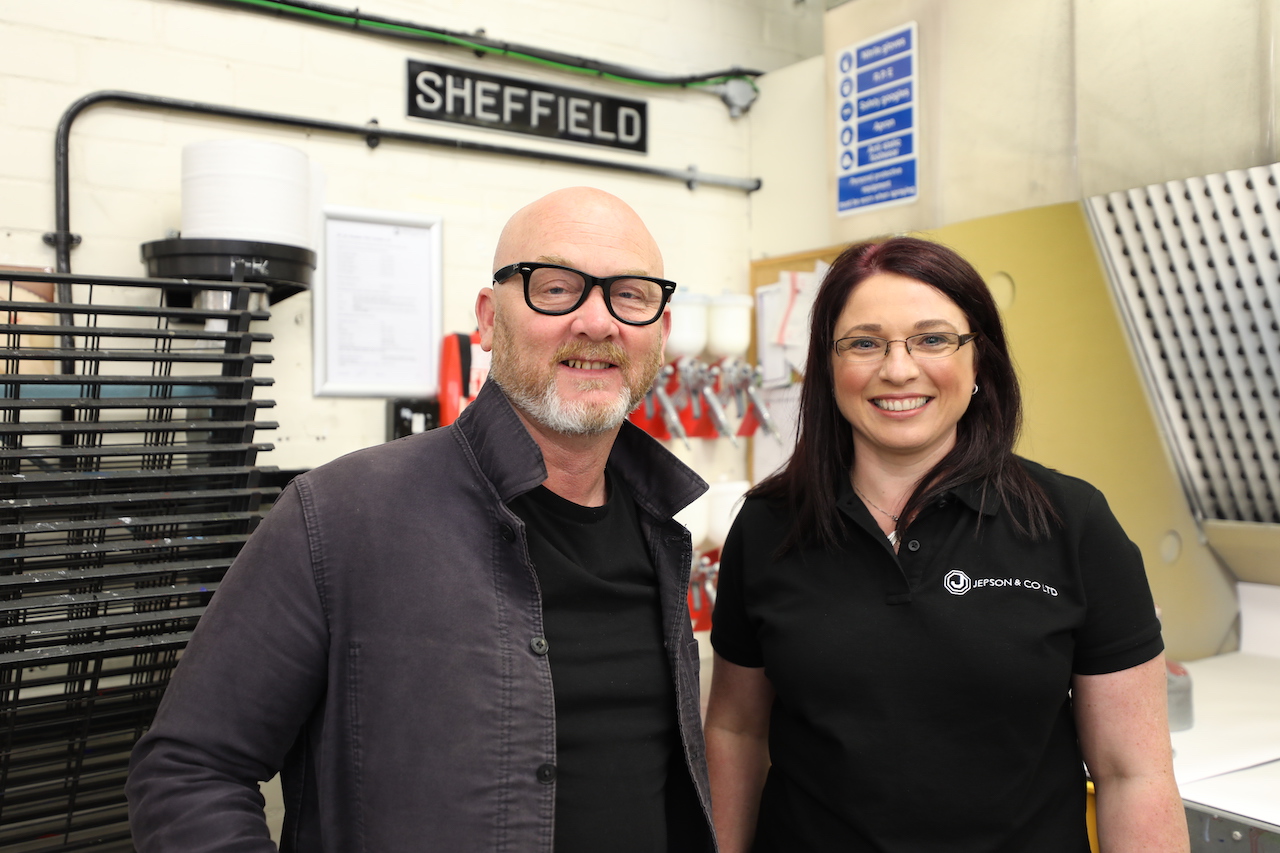 Paul has any one come up to you at a classic car show and asked you to sign the glovebox lid of a Saab 9000 CSE Turbo?
Paul – No! And I wouldn't devalue one either! Even though I've been on TV for a decade now, I just don't get recognised which is nice sometimes. I don't think people watch the show for us really, we're not that kind of celebrity, its about the cars at the end of the day.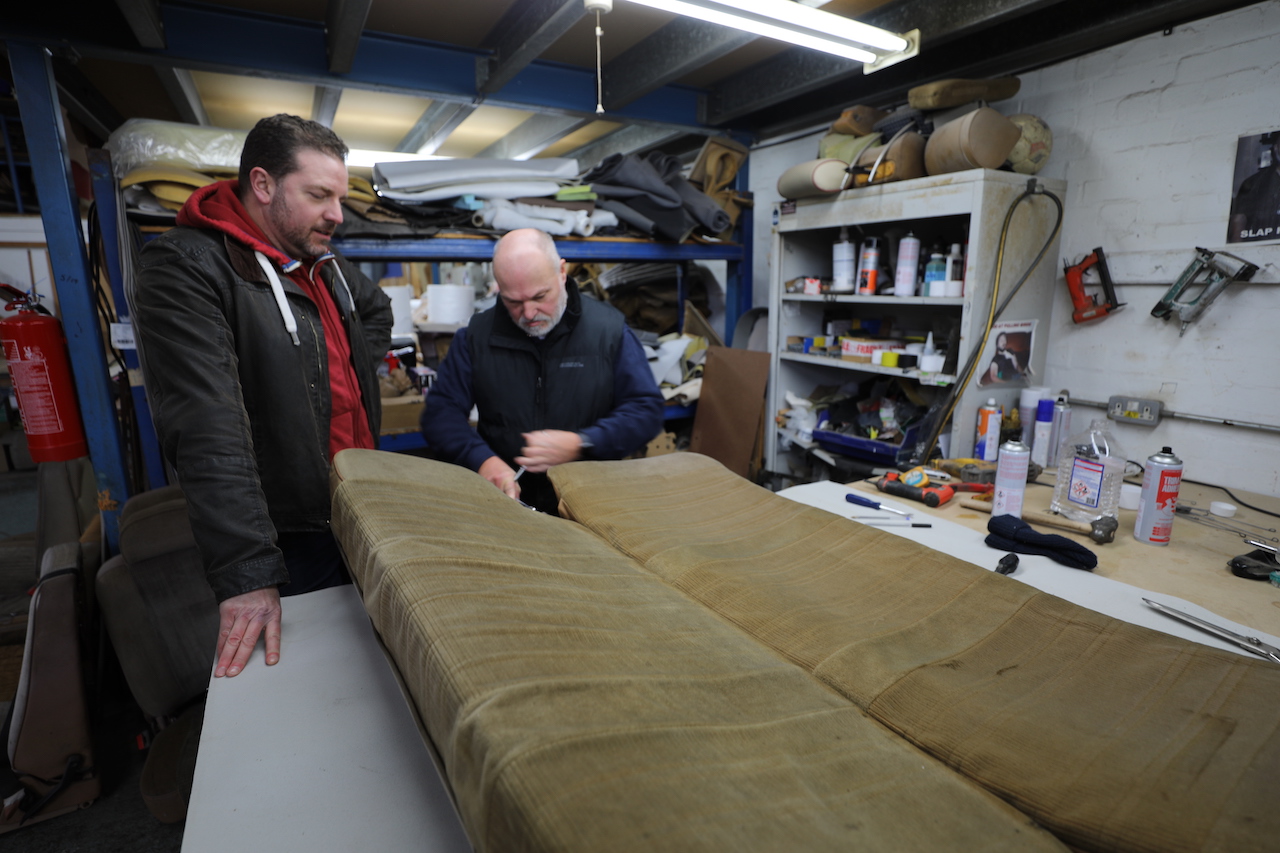 Some quick fire questions… answer which you would choose:
Koening or TWR
Drew – Koening
Paul – Koening all the way
AMC Pacer or AMC Gremlin
Paul – Oooh Pacer! All because of Waynes World!
Drew – Gremlin for me.
Triumph Acclaim or Talbot Solara
Paul – I think the Solara actually. It was actually a nicely proportioned car. I actually think a stanced two tone Solara would be cool. Like with an early Renault Espace wheel. Or even a stanced Triumph Acclaim in driving school trim, brown paint, brown interior. I actually think that would win the internet.
Drew – Both of them are utter rubbish! I don't want to be the man that promotes, fixes or puts back onto the road any one of them. No, no, no, no, no!
Daf 66 Marathon Coupe or Fiat 850 Coupe
Paul – Fiat 850 Coupe
Drew – Fiat 850 Coupe, definitely. But I do actually like the Daf as well. We have to get one!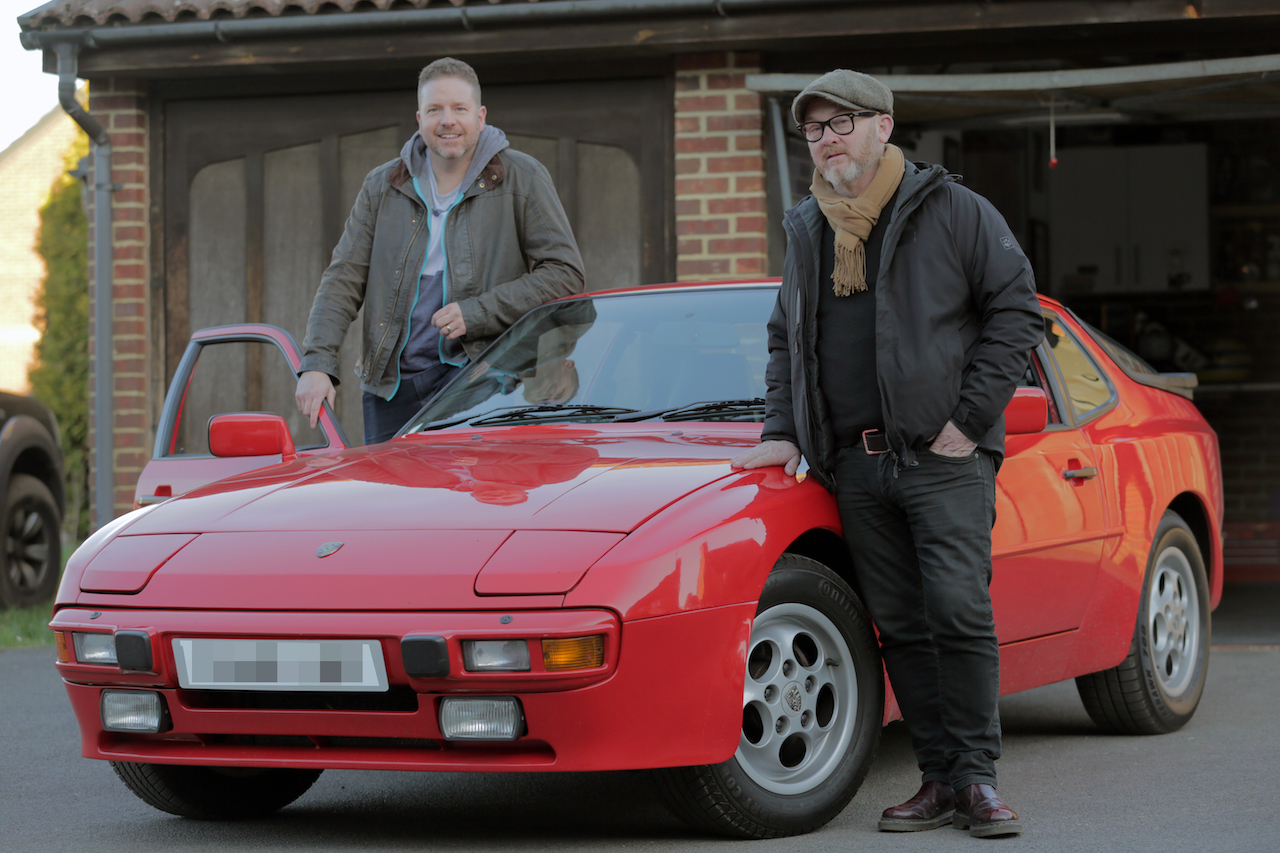 Drew Pritchard and Paul Cowland were talking to Niall Julian
The brand new series of Salvage Hunters Classic Cars is currently showing on Wednesday's at 9pm on Quest