The word 'quattro', chosen by Audi for its pioneering high-performance four-wheel-drive cars, immediately captures glamour and excitement in the minds of all motorsport enthusiasts. That excitement has been brought together in the new book "quattro: The Race and Rally Story 1980 – 2004". Written by journalist and quattro devotee Jeremy Walton, it promises to be a must read for fans of the iconic rally legend.
This new book, published on the quattro's 40th anniversary , explores 24 years of factory-prepared and factory-supported quattros in motorsport, from 1980 to 2004. It is a tale that extends from rough rally stages to race tracks, from pine-fringed ice trails in the depths of European winters to the shimmering heat haze and melting asphalt of Texas street racing.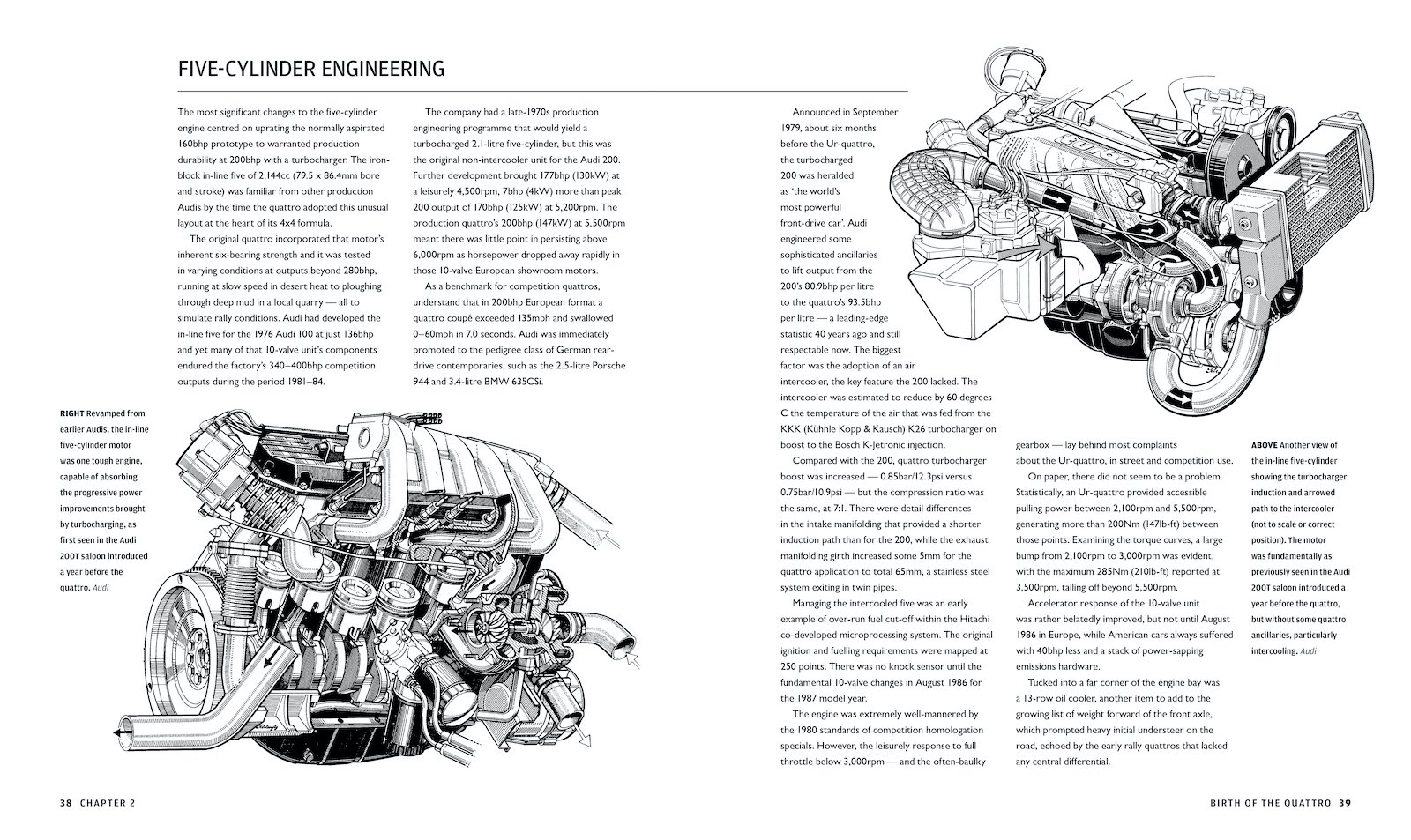 Along the way, it explains how quattros collected four world rally championships, five American driver/manufacturer crowns and a single-year haul of seven international touring car titles, plus numerous other honours.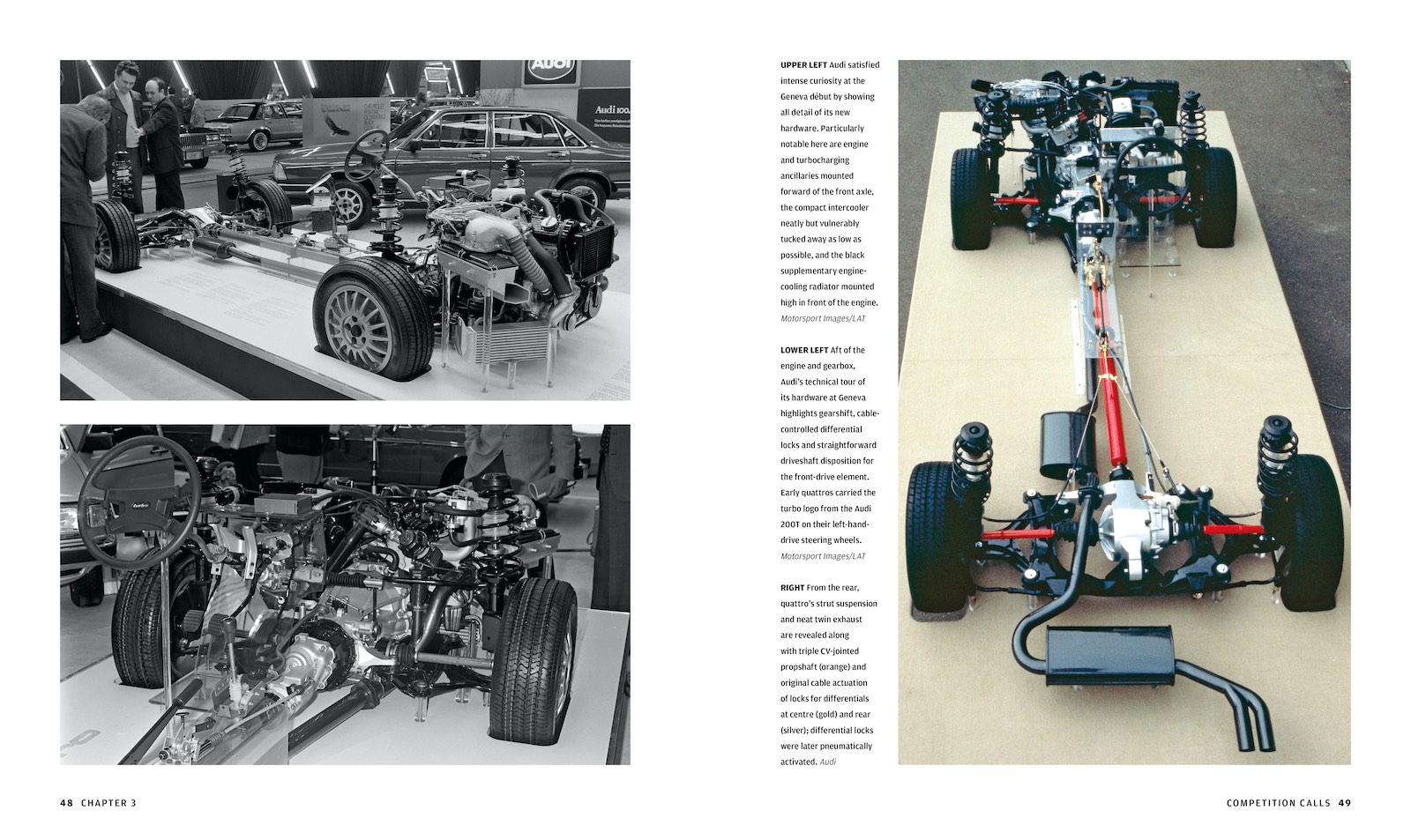 With the five-cylinder turbocharged quattro in its original form, rallying in the early years yielded numerous wins, most of all in 1982 when seven victories in 11 world championship rallies brought the first title.
The short-wheelbase Sport added to Audi's armoury, with 1984 becoming an all-action, all-conquering rallying season with two more world titles won, for drivers like Stig Blomqvist and manufacturers.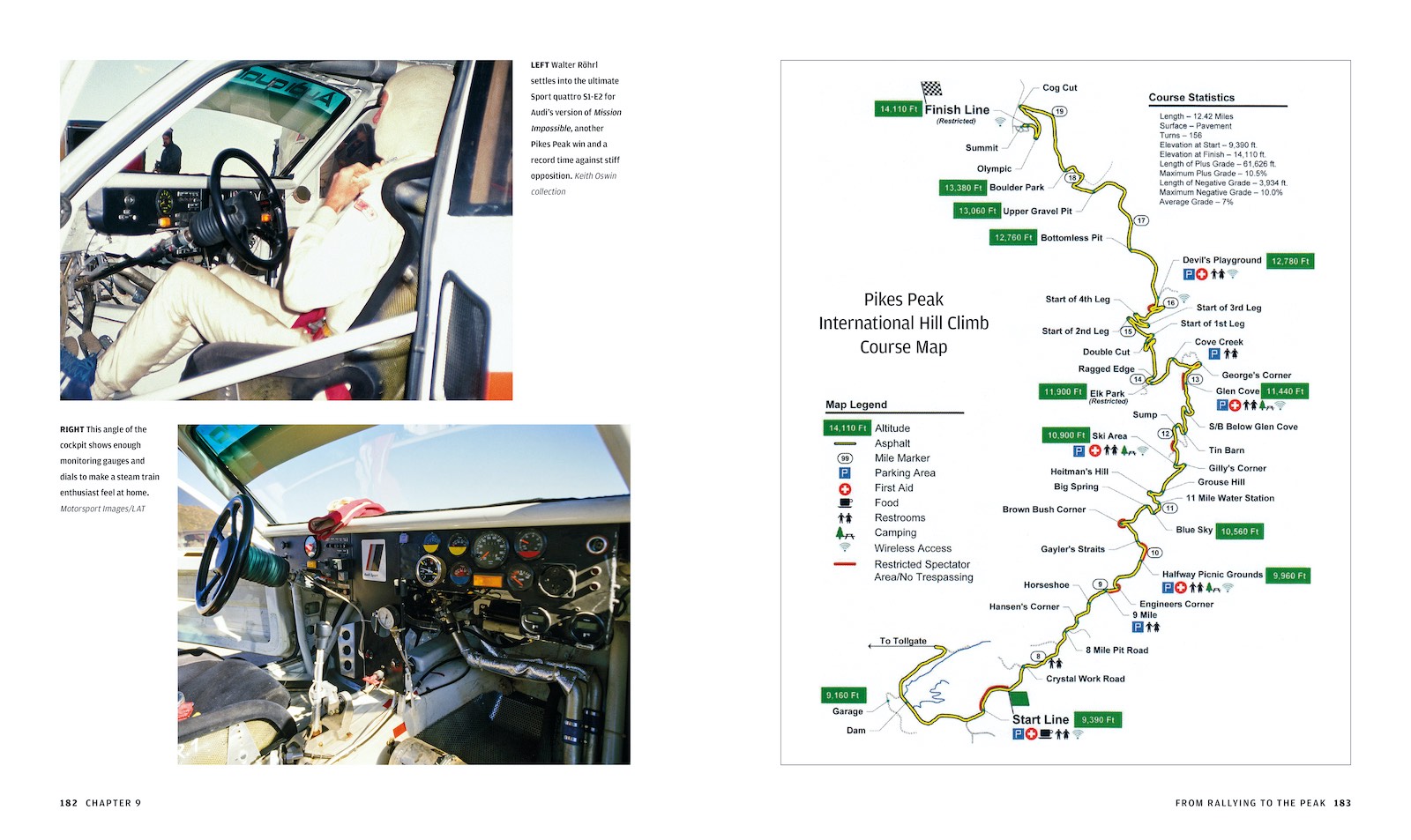 Three stunning Pike's Peak wins were also achieved in America in successive years, for Michèle Mouton (1985), Bobby Unser (1986) and Walter Röhrl (1987).
Starting with double championships for the 200 quattro in Trans-Am (1988) and the 90 quattro in IMSA (1989), more racing success unfolded in America. Exuberant Hans Stuck was the star driver, but consistent team-mate Hurley Haywood captured that 1988 title.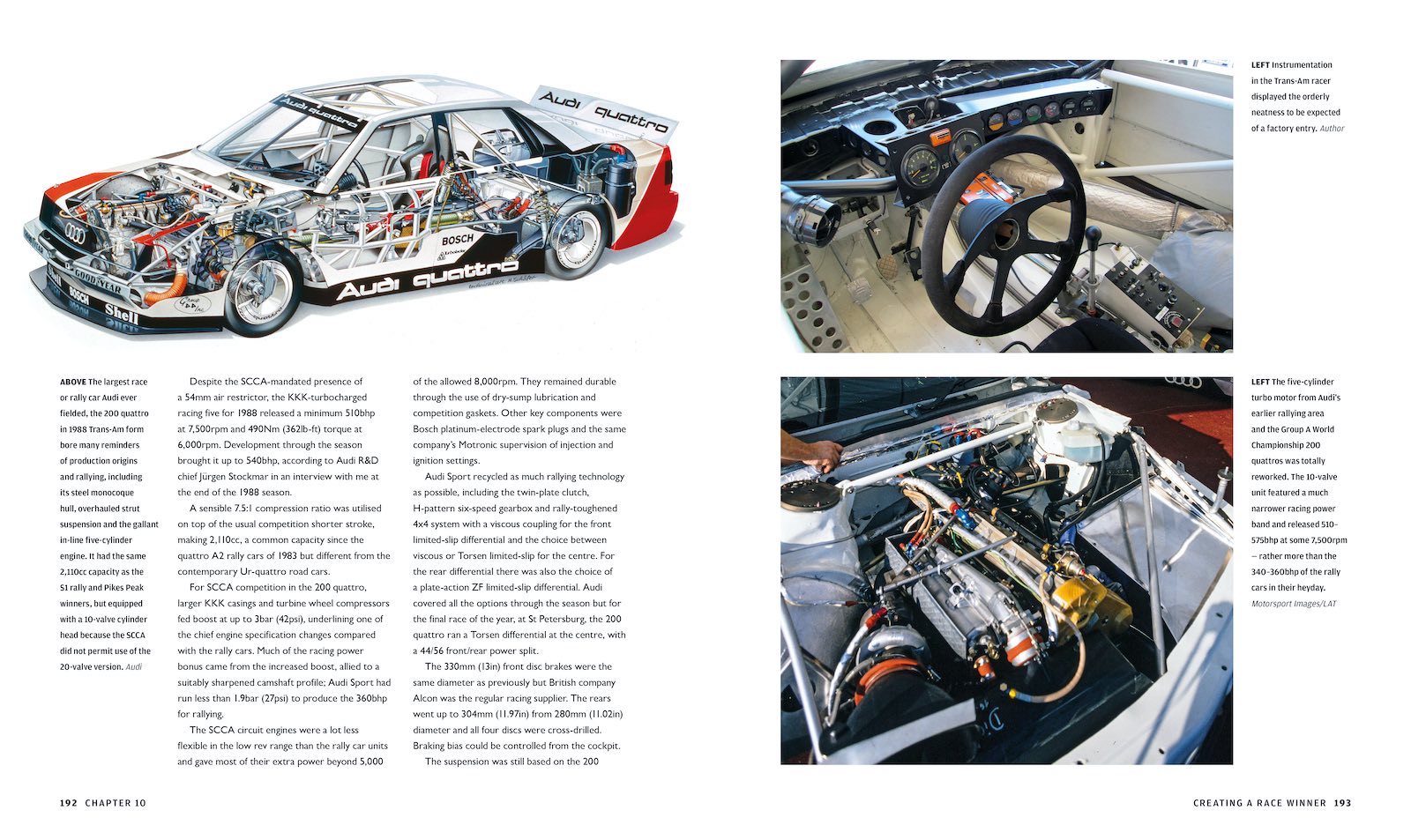 Touring car campaigns during the 1990s also brought huge success, starting with fearsome V8 quattro 'racing limos' in Germany. Global achievements followed with A4 quattros in many national Super Touring series throughout Europe and in Australia, including Frank Biela's 1996 title-winning campaign in Britain.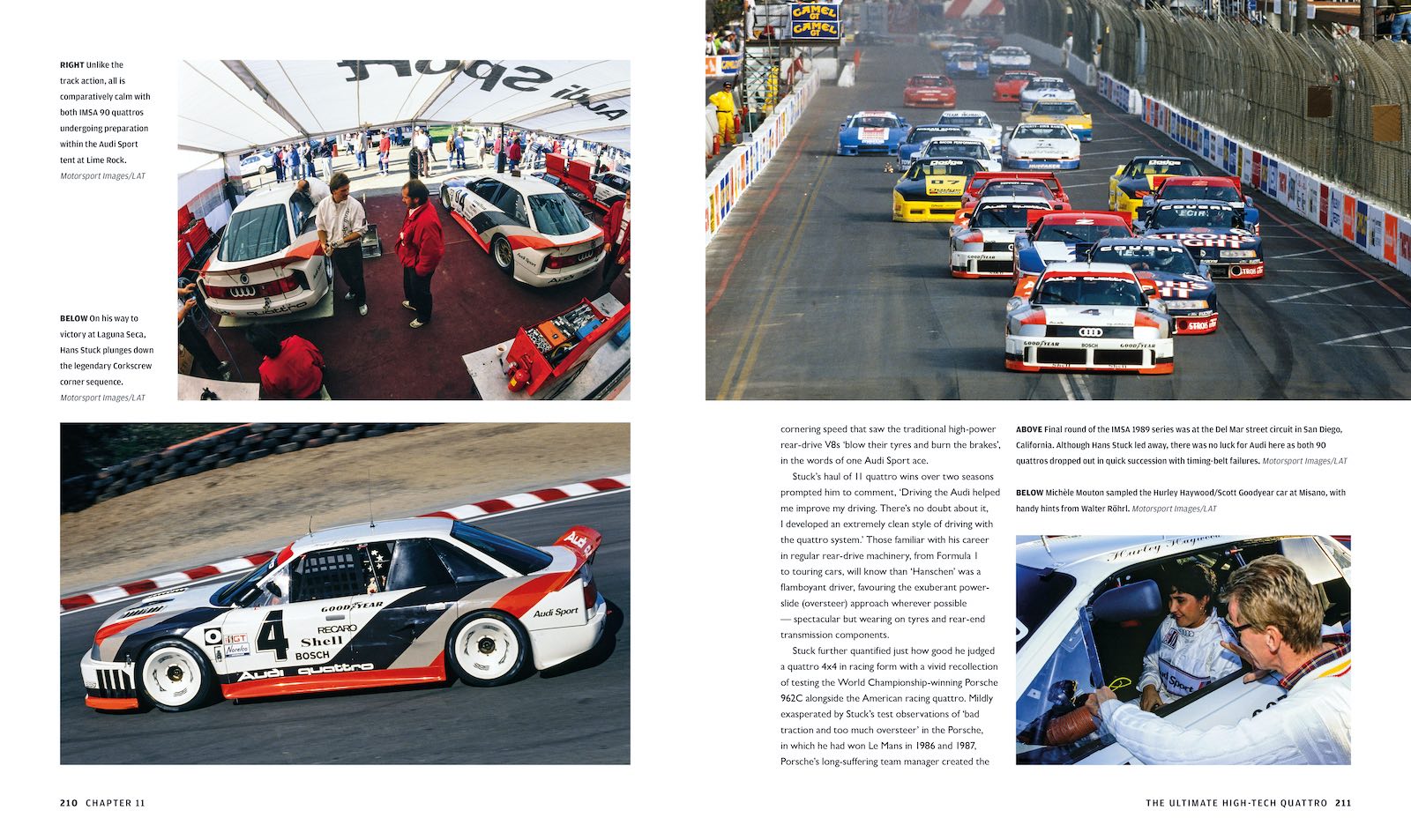 Audi continued to win on track in the new millennium as race versions of the S4 and RS6 captured five SCCA GT Championship titles in America.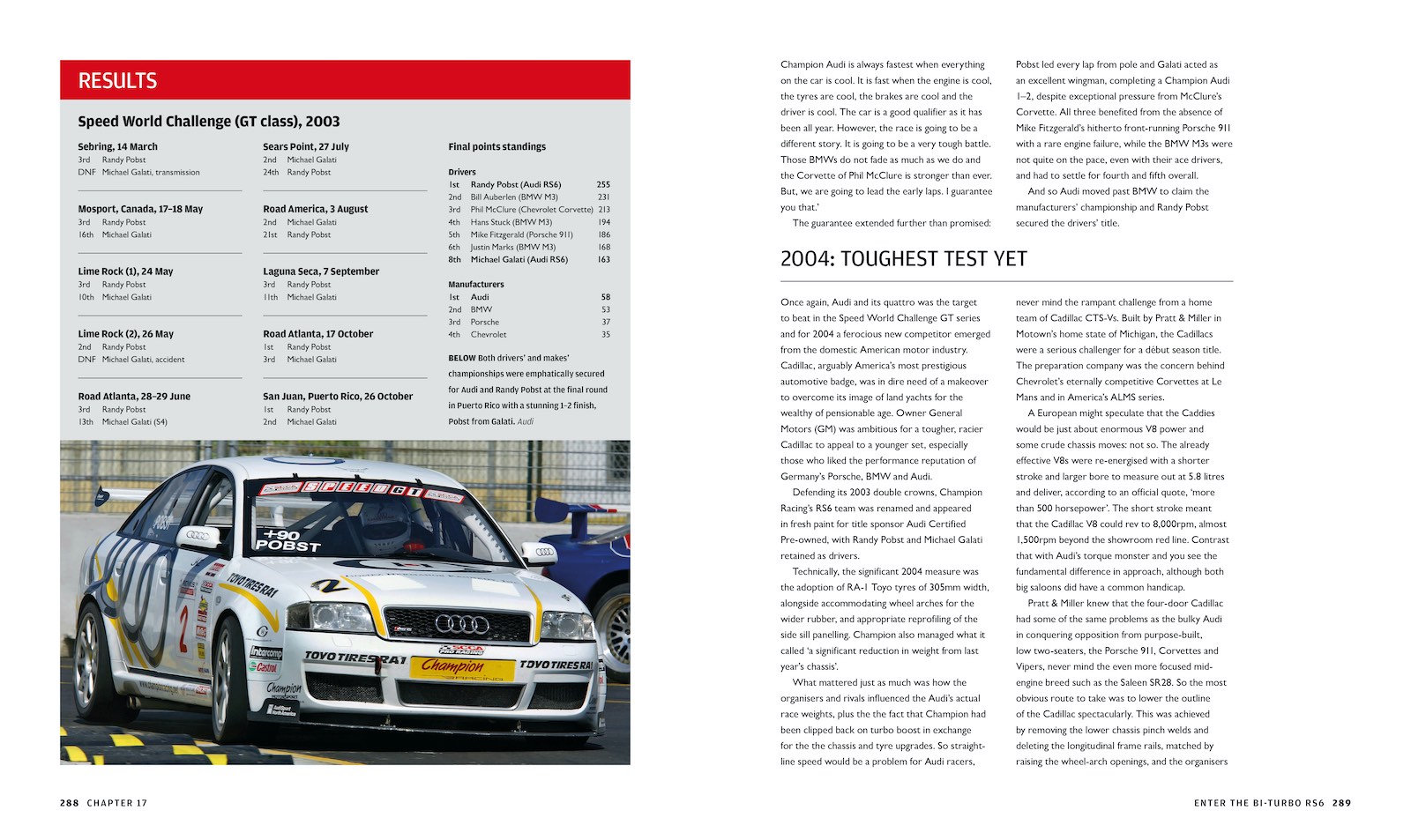 These are just some of the fascinating history of the quattro's motorsport success covered in "quattro: The Race and Rally Story 1980 – 2004". With 304 pages and 334 photos, most of them in colour it is a fantastic read for the quattro fan.
"quattro: The Race and Rally Story 1980 – 2004" retails for £50 and is available to order now from EVRO Publishing.