On Sunday 31st May Take to the Road took part in its first ever Classic Car Run. Organised by GE Classic Motor Events, the 27th London to Brighton Classic Car Run started from leafy Greenwich Park in London. Our start time was 8.35am so we arrived on site in our Bertone x1/9 Gran Finale at 7.50am. The weather was grey and overcast but the forecast heavy rain had thankfully held off. Coincidently our friends and fellow x1/9 Owners Club members arrived just behind us in their Fiat x1/9 1300 so we were able to park up together on the avenue.
We promptly made our way to the check in desk where we collected the all important Check Point Card and Route Booklet. The package also contained certificates for the run and a nice brass plaque to commemorate the event. We made our way back to our cars and waited for the call to set off. We debated removing our x1/9s hardtop roofs for the start of the race, but with rain in the air we decided against it. It was a sensible move.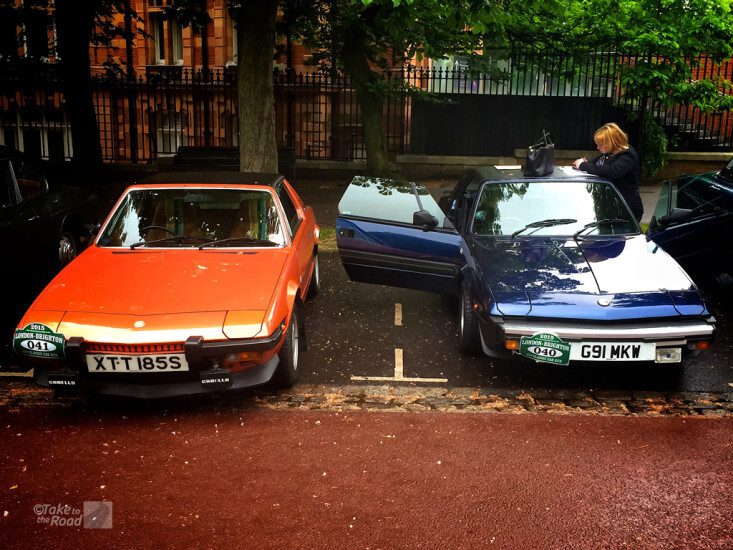 At 8.30am we got our 5 minute warning from one of the stewards so fired our x1/9s up and proceeded to the start point. We lined up at the start line, posed for a photograph and set off at exactly 8.35am.
With my partner Deirdre navigating, our route took us out of Greenwich Park, through Blackheath and briefly onto the A2 before coming off on Rochester Road and onwards towards Eltham. Our classic car convoy consisted of the Fiat x1/9 1300 in front, our Bertone x1/9 in the middle and a nice Alfa Romeo Giulietta convertible behind us followed by a Morgan. After 3.9 miles we passed Eltham Palace, former home to Henry VIII. With no time to check out the baroque splender of Eltham Palace, we forged ahead and on towards Bickley.
At this point we had made a small navigation error by following one of the lead cars. We quickly realised the mistake and doubled back finding ourselves behind a Jensen C-V8 and the Morgan, so we were back on the right track. Our route was taking us through Petts Wood just north or Orpington. At this stage of the run we realised other cars were on different routes, with numerous vintage and kit/sports cars zooming past in the opposite direction. With the rain drizzling and my x1/9s wipers squealing badly (they didn't do that the last time it rained!) we followed the route through Downe, passing the former home of the great Charles Darwin.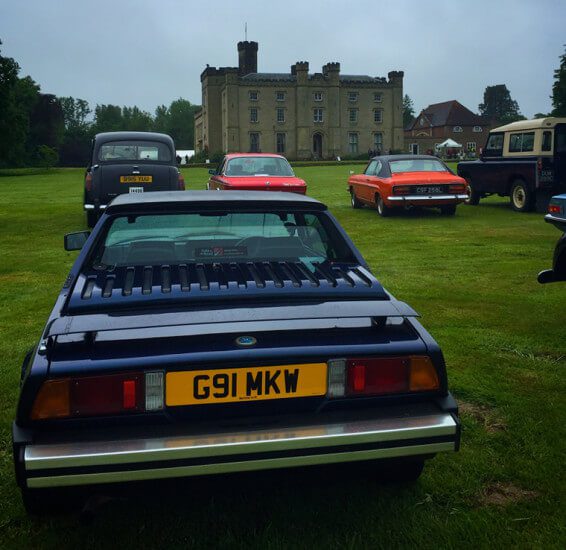 Despite the miserable weather and the lack of any view of the Weald of Kent from Toys Hill, we pressed on towards our midpoint stop, Chiddingstone Castle. We got lost again, this time our convoy made the mistake of following a vintage car which we suspect was on a different route. My sharp eyed navigator realised we had gone wrong and were heading away from the castle. So we made a u-turn and lead our little convoy of classics back in the right direction. We arrived at the grand pile of Chiddingstone Castle at 10.09am, promptly made use of the facilities and enjoyed a deserved cup of tea and a biscuit and had a chat with some of our fellow run colleagues. There was a fine selection of cars on the lawn in front of the castle, with many drivers coming and going during the morning. We would have stayed longer at the castle but again the weather was coming in so we decided to head for Brighton.
We departed the castle at 10.40am with the x1/9 1300 again ahead of us and a very nice Citroen Traction Avant Coupe Cabriolet leading our little convoy. As we left the castle I realised one of my cars popup headlights had become stuck halfway. Flicking the switch on and off only closed one light. So our little x1/9 was left with one eye closed and the other open. Our first little niggle of the trip! Just over 7 miles from Chiddingstone, we crossed the border into East Sussex, passed through Upper Hartfield, Colemans Hatch and entered Ashdown Forest. While making our way through the forest another group of us got lost and it took a few moments to get our bearings before making our way towards Ditching Beacon.
Sadly the weather really came down on us whilst climbing Ditching Beacon, with fog, mist and rain mixed in with the wind. The magnificent views of the surrounding countryside were shrouded in mist which was a real shame. It was hard to imagine summer was just around the corner! We passed the very brave event photographer perched on a chair on the top of the hill, giving him a wave and a thumbs up for sticking it out under such miserable conditions.
Knowing we were getting close to the outskirts of Brighton, we pressed on aiming for Marine Drive and the final run into Brighton. At 12.45pm we arrived on Maderia Drive and turned the corner onto Marina Way. We had done it! Our little x1/9 had completed the London to Brighton Classic Car Run, covering just over 87 miles! It was a very nice feeling. We got our Check Point Card stamped and made our way down to the podium area where we had a quick chat with the event announcer. With that done we parked up and went off to celebrate and get some of Brighton's famous fish and chips. A tasty end to a fun run.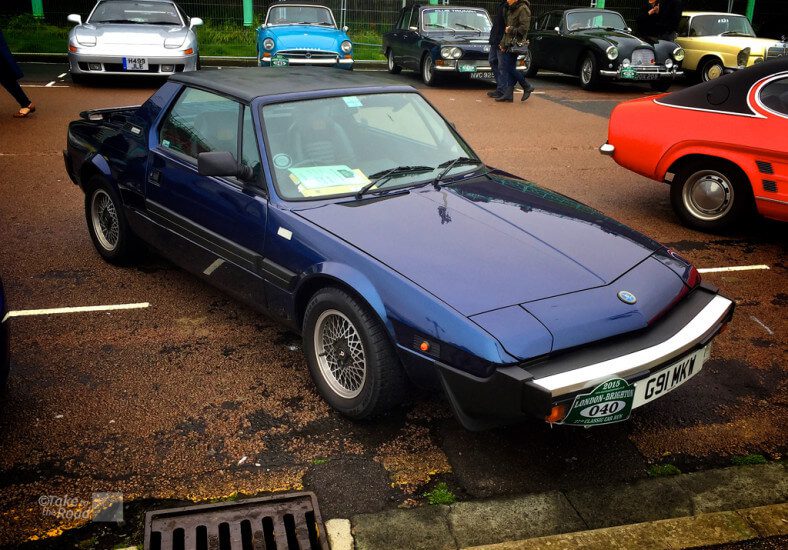 So despite the weather, we really enjoyed the London to Brighton Classic Car Run. The route was really good and we are actually thinking of doing it again sometime (when its a bit more sunny!). We liked how Gemini Events picked a route that avoided the motorways and dual carriage ways. There was a great mix of A and B roads and some nice narrow stretches as well which gave the run a bit of a rally feel. It was a fun day out, the Bertone x1/9 Gran Finale drove really well and despite the headlight niggle, it performed really well. We've definitely been bitten by the classic car run bug and can't wait to do another one.
You can find Part 1 of the video we shot on the London to Brighton Classic Car Run here.
And Part 2 of the London to Brighton Classic Car Run can be found here.
Meanwhile check out some of the cool cars that took part in the run.