On a quiet street on the east side of Rome, not far from the world famous Cimitero Monumentale Verano, is a small officina or workshop called Mittiga Tuning. I had the good fortune to pay a visit to this family run outfit while on a recent trip to the Italian capital. And what I saw not only surprised me, but also gave me hope for the future of classic car tuning.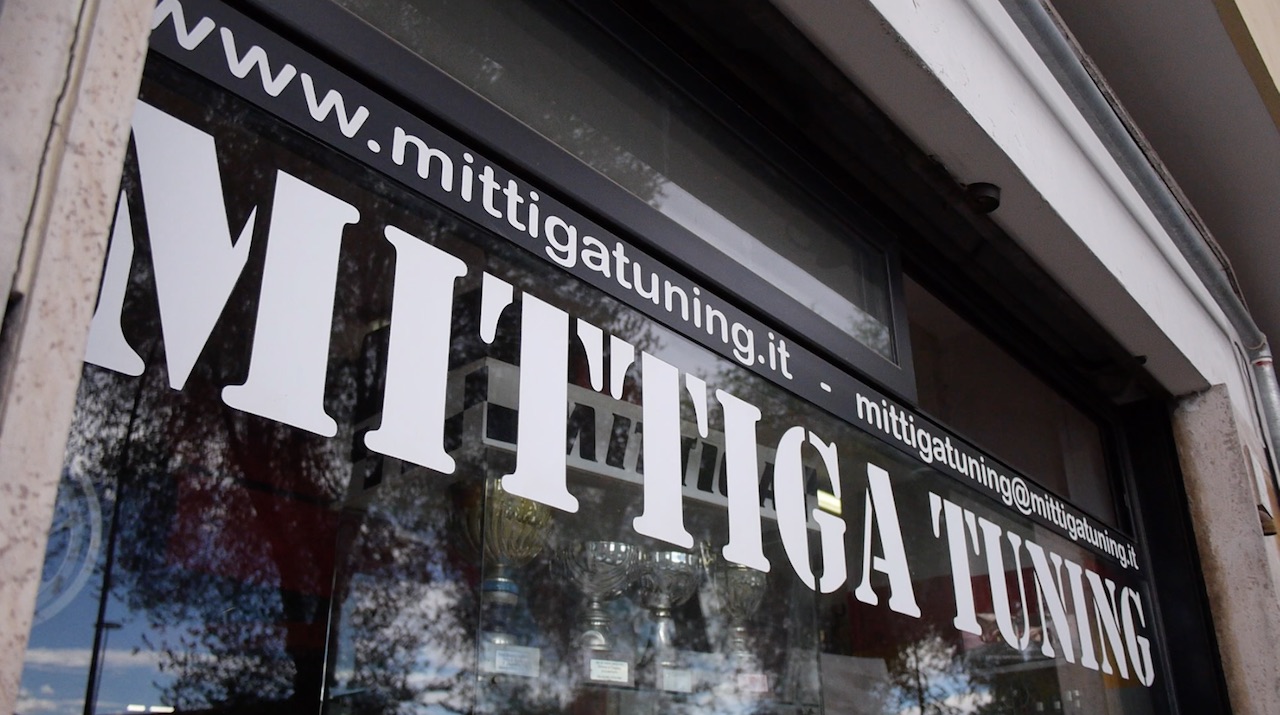 You see with the current rapid pace of automotive technological advancement, traditional automotive engineering skills are slowly becoming a dying art. Modern cars are now more or less computers on wheels and if something breaks, you plug in a computer, it tells you an error code and nine times out of ten, a new part is swapped in.
The same can be said for car tuning. It is very easy nowadays to swap parts in and out, much like upgrading memory or a processor on a computer. And many tuners offer ECU remaps as a quick and instant power upgrade. But this approach lacks a true understanding of the mechanics, of the real benefits of patient and methodological automotive tuning. And that is where Mittiga Tuning excel.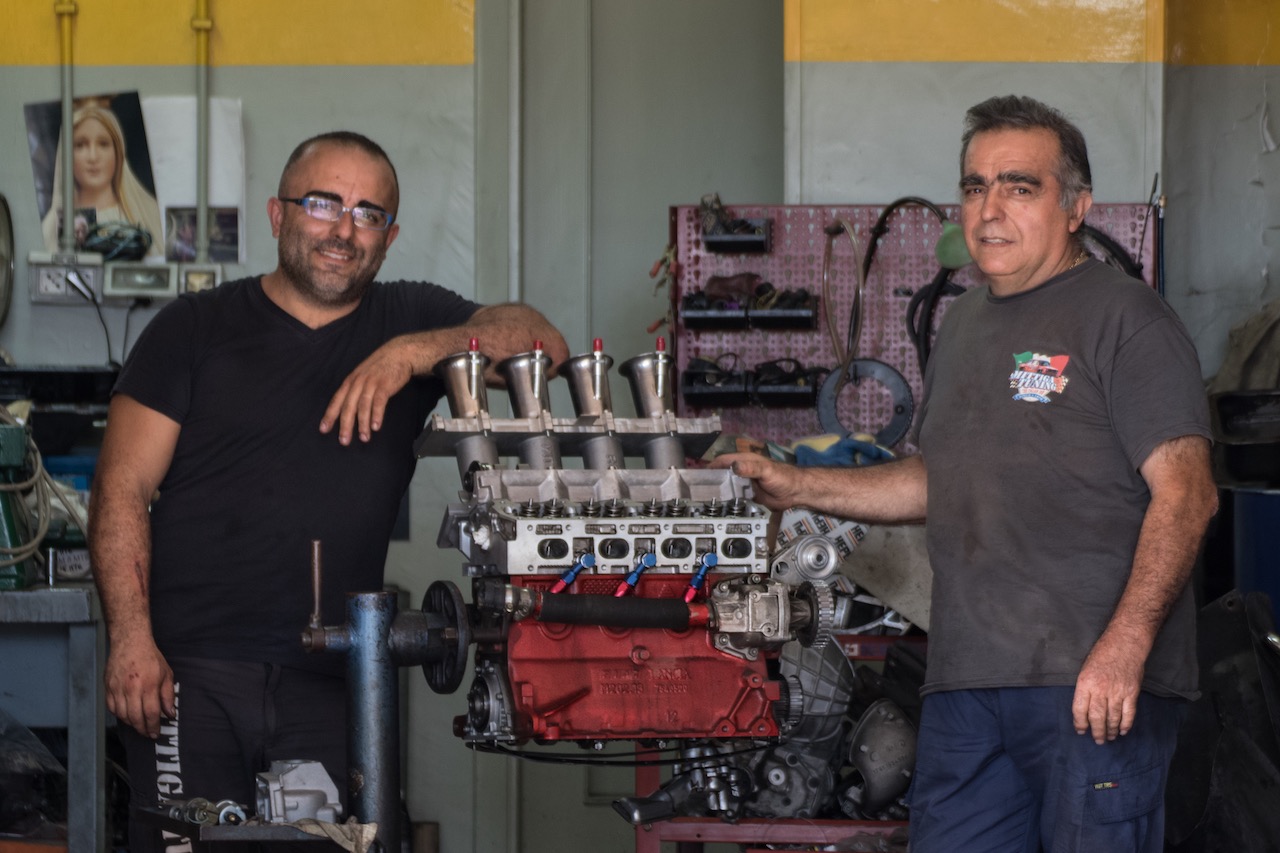 Mittiga Tuning is a father and son outfit and was founded by Domenico in 1978. He runs the family workshop with his son Giancarlo. When I first met them I could tell there was something different about their garage. To a passerby it looks like any other car garage or workshop. Indeed when I arrived there was a Citroen Berlingo van having some clutch work done. But a quick glance around the small unit started to reveal clues of the engineering magic that the father and son team produce.
On the left was a customers Ferrari 308 GTB Turbo which was slowly being recommissioned after slumbering for over ten years. Then I spotted the engine stands and test rigs and the shine of trumpets and fuel rails and… mechanical fuel injection!!! My eyes darted left and right drinking in one mechanical delight after another. It was then I knew I had found classic car tuning heaven! Italian style!
Talking to Domenico and Giancarlo through my translator (my Italian is non molto bene), they explained the origins of the family passion and dedication to classic car tuning. It all started when Domenico was a kid. Hailing from Calabria in the far south, he earned himself a "reputation" for helping himself to pipe work from the public fountains in his home town, which he used to build his first go kart.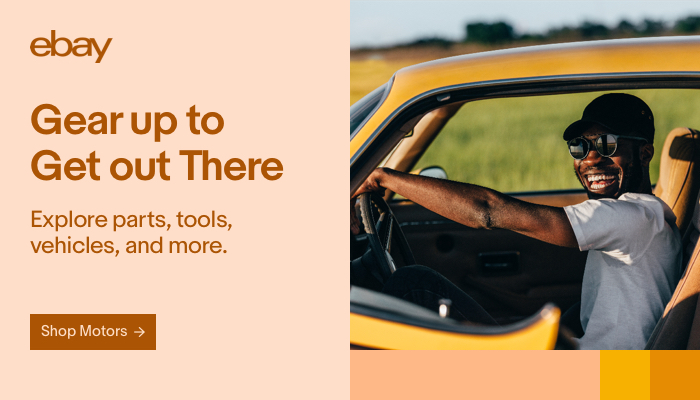 It's always good to get them started at a young age… as they say. The story then goes that he decided to go to a local car race one day and came away with a plan to turn his everyday car into a race car. That everyday car was a Fiat 128 Rally and it is the same car that Mittiga Tuning still own to this day.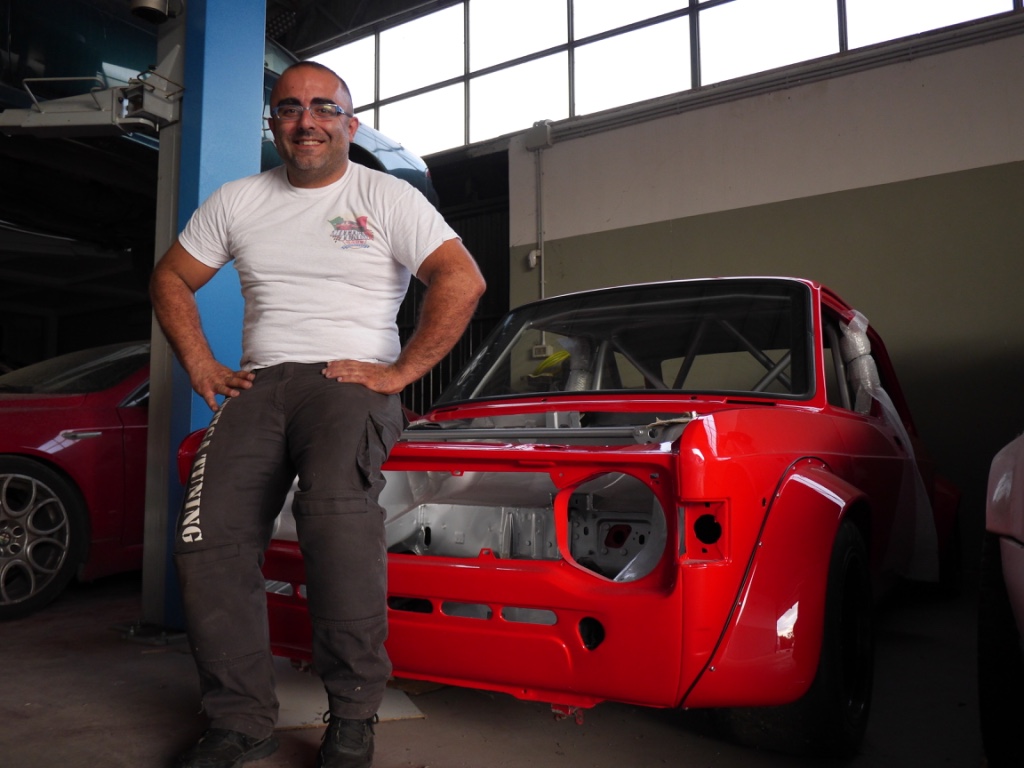 Over a period of many years he worked on the Fiat 128, tweaking and adjusting it, all the time paying close attention to its engine. The car is well known on the Italian historic racing scene and has won countless trophies over the years with both Domenico and Giancarlo behind the wheel. Italian's are well know for designing stylish cars but they are also know as true engine builders.
For them the engine comes first and Giancarlo explained that his father has a unique talent for seeing how an engine should be built and how it should look. It is a knowledge and a skill that he has gained after forty years in the automotive industry. He also went on to state that Domenico was actually offered a job by Ferrari but turned it down as he did not want to move his family to Modena. The more Giancarlo talked, the more I learned about the passion his family has for classic cars.
Their jewel in the Mittiga Tuning crown is the engine for their Fiat 128 race car. The 1.3 ltr engine has been fully rebuilt with an up-rated cam, valves, pistons, wider exhaust ports, custom manifold, custom exhaust, lightened fly wheel and of course the mechanical fuel injection. The fuel rail system with the custom built fuel injection jets and the alloy trumpets really are a work of art. All the components for the engine were designed by Domenico and Giancarlo from scratch, often starting out as paper sketches, before being transferred to CAD drawings. Much of the casting work is carried out by a firm in Modena (who also supply cast parts for Ferrari) and the parts are then machined and prepared by Mittiga themselves, to their own specifications.
Thanks to their in-depth knowledge and skill, the highly customised Fiat 128 engine is capable of revving to 10,000 RPM and produces around 180BHP. This is from a unit that originally produced around 66BHP from the factory. So the power gain is shall we say, motto bene! The engine itself is still in test mode however so they believe its true horsepower could well be far greater, once it is completed and installed in the car.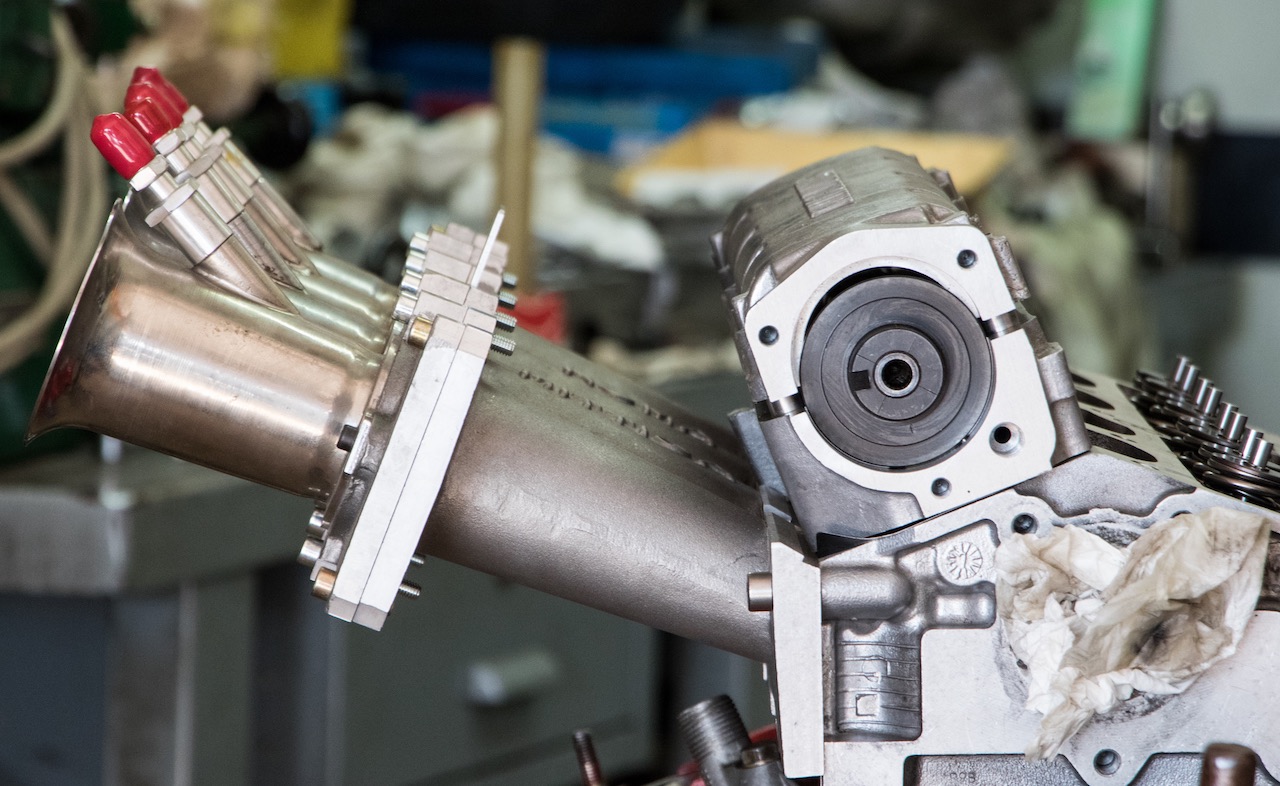 Seeing Fiat 128 engine fire up was an absolute delight. Watching the fuel spray from the injectors into the trumpets was mesmerising, the petrol vapor adding to the theatrics of it all. The sound and the smell was divine and it was just a joy to watch. It felt like a piece from a classic Italian opera, each trumpet taking the place of four tenors (which explains the use of the classical Italian music in the film). It really was a marvel to behold. And all the while I kept thinking to myself is there was a way to shoe horn this creation into my Bertone x1/9… it could be done you know!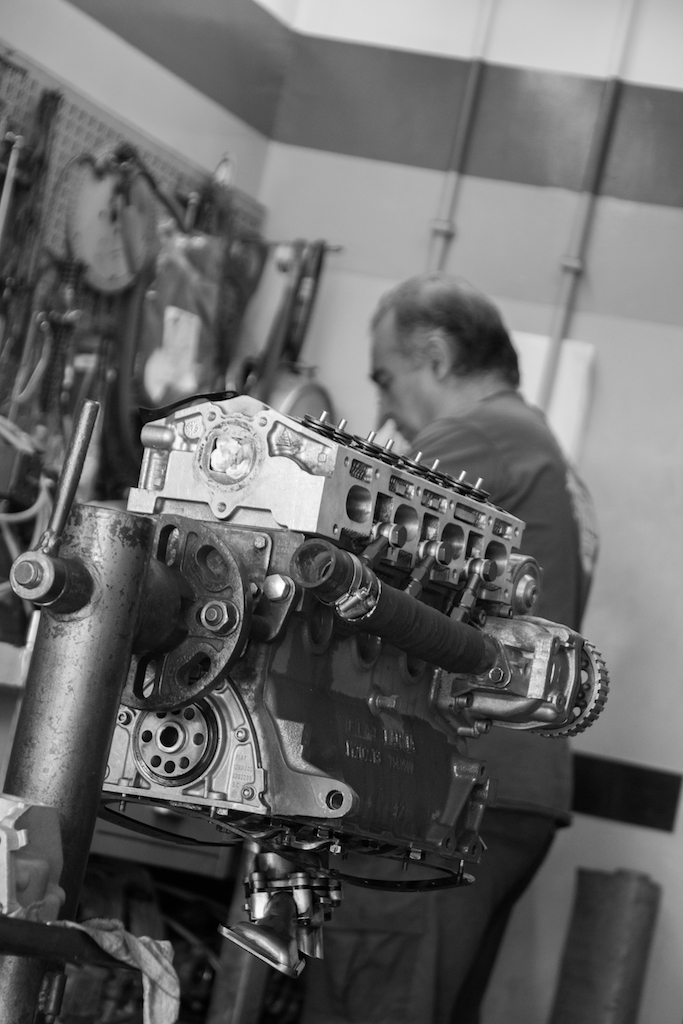 Another project of theirs is a Fiat twin cam engine which, like the 128 engine, has mechanical fuel injection. But this one differs in that the fuel injectors are built directly into trumpets. It has been given the same treatment as the 128 unit though it will be a different beast thanks to the twin cam setup of the engine.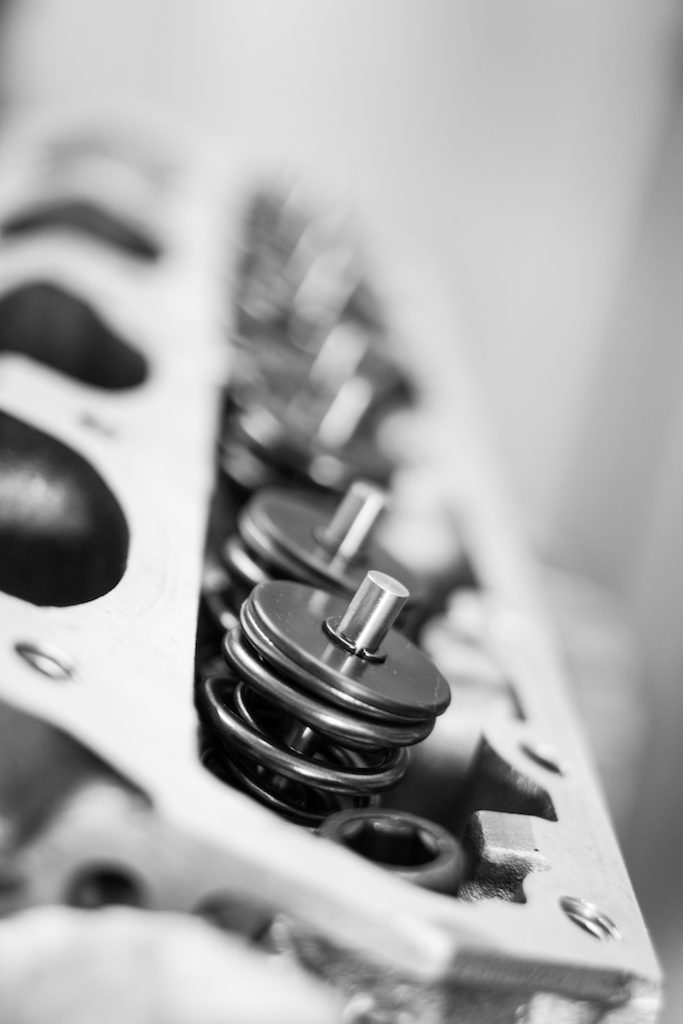 What I enjoyed most from my time with Mittiga Tuning was their passion for what they do. Their work is real old school automotive engineering, a skill that is slowly becoming a dying art. But I was heartened to know that Domenico is passing on his knowledge to Giancarlo. And it was clear that he too shares his fathers passion for what they do. It was very refreshing to see a family outfit that is capable of producing highly specialised parts that can really transform an engine. You won't find any quick swap mods or upgrades here. But what you will find are classic car tuning upgrades that are designed and built with care and a great deal of patience. Now… about my Bertone x1/9 engine…
Photography by The Demented Monkeys and Take to the Road