The custom car and hotrod scene in the USA is absolutely huge and one of the top custom car tv shows on the Discovery Channel right now is Bitchin Rides. The show is all about the awesome classic car builds created by the team at Kindig-It Design. Take to the Road got to speak to founder of Kindig-It Design and star of the show Dave Kindig. He chats about what its like running one of the top custom build shops in the US.
Starting a custom car design shop is not for the faint hearted. How tough was it starting yours from scratch?
Dave – You know I was in my kitchen drawing cars and designing other peoples cars and doing graphics for my own cars and clients as well. That really helped build up the clientele. At the very beginning the biggest challenge was my wife letting me quit my job to start my business, which you know makes sense. I've always been a very ambitious person and I always jokingly say I'm a Go Go Go person whereas my wife is more Wo Wo Wo! You know you can jump but you gotta know you've got somewhere to land! She's a wonderful person and Charity and I have been married 28 years this year. She's awesome and we do everything together.
The work your team do is next level. Is it getting harder to find the right people with the right skills?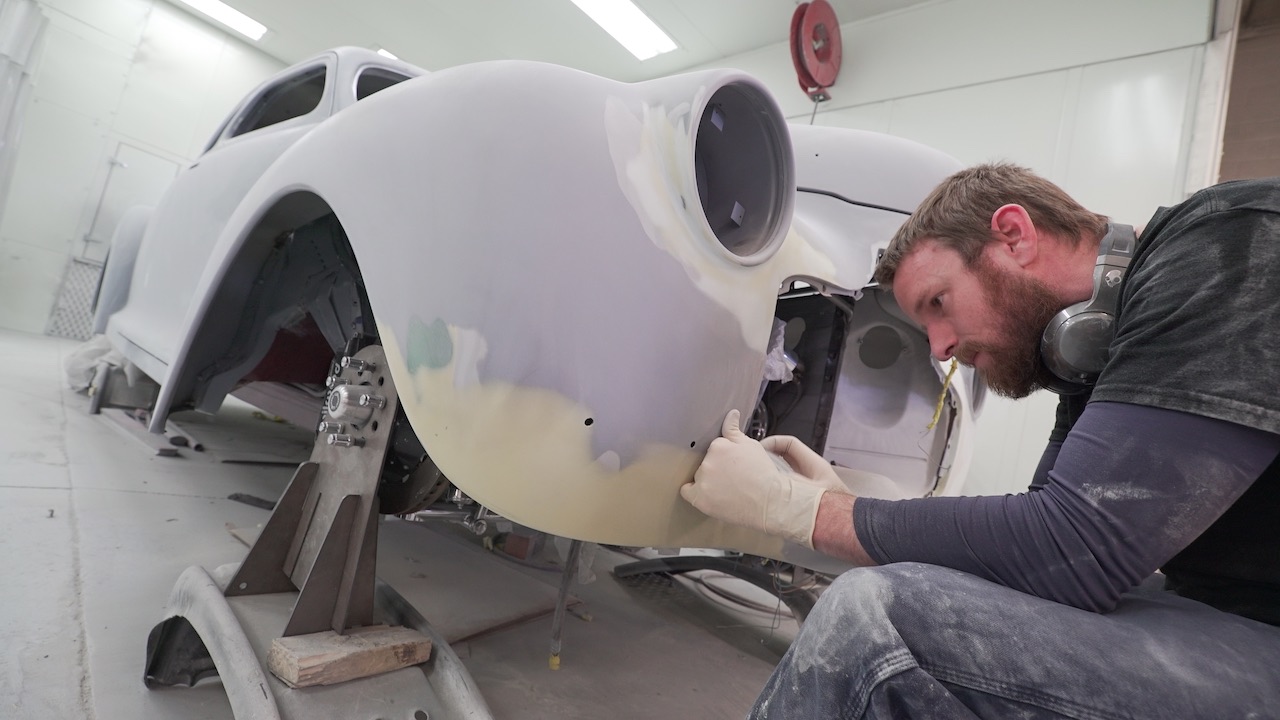 Dave – Yeah it's pretty much across the board. The newer generations haven't got as much love for cars, unless they grew up with them of course. I actually didn't grow up around cars but I always loved cars, so I surrounded myself with them and was really passionate about Lego and plastic models, diecast cars etc. If younger kids grow up working on cars they are more into it but its like everything really. Things have a tendency to change and move forward. I think kids today are probably secretly into cars but are more distracted with others things like technology of course. And with those job skills I think we are gonna find that one day that the guy who can english wheel out something and produce some art will probably make a better living than someone behind a keyboard. So who knows?!
Some of your custom car projects can take well over a year. Is it hard to keep a project focused, on track and true to the customers vision?
Dave – Yeah! Well one episode in the US is an hour long and take in commercials its really around 44 minutes or so. So you take into consideration that the average project can take 4,000 maybe 5,000 hours to build one car and you smash that down into 44 minutes. So there's a lot of stuff on the cutting room floor that's there that we never get to see. You know there's a lot of great action and stuff that people really love to tune in and watch, like how you build a hood skin or how you shave doors or how you cut the entire floor out of unibody muscle car from the 1960s, put a chassis under it and build it back up. So there are so many different things.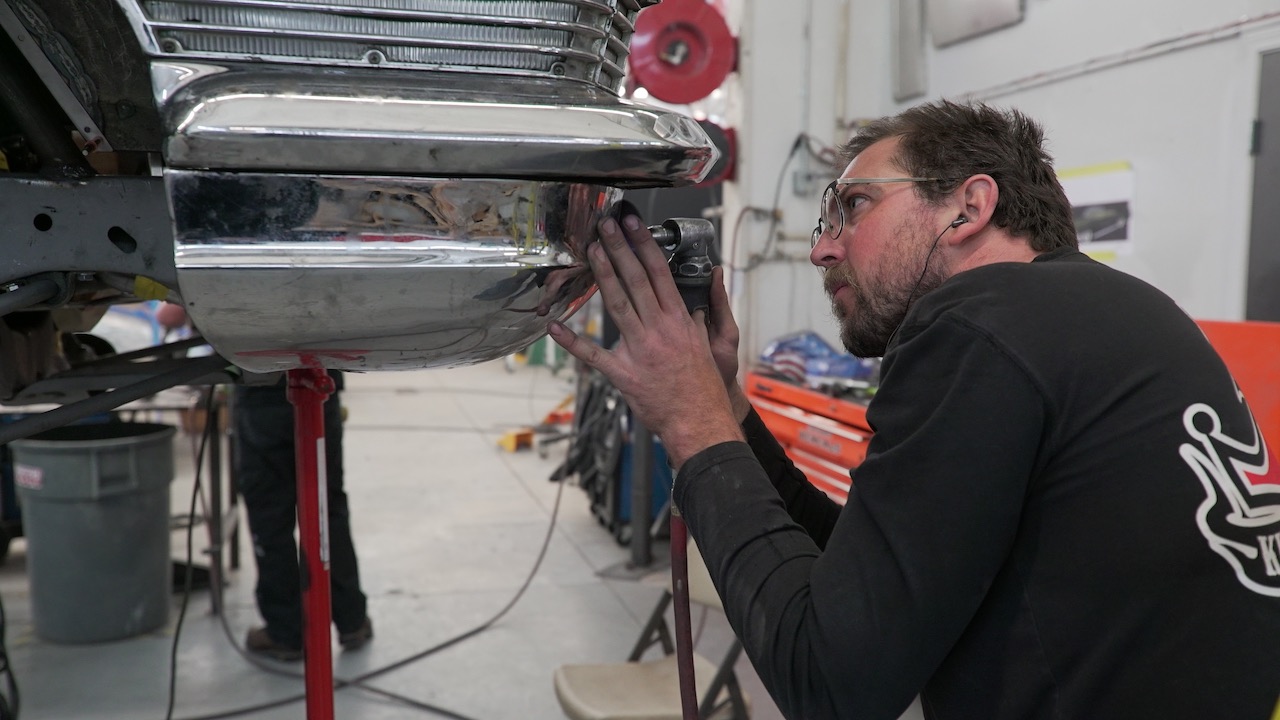 As far as keeping the focus and the excitement, when we first start a project we do a rendering showing what the car is gonna look like. Of course everyone is involved, the owner, myself as the designer, Kevin the shop foreman and the guys in the other departments know they've got that car coming to them. So it's almost like a patient race to get to the end and finally see the results of what we dreamed about maybe 14 months earlier. And then its finally rolling out and you get to smell it and see it and you can look at the stance and see the paint in the sunlight. You know drive it up and down the street… to finally have that vision of the first 5/10 minutes of what I had in my head when talking to the client about their dream project… it is quite a process but it is a lot of fun when we finally get to see that vision come to life. Its Bitchin!
You get a lot of projects in for additional custom work which can often open up a can of worms. Are bad resto jobs on the rise? Or is just something that happens and you have to just get on with it.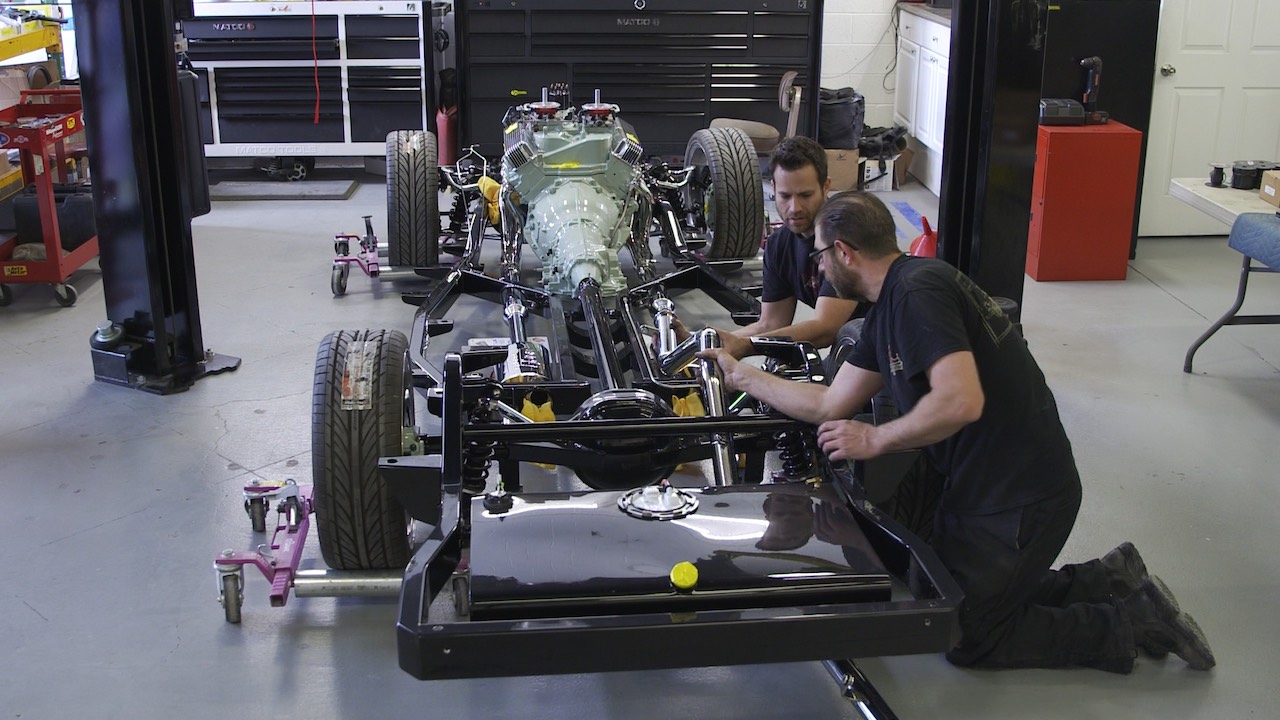 Dave – I guess it really just depends on where the car comes from. There are some real good shops out there and some small ones that aren't really well recognised and they do a fantastic job that I recognise. You know its kinda hit and miss really. We've had our hands on a lot of cars that have been in other shops and maybe they just didn't have the knowledge or how to do it, but you really can't fault them for that. I mean I have to imagine that 21 years ago when I first started my business, I probably turned out a couple of cars that I probably shouldn't have let out. But you learn from that. You move on and you take care of your customers. One of the big things for us is we have a lot of repeat customers because we haven't turned out something shoddy. You have to give the customer what they want and you've got to make it safe and make it fun. As one of my clients once said to me "Dave long after I'm done being pissed off about how much you charged me for this car, I get in it, it starts up and I take it to the shows and I make it back… its won best in show and I'll get over it! I haven't yet! But I will!"
Is KevDogg really Clarke Kent/Superman? Pretty much in every episode KevDogg is there keeping it real with his baseball cap on. Then some episodes there's this dude with no baseball cap and it's like who is he?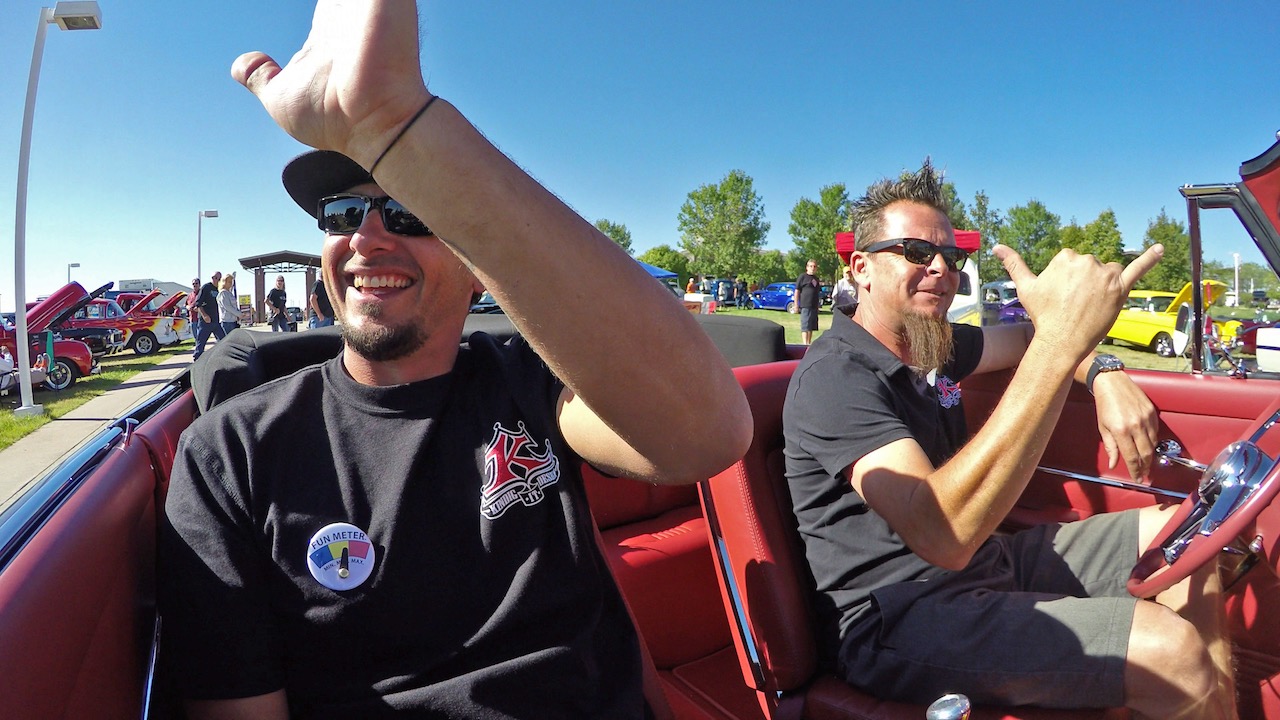 Dave – That's a great question and I'll tell you exactly who it is! KevDogg is the guy with the flat bill with his ears tucked in… the gentleman who looks a lot like Kevin but doesn't wear a baseball cap? That's Calvin! We call him Calvin! So yeah KevDogg and Calvin are sorta Jeckel and Hyde! Hee hee hee! And Calvin's superpower is having his finger on the pulse of every single build. It's pretty amazing! Seriously though Kevin and I have known each other for about 25 years and he's my right hand man. We met at hotrod and truck meets and became good friends and we actually ended up working together at High Performance Coatings. I left there after 8.5 years to go start my business. I had him working for me part time and I accidentally got him fired! But yeah he's the best guy to have in charge and he's my best friend as well.
Dave you like your coffee. Do you measure you're daily coffee intake in automotive litres? Would it be 289 ci or more like 402 ci?
Dave – I'm a 427 guy! Ha ha ha! No I'm not! You know I only fill it up in the morning and its funny you know people see me at Vegas or some car show and it will be in the middle of the afternoon they go "hey man where's your coffee?" And I'm like "What??" Then I realise yeah because we always film in the morning, I always have my coffee with me. You gotta start off the day… I tell ya what I'm not a very nice person until I've had my cup of coffee! Haa haa!
Dave you love old school VWs. Growing up surrounded by V8s what is the appeal with VDubs?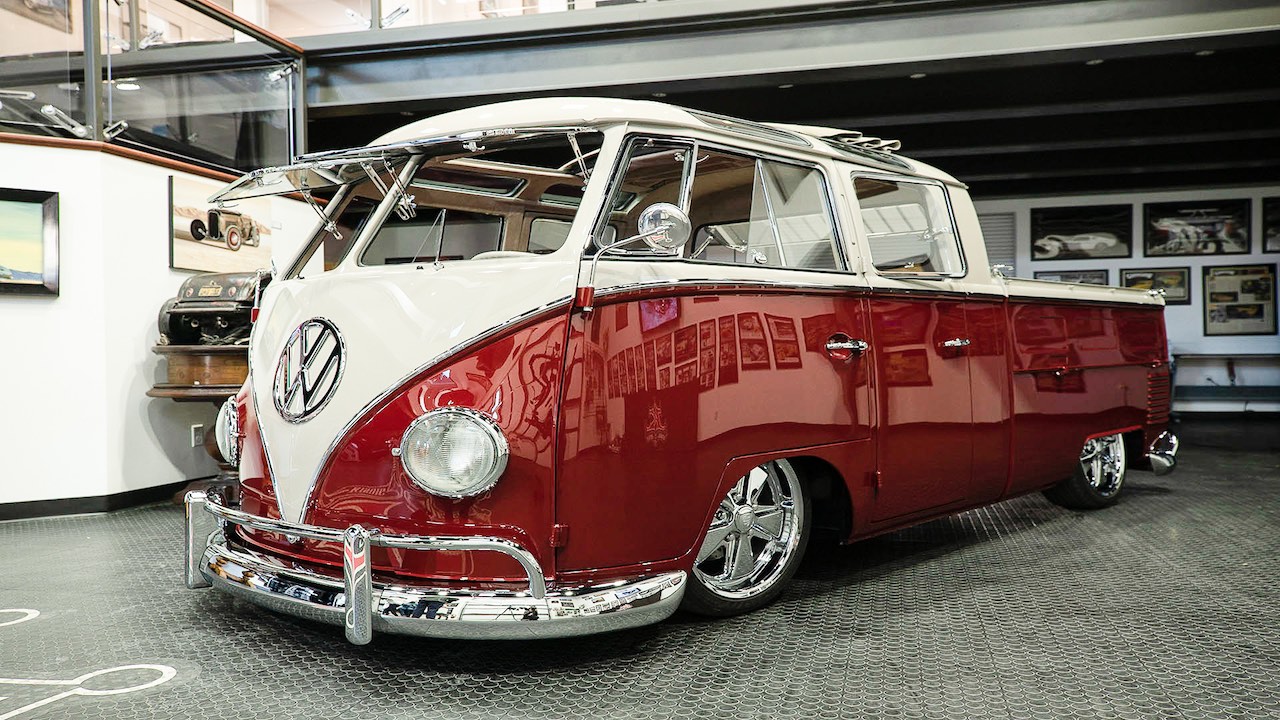 Dave – You know
a friend of mine had one when we were in high school. It was a beautiful 59 Beetle with a salmon colour and a beige interior and I just thought it was cool. And I always liked to look a Hot VWs magazine. I just thought they looked cool! So I just got into them that way and then eventually I had a Beetle and started working on it, lowering it. Then the next one I got I chopped the top off of it and kept going lower and lower and then pretty soon people were watching what I was doing. I mean in the VW club a lot of guys would work on their own stuff, so the mechanics, figuring out how to weld, metal work and paint… basically it all came from being in the Volkswagen club. I learned how to do all that stuff on my own cars. Then I got pretty good at it and people wanted me to work on their cars. So that's where all this really started! I never had a formal education in body and paint or mechanical stuff. It was just a hobby that became a business.
Are there any European classics you haven't worked on yet that you'd love to have in the shop?
Dave – Oh geez how long do we have to list them all? Hee hee! You know there's a couple I'd really like to get my hands on. There's some old Jaguars that would be really cool hotrods. Plus I'm a fan of Ferrari's and the GTO and I love the 1969 Lamborghini Miura S. It's a beautiful body style. They are not necessarily tangibly in reach at the moment but yeah… long time fan but not a player just yet!
The 1958 Lincoln Continental convertible you customised in Season 4 looked a lovely original car. Do you find it difficult to pull apart and chop original cars?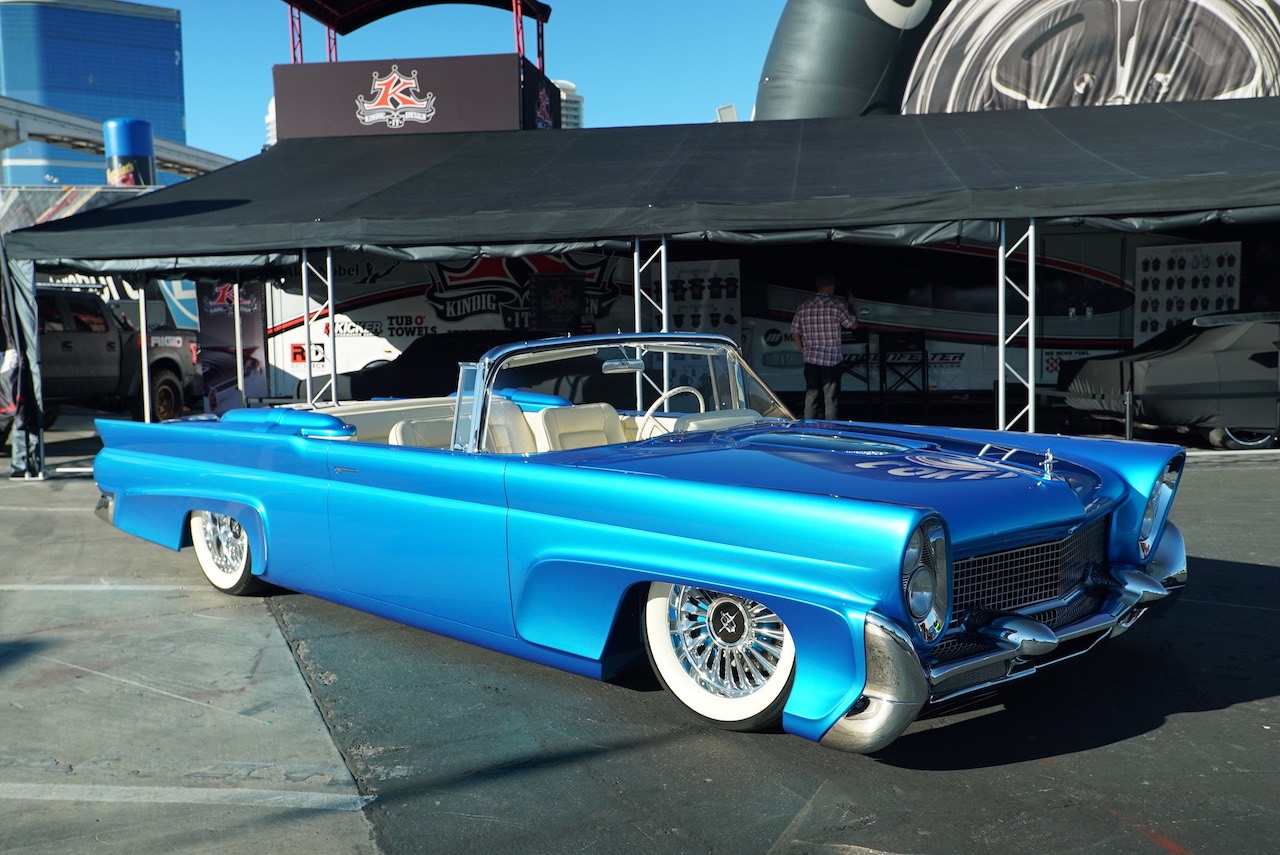 Dave – Serving up a top chop is firstly top of my list. I guess there are certain cars out there that you would be pretty silly to cut up and customise. But that 58 Lincoln Continental they made more than one and it had been an older restoration and had come out of a private museum. But there had been some bubble gum repairs done to it in the past and you know I'd rather start with a complete car and that car was exactly that. It's so much easier with a complete car that costs say $50,000 than a $5,000 car that's missing trim and other stuff and it takes forever to track down. And that 58 Lincoln is a rare car! Time is money in this industry so I always try and find the more efficient way to do it. But yeah to answer your question I'll cut anything!
The supercharged V12 motor you put into the Continental is unlike anything we see here in the UK. It's almost space ship levels of awesome! Is ICE engine development like that reaching a pinnacle?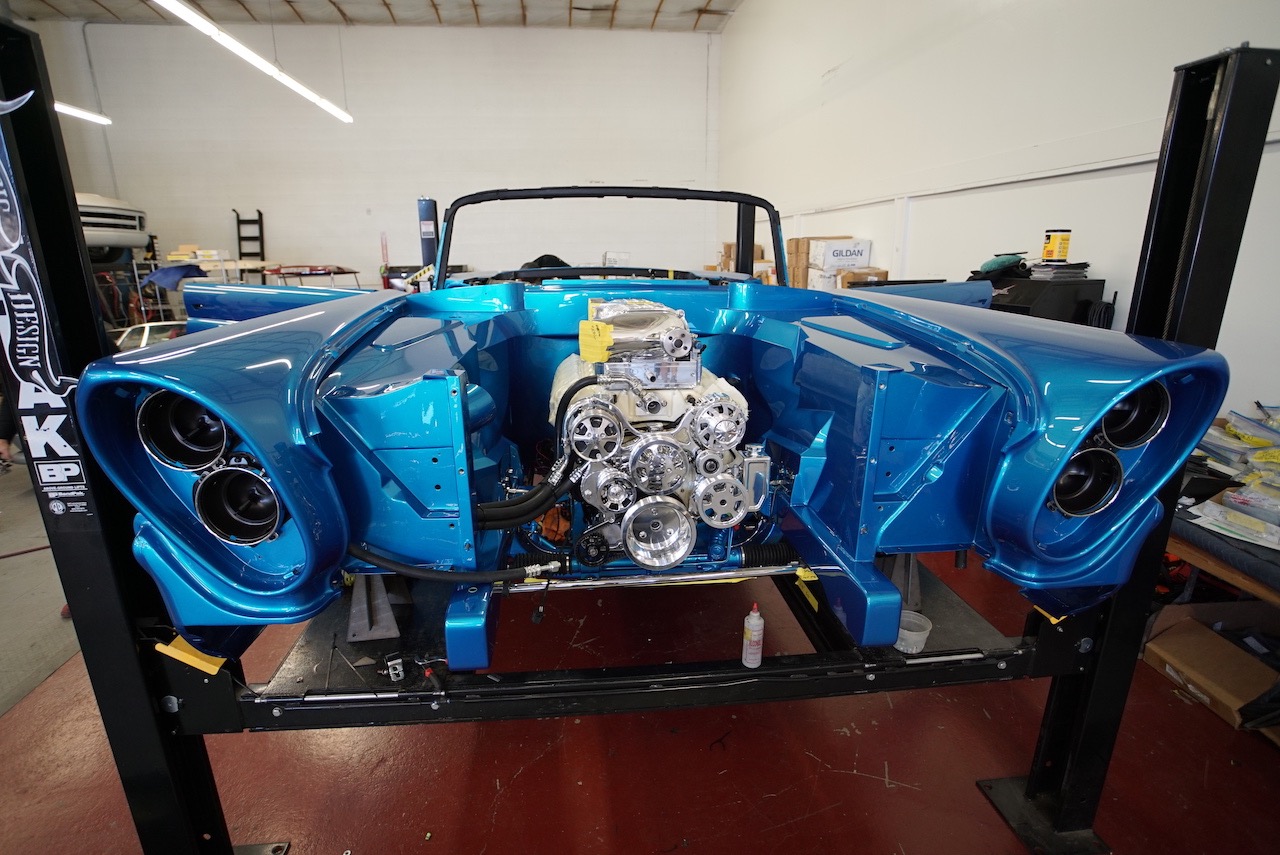 Dave – You know that engine in particular was actually based on a 400 Chevy big block and its built by Ryan Falconer. It's an all aluminium V12 600 cubic inch and he makes his own cylinder heads and blocks and intake manifold. And basically what that engine was developed for was the replica Mustang fighter plane. So he was doing the V12 to go into those. Jay Leno has one of these V12s that's set up for street and of course we got this one and it was great working with Ryan. He's so particular and he knows so much. It's crazy just to start that car up and hear it purr like a Rolex watch! It is so smooth! And to top it off the Magnuson Supercharger that we use, it's such a long top deck of engine and we wanted to show it off. My engine bays are what we call the jewelry box and they really stand out. So Ryan spoke to Magnuson and siad he wanted to double up with 2 superchargers and put them in line. They said it couldn't be done and so he went in and did it himself! Its just beautiful! Its a neat piece!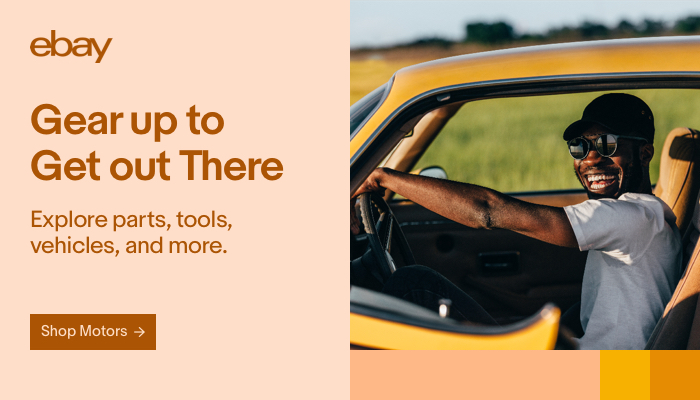 One of my personal favourite all time Bitchin Ride builds was the Chevy Corvette Split Window from Season 5. It was about as close to custom automative perfection as you could get. The paint, the stance, wheels, interior and that motor was so sweet. But it had a very emotional story which reminds us how fragile our health and dreams can be.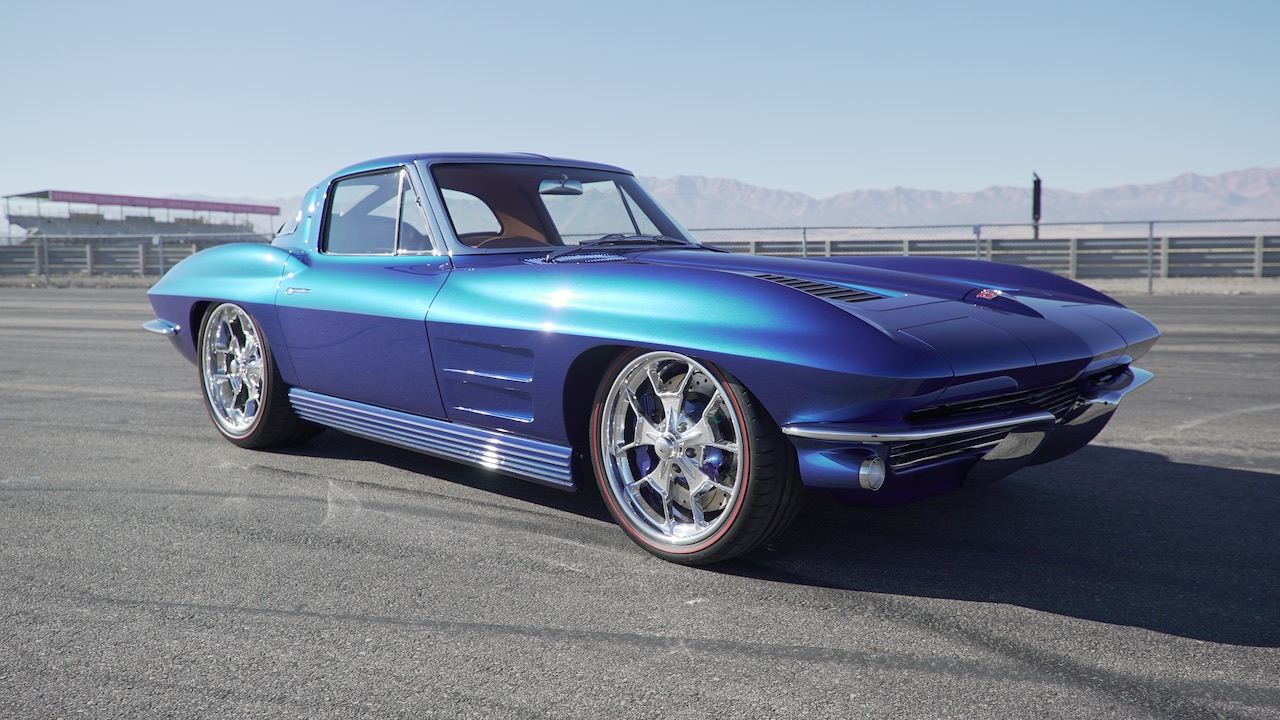 Dave – Ah yeah the Split Window Vette! Super super iconic! Rick the owner is a good friend of mine and we're actually building multiple cars for him right now and you might see some of them in Season 7, which we are filming right now. He's a trooper though and one of the healthiest guys I know. He doesn't drink and doesn't smoke and he's actually a doctor. Yeah in the reveal episode he didn't look well at all but thankfully he has recovered 100%! And he's more than just a customer. A real friend and a great guy all round!
As a designer you are always keeping an eye on trends in the market. Whats your favourite current trend and what's the one you really hate?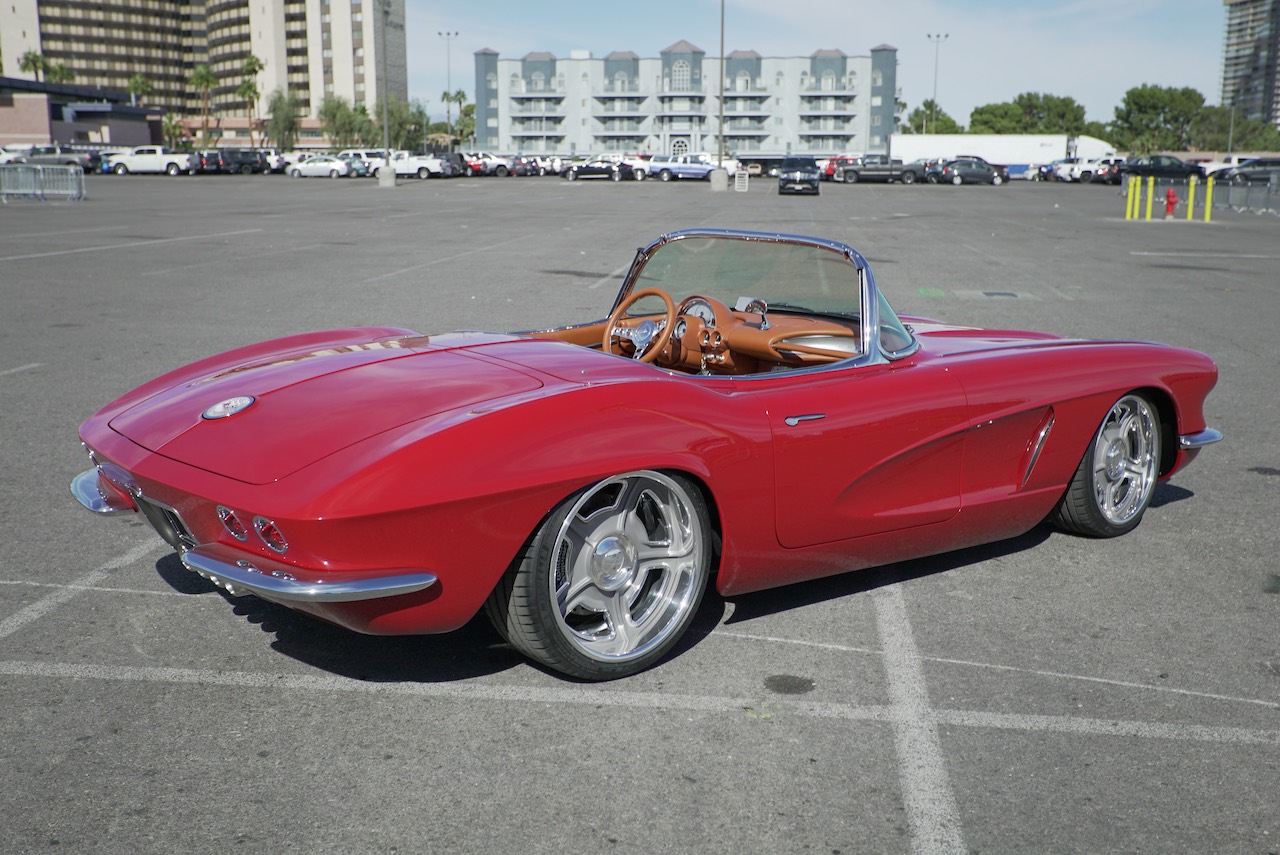 Dave – You know I always say there is an ass for every seat! So I don't think I have something that I don't really care for. I mean kits that you buy and stick on muscle cars are kinda funny. I've never been a big fan of that. Like a Honda body kit doesn't belong on the rocker covers of a 60s Mustang! In my opinion. To be honest with you I don't really watch trends and I don't watch what other people are building. I appreciate other peoples builds like going into an art gallery and looking at some art. You know I don't judge and go urgh and start pointing and stuff. I appreciate other peoples takes on things. I think if everyone built the exact same car it would get pretty boring. So I look at it more as an art gallery rather than someones lack of taste. But you know we in this industry don't call it copying… we call it research!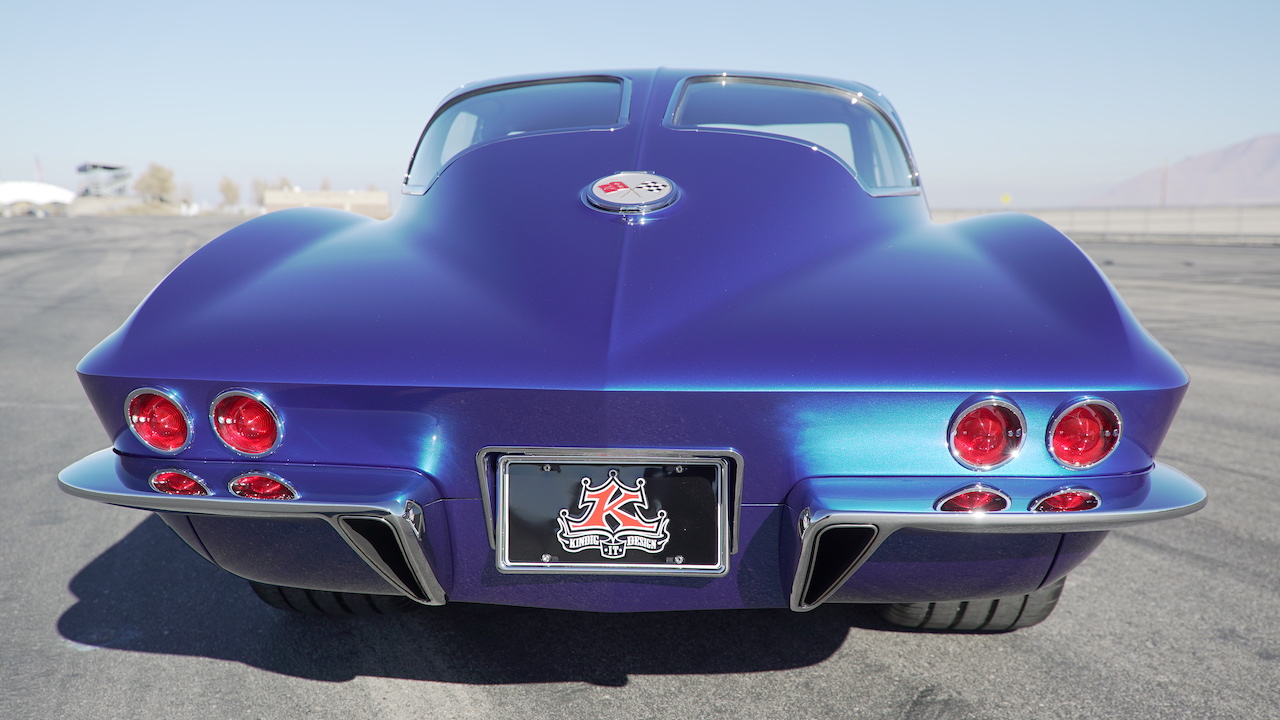 As a designer people don't always understand where I get ideas from. It doesn't come from a brand new Ford or Ferrari that just came out. I actually find inspiration in dress shoes, looking at colour contrasts in custom homes or furniture. I remember being on a plane once and I noticed something in my backpack and I took a picture of the colour contrast. It was a brown next to a charcoal grey and I just loved the colour combination. It had nothing to do with a project I was working on but I just loved it as it was so striking. You know when I'm designing a car for you within a couple of minutes I'm already driving it in my mind… I can see the interior and the exterior, the stance, the wheels, the sound… so I can take that and present it to the customer.
Dave Kindig was talking to Niall Julian