The Alfa Romeo 6C 2500 Freccia de'Oro was one of the Milanese marquees most elegant designs. Debuting in 1939, the 2500 series used a box section chassis which allowed customers to specify a saloon, coupe or cabriolet bodies. Production continued until 1953 by which time 2,200 models had been produced.
As with most Italian manufactures of the time, coachwork was provided by a wide range of suppliers but the majority were bodied by Touring of Milan. With an 2,443cc DOHC straight six engine designed by Vittorio Jano, these were very capable drivers cars. The box section chassis may have been an odd choice for what was essentially a sports car, but it compensated for this with an independent suspension making them very good handling cars. And with triple carbs fitted to the SS model, they pumped out between 110-120BHP and a top speed of 120MPH.
The Freccia de'Oro (or Golden Arrow) was slightly more sedate with a single carb producing 90BHP and a top speed of 96MPH. The Freccia de'Oro was actually Alfa's first post war car with 680 built until 1951.
The Alfa Romeo 6C 2500 Freccia de'Oro currently on offer is in need of total restoration. The listing states it still wears it's original gold paint. Unfortunately the photographs aren't the largest resolution wise so it hard to look closely at the the body work but it does look like there are a few dents here and there.
The cars build plate states it is Chassis Number 916.666, with Engine Number 927.145. Though the seller say it is "Now S926.172" so we assume it has had an engine change at some point in it's life. Any prospective buyer would need to check against the 6C registry to confirm this.
Engine ancillaries are also missing though it is not mentioned what these might be. If it's the original carburettor, this could be a costly replacement. The photographs also suggest that both the engine and gearbox have been removed from the car. No interior shots are supplied but we assume it will need to be completely redone. With the bodywork and chassis being reportedly solid, this could make the basis for a very worthy restoration. We'd restore it to it's original gold paint with a black leather interior and set it off with some Borrani wire wheels. However if we were purchasing, we'd want to give the car a thorough inspection and then make a check list of what is missing. While it is difficult to tell from the photographs at least the majority of the exterior chrome work appears to be present.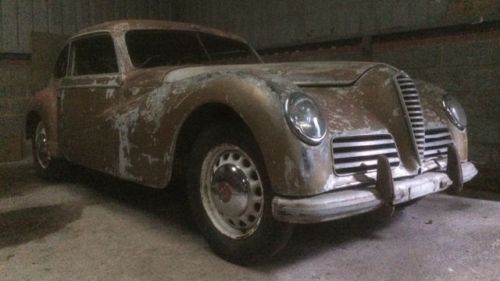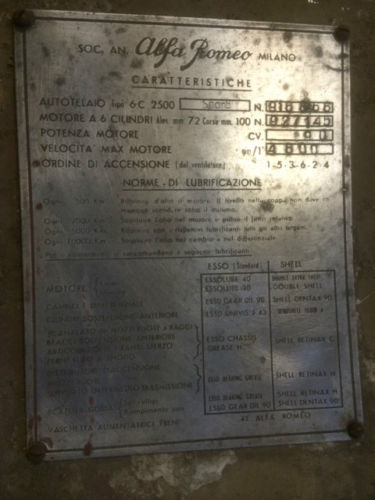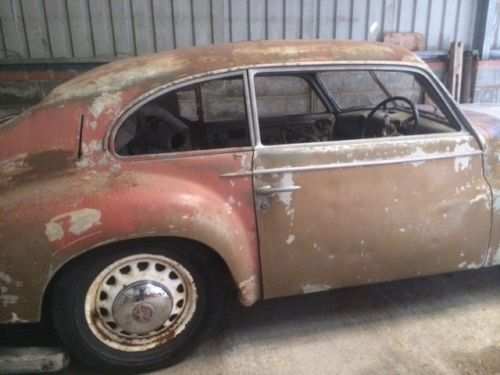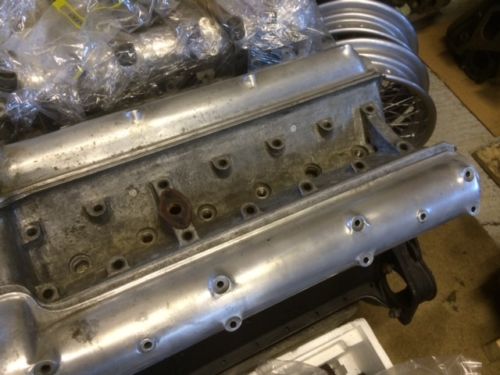 We absolutely adore the Alfa Romeo 6C 2500 Freccia de'Oro. It is pure automotive elegance with superb curves and wonderfully restrained detailing with a hint of 1930's Art Deco coachwork design. It's like a larger more attractive version of a Jaguar XK 120 which is quite a statement in itself. With 5-6 seats it is certainly more practical. With a 1947 6C 2500 Freccia de'Oro requiring full restoration selling for €86,250 at Bonhams Paris auction in February last year, these cars are clearly in demand. A Freccia de'Oro would certainly make a superb addition to the Alfa connoisseurs collection. And considering the 6C 2500 was sold new to the likes of King Farouk, Rita Hayworth and Prince Rainier, you'd be in good company.
Current bid is £32,275 with reserve not met.
More details can be found on eBay here.
Update 16-02-2015: The 6C bid up to £63,889 and did not make the reserve. It has since been relisted with a Buy it Now price of £63,900. Find the new listing here.