Auction Details: Historics at Brooklands Auctions
Car: 1964 Apollo 5000 GT
Lot no: 272
Auction Date: Saturday 11 June 2016
Estimate: £100,000 – £120,000
The Apollo 5000 GT is a fascinating piece of American motoring history. Striking, rare and combining Italian styling with tried and trusted American mechanicals, the Apollo was a bold and innovative attempt by engineer Milt Brown to build the ultimate American GT.
The Apollo was initially designed by Brown's friend Ron Plescia. The prototype had limited rear vision and a long nose which was addressed by former Bertone designer Franco Scaglione. Brown then enlisted the help of Frank Reisner who owned the tuning company Intermeccanica outside Turin. Reisner's firm was tasked with coach building the Apollo body which was then shipped to Oakland in the United States. Construction of the new GT started in 1963.
Brown's plan was to combine the Italian coach work to the then new Buick Special chassis and install a Buick drive train. Once the bodies arrived in Oakland they were attached to the chassis and fitted with a Buick 215 3.5ltr aluminium V8 and a four speed Borg Warner manual transmission. The cars were then sold through Brown's International Motorcars of Oakland dealership.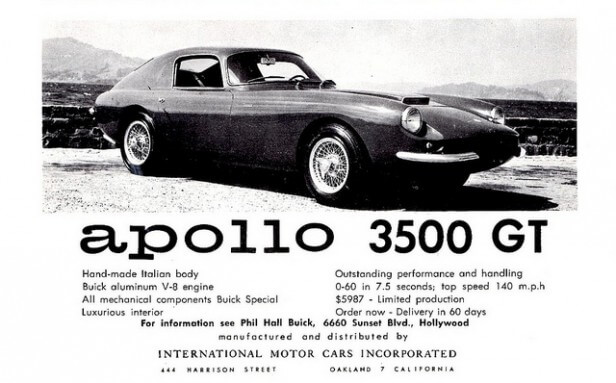 The Apollo 5000 GT was initially well received but financing issues halted production in 1965. Brown was unable to secure further financing and when Buick withdrew their support, the project ended. Production did continue at Intermeccanica under the guidance of Vanguard Industries and uncompleted cars were finished off by different entities as late as 1971. But the Apollo GT project never made a successful comeback. A total of 75 Apollo 5000 GTs were built during its promising but troubled existence.
Coming up for sale at Historics at Brooklands Auctions is a 1964 Apollo 5000 GT. Finished in red with a black interior, it is said to be in good condition and it believed to be one of just two in the UK. It is fitted with the 3.5ltr Buick V8 producing around 250BHP and has the Borg Warner T10 four speed transmission. The car has covered just over 35,000.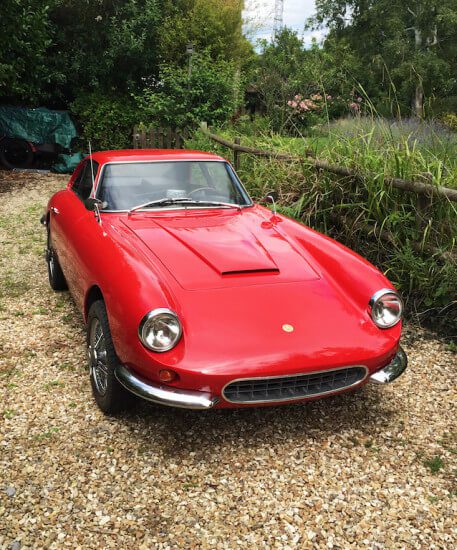 We've always been fascinated by the Apollo. At a glance you would be forgiven for thinking it was a Ferrari. And our contact at Historics swears it looks like a Ferrari 365 GTB. While there is no prancing horse badge on the bonnet, the design of the Apollo is unmistakably Italian. For us the front end looks very similar to a 275 GTB/4, the thin wide air intake/grill and the positioning and size of the chrome bumpers look almost identical.
The upright round headlights share cues with the 275 GTS. And the bonnet scoop looks like it came straight off a 250 GT California Spyder. So yes, there is definitely some Italian influence in the styling. Towards the rear we see hints of Aston Martin DB4 and of Jaguar E-Type 2+2.
On the inside things get even more Italian. There's the classic wooden rimmed three spoke steering wheel, leather dashboard, seats and doorcards. And the round Jaeger dials looks exquisite. Basically this is a lovely place to sit.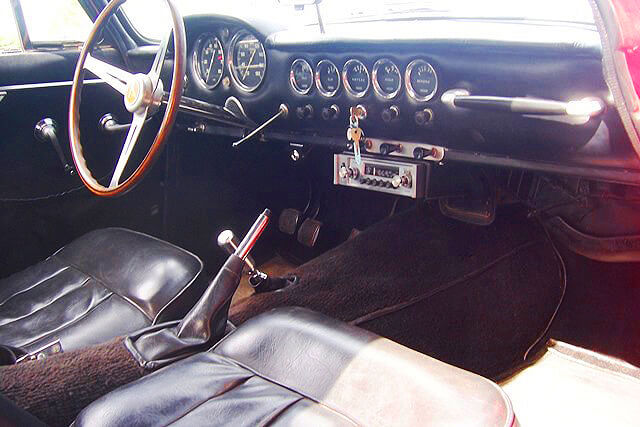 We actually spoke to the owner of the Apollo and he described it as being very quick and a joy to drive. He noted that it is around 250lb lighter than an E-Type, despite its steel body. The acceleration is said to be electrifying as a result. He noted that the Apollo has a Rochester four barrel carb and manifold upgrade which boosts the power of the Buick V8 and he estimates it could do 0-60 in around 7 seconds. He added that the sale of this Apollo will fund the restoration of another 5000 GT which is need of a full rebuild.
Another interesting fact about this car, one that is hard to verify, is that this particular Apollo is believed to have stared in the 1968 Disney film "Love Bug". Two Apollo's were prepared for the movie by American racing driver and hot rod builder Max Balchowsky. It is possible that this is one of the two that survived filming alongside Herbie.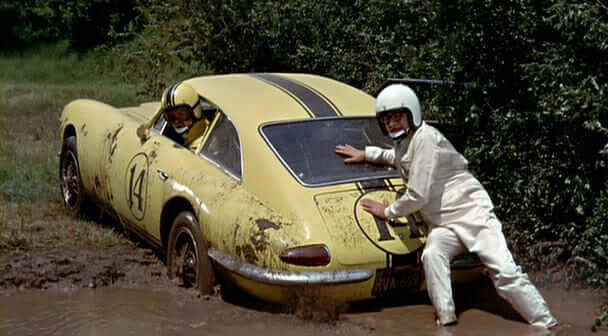 For us this Apollo 5000 GT has it all. It is an incredibly beautiful car that exudes grace and style. The wood rimmed steering wheel, leather interior, the delicate chrome bumpers and the Borrani wire wheels tick all the boxes for us. And it has the performance and V8 grunt to match its sporting GT looks. We can just imagine how awesome that V8 sounds.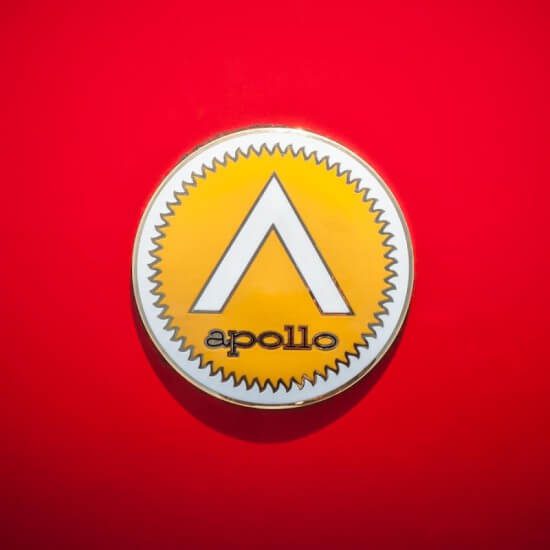 This Apollo 5000 GT would make an ideal purchase for a collector looking for something that little bit different, at a fraction of the cost of a Ferrari from the same era. It is a fascinating piece of American motoring history and a real "what could have been" car. We'd have this in our collection if we could.
More details on this Apollo 5000 GT can be found on Historics at Brooklands Auctions website.