Update 17/02/2016
We originally featured this rare and stunning 1970 RHD Maserati Ghibli SS on the 4th September last year. It is still offered for sale by Justin Banks and has an asking price of £274,995. More details can be found here on Justin Banks website.
With the Concours of Elegance and Salon Prive taking place this week, we felt it would be appropriate to feature a car that would fit right in with all the other rare and exclusive classics. And that car is the Maserati Ghibli. Built from 1967 to 1972, the Ghibli was Maserati's luxury supercar. Penned by Giorgetto Giugiaro while at Ghia, the sleek, low and wide wedge shaped coupe debuted at the Turin Motor Show in 1966. Underneath Giugiaro's work of art was a powerful 4.7ltr V8 which was good for a thumping 310BHP and was mated to a 5 speed ZF gearbox. The later Ghibli SS was enlarged to 4.9ltr which increased power output to 335BHP. With a top speed of 175mph it was Maserati's fastest ever production car at the time.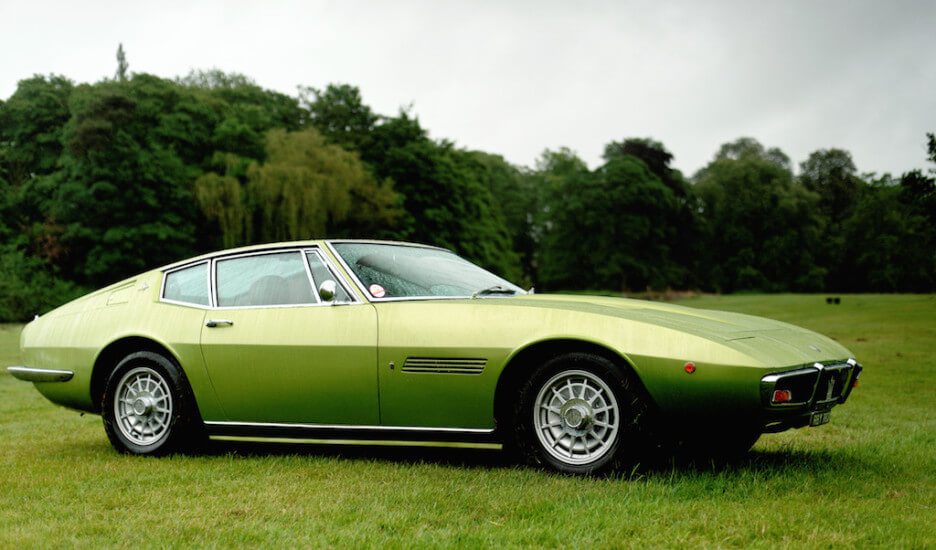 Despite the drop dead gorgeous looks and the mighty V8, the Ghibli suspension was relatively old school. The rear suspension was essentially a live rear axle with leaf springs and an anti tramp bar to keep things under control. By the late 1960s the likes of Jaguar were deploying independent rear suspension in the E-Type and S-Type to improve handling. Maserati's engineers however tweaked the Ghibli's ladder chassis and suspension to perfection. The Ghibli was noted for its supple, comfortable ride which was more than capable of handling the V8s power in the bends. Servo assisted disc brakes also helped reign in all that power. With a leather interior, electric windows and air conditioning, the Maserati Ghibli was the ultimate luxury GT car. Power steering was also available as an option, which helped manage the heavy steel body at low speeds. In total 1170 Maserati Ghibli's were built with another 125 in Spyder form.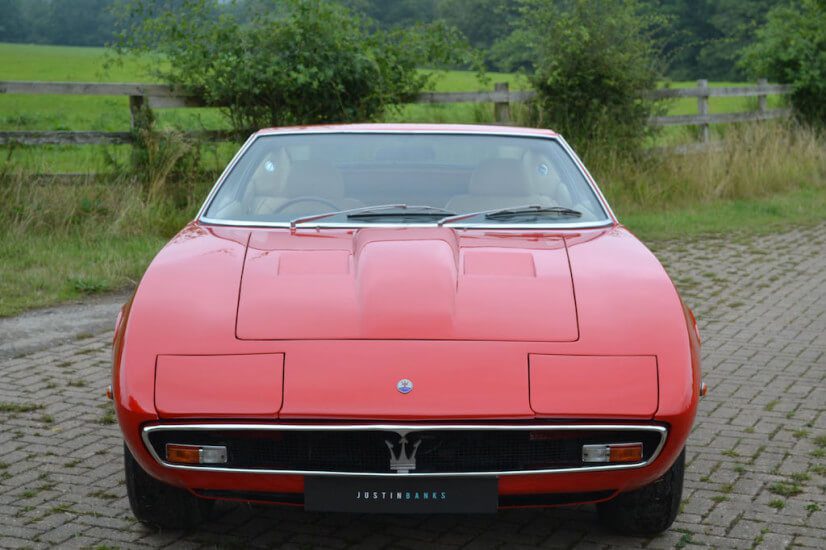 The car we have chosen to feature is a rare RHD 1970 Maserati Ghibli SS and is said to be 1 of just 12 such RHD SS models made. Finished in red with a cream leather interior, it originally left the factory in Verde Gemma (metallic green) and a white leather interior. The car was shipped new to Australia and was then imported to the UK in 1990. The body work was restored between 1994 and 1995 with a full engine rebuild carried out by Maserati Specialist Bill McGrath in 1996. The suspension, brakes and steering were also rebuilt by McGrath in 2000. In 2000 the car was acquired by Maserati UK for their Heritage Collection. During their ownership the engine was rebuilt again, the chrome work re-plated and a stainless steel exhaust was added. It is described as being in excellent condition and comes with an extensive history file. The seller notes it is not a 100 point concours car but could quite easily be made one.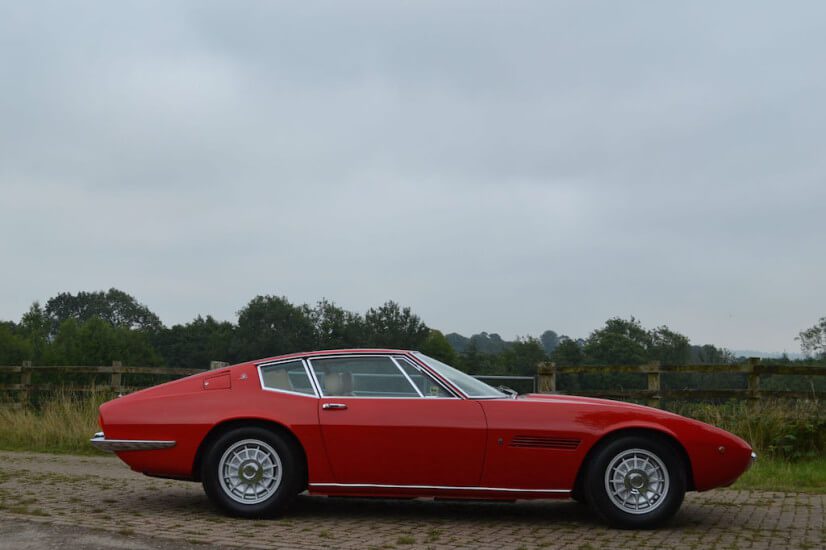 When we featured the Maserati Biturbo on Thursday (read our article here) and mentioned Maserati's racing heritage, the Ghibli was one of the cars we had in mind. While the Ghibli was no race car, its engine was loosely based on the Maserati Tipo 450S V8, which itself was based on the FIA spec Maserati 450S racer. Which was driven by Sir Sterling Moss in the late 1950s. So you can see where the racing heritage comes from.
Despite its luxury GT cruiser image, the Ghibli looks very purposeful and muscular. This is helped by its wide stance and very low ride height, one of the lowest of any production car from the early 1970s.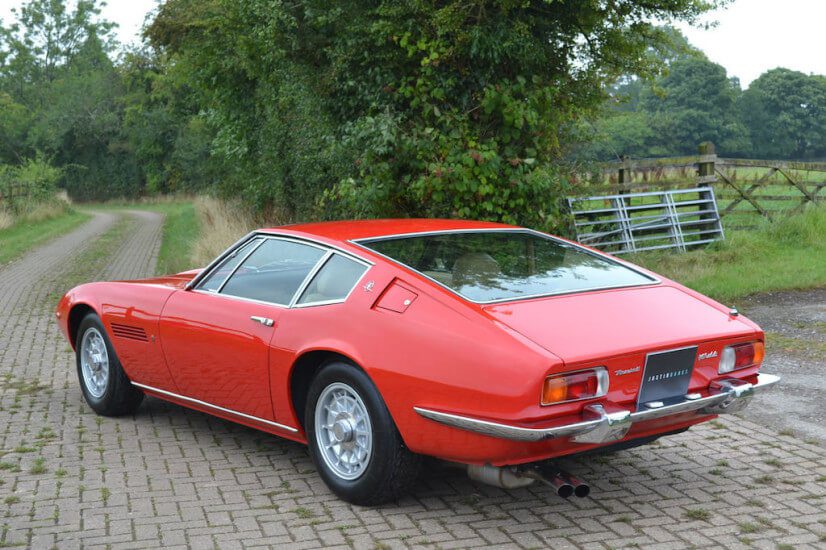 This particular Ghibli SS looks superb in red with its contrasting cream interior. While we prefer originality, we actually think its current colour scheme works better than its original metallic green and white. It would have made it too much like a Lamborghini Miura (a colour scheme that suits the Miura rather well).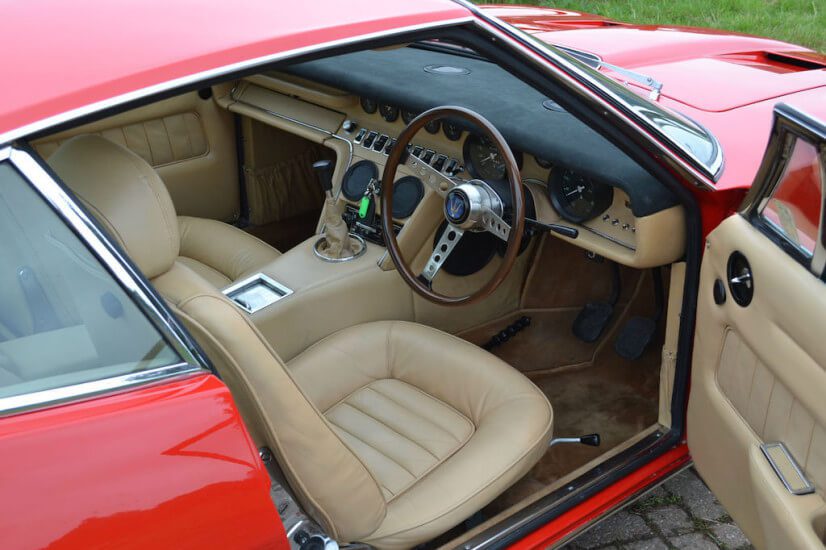 The lines of Giugiaro's coachwork are stunning. Despite its wedge shape, its not sharp at all with soft curves and a minimum use of chrome. The pop up headlights give it a modern sporting look (for the 1970s) and the raised bonnet hints at the mighty V8 within. The cream leather interior looks fabulous as does the wood rimmed steering wheel. We expect its quite a nice place to sit, ideal for long distance cruising.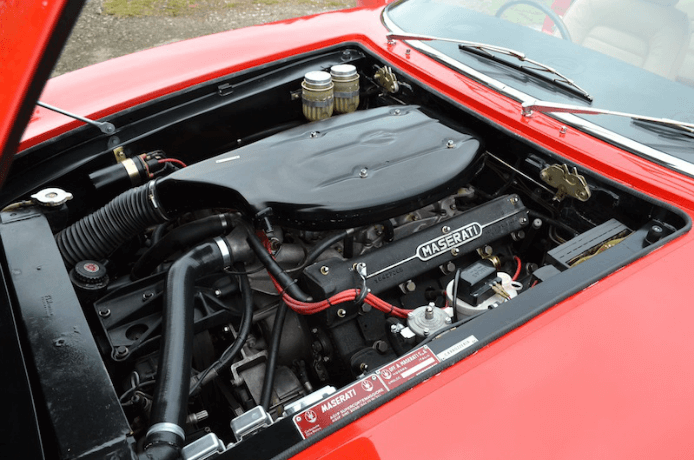 Under the hood the 4.9ltr quad cam V8 looks immaculate. The fact it has had two engine rebuilds in the past 20 years is very reassuring for the prospective buyer. And with 61,000km (about 39,000 miles) it has barely been run in. The engine note from the V8 is pretty special and makes you long for twisty roads that go on for ever.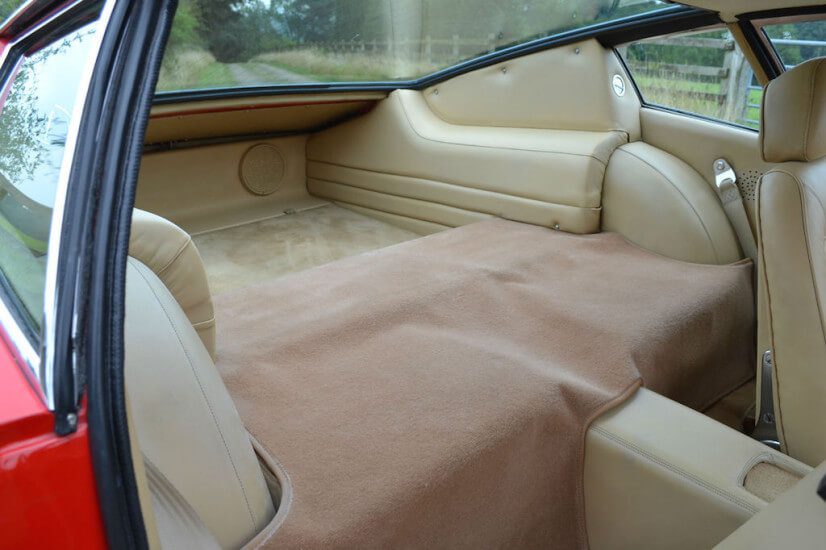 As rare desirable classics go, this Maserati Ghibli SS ticks all the boxes. Its exotic looks, superb condition, matching numbers and extensive history make it a very tempting acquisition for the discerning collector. Personally if we owned this car we'd be torn between using it for its intended purpose, i.e. long distance cruising, or turning it into a 100 point concours car. Once you choose the latter path, the temptation to preserve rather than drive it would be high. But this car was built for covering vast distances with that V8 moving you along with ease. It would be hard to resist driving a Ghibli with such an epic soundtrack.
Keeping shows like the Concours of Elegance and Salon Prive in mind, this Maserati Ghibli SS would be an ideal car to display at high level events. It has the rarity, the provenance and the style to fit in with the best. While it has lived in the shadow of the Ferrari Daytona, the Ghibli is just as desirable, for us anyway. And as high end classics go, its a lot cheaper than a Daytona as well.
This Maserati Ghibli SS is located in Tunbridge Wells, Kent and is offered for sale by Justin Banks and has an asking price of £275,000.
More details and photos can be found here on the Justin Banks website.