Facel was one of France's greatest ever car manufacturers. Founded by Jean Daninos in 1939, the company started life as a military aircraft component maker in 1939 before moving into customised coach building in 1948. During this period they made body panels for a wide range of manufacturers from Delahaye to Panhard, Simca and also Ford France. They even supplied components for Massey-Ferguson tractors. The car world was therefore taken by surprise when Facel launched its first luxury car at the Paris 1954 Salon.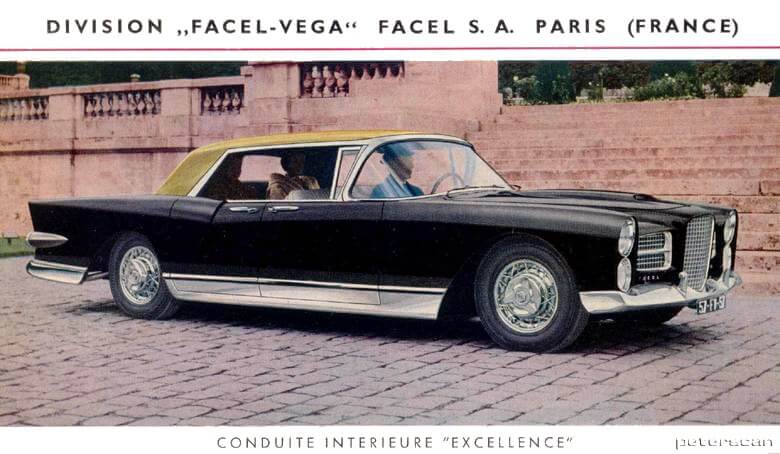 Designed by Daninos himself, the new Face Vega coupe was built to a very high standard. The interior was wonderfully appointed with lashings of leather, hand painted wood effect panels and stainless steel brightwork on the exterior. Its dashboard used aircraft inspired switches and gauges and it was one of the first cars to utilise a centre console above the transmission tunnel. Unable to find a suitable engine in France, Daninos turned to America for help and sourced the DeSoto Firedome 4.5ltr hemi V8 from Chrysler. The 180BHP engine was mated to Chrysler's two-speed Powerflite automatic gearbox with a four speed manual available as an option.
In 1958 the four door pillarless Facel Vega Excellence was introduced. This new model was an even larger luxury proposition from the French firm, its size successfully retaining the coupe lines of its other models. The new sedan featured rear suicide doors, beating the Lincoln Continental to market by a full five years. It also shared the wrap round windscreen of the Vega coupe range.
The first seven models built utilised Chrysler's 392ci Hemi V8 which was then upgraded to Chrysler's 361ci, 360hp "Wedge" V8. A total of 137 Facel Vega Excellence "EX1" models were built between 1958 and 1961. In 1961 the Excellence received a facelift and the massive Chrysler 383c 6.3ltr V8. Power jumped to an staggering 390BHP. Only eight examples of the EX 2 were built before the firm collapsed in 1964, financially ruined after the disastrous launch of the Facel Facellia. In all a total of 153 Facel Vega Excellence models were built. It was a sudden and sad end to what had been a glittering automotive career.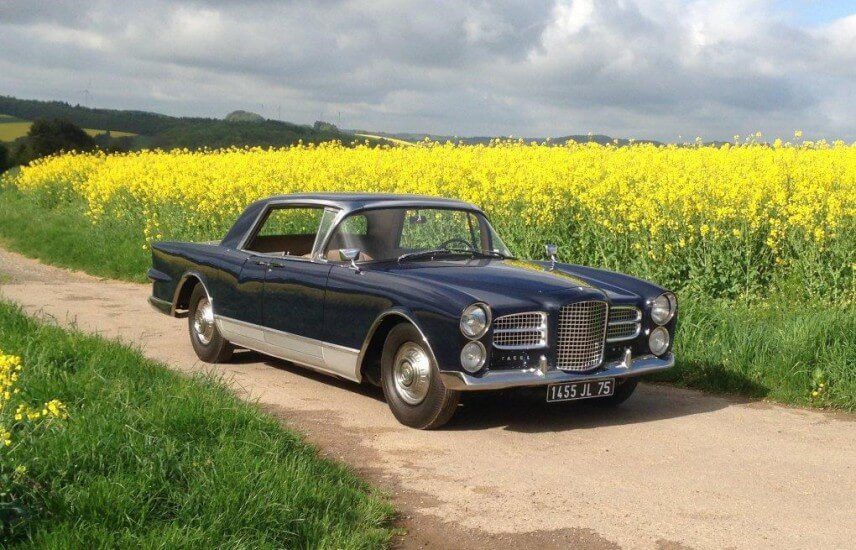 Despite its relatively short history, Facel left an incredible legacy. One of its wonderful creations is this exceptionally rare 1958 Facel Vega Excellence EX 1. It is said to have been delivered new in 1959 to Baron Dominique de Dietrich of the French industrialist de Dietrich family. It was registered in Paris and was there until 1961 and apparently spent much of its time in a museum until 2006.
The car was then purchased by a German member of the Amicale Facel-Vega group who had the car restored between 2008 – 2012. It is described as having had a top level frame off restoration carried out by a French Facel Vega specialist. It has covered 2,000 kilometres since its restoration. The car comes with a German TÜV certificate and FIVA papers.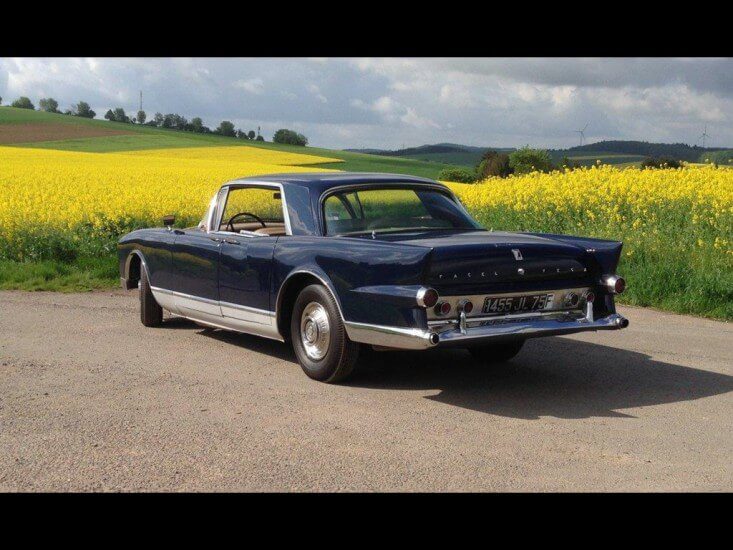 Of all the luxury cars created in the 1950s, the Facel Vega Excellence is one that has always fascinated us. And we've been eager to feature one for some time. It is one of those cars that carries an air of luxurious opulence whilst also managing to look good. For a company with little actual car design experience, the work of Jean Daninos' firm was simply breathtaking, successfully combining American and French styling. Their first ever car, the Facel Vega really was an incredible achievement and competed with the best offerings from Rolls Royce and Mercedes. And their emphasis on high end luxury caught the eyes of the rich and famous with the likes of Pablo Picasso, Tony Curtis, Eva Gardner, Dean Martin, Ringo Starr and Stirling Moss all owners of Facel Vega's.
Looking through the photographs of this particular Facel Vega Excellence, you can see why Facel were the car for the stars. First of all there is the wrap round front windscreen which is a statement in itself. Then there's the pillarless profile, which, coupled with the suicide doors, screams class and sophistication.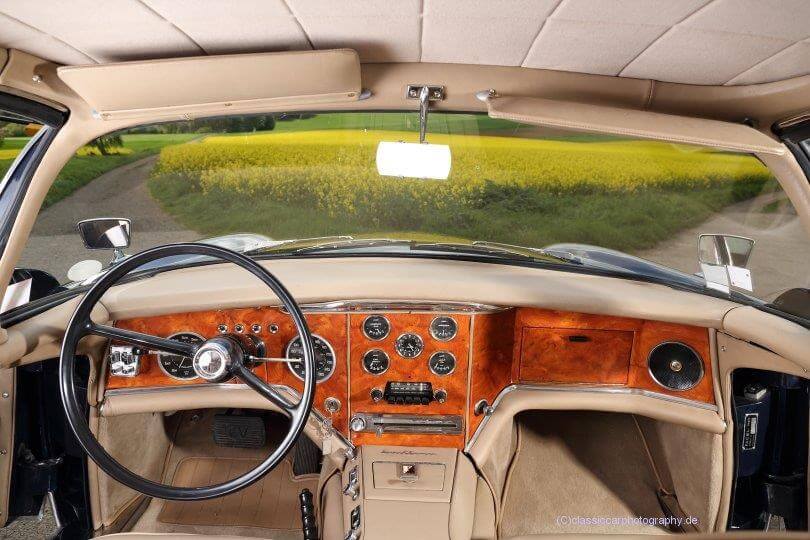 The cars exterior is a wonderful mix of American and European styling, the wrap round glass and rear fins taking their cue from across the Atlantic. The stacked headlight arrangement actually bears a resemblance to the style used by Alvis on their TD series.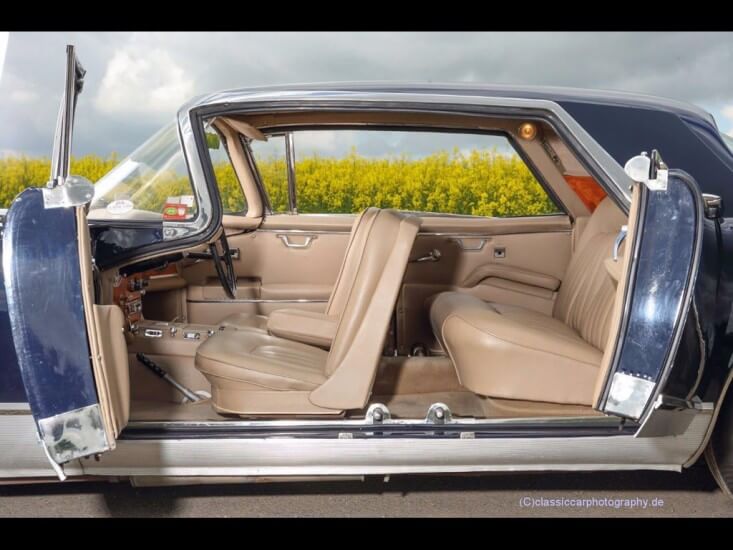 Then there's the interior which has enough leather on display to make it more luxuriously appointed than a contemporary Rolls Royce. Although the wood paneling is not real, the fact it is painted makes it all the more impressive. Equally impressive are the gauges and switches which add an aviation touch to the cabin and hark back to Facel's early days in the aerospace industry. The dash mounted push button automatic gearbox is also fascinating and a clear indication of how up market this Facel Vega was. And it had electric windows. Of course it did.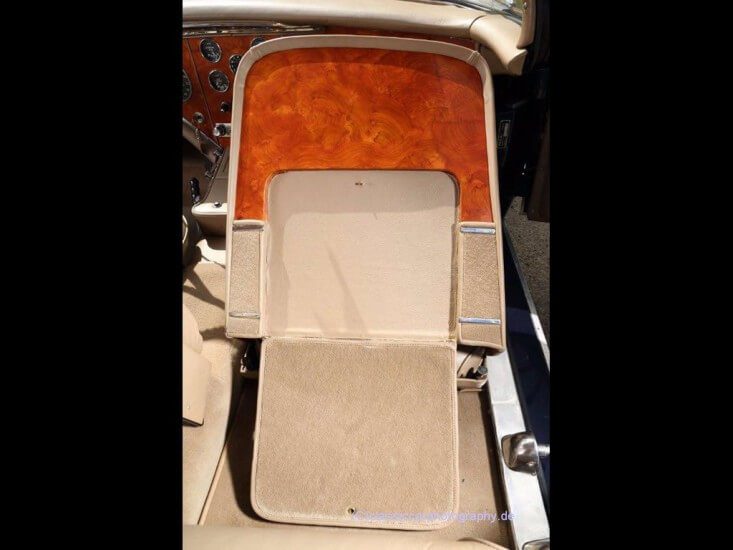 We also like the attention to detail with the drop down pockets located behind the front seats. We expect these were used to hold newspapers for the discerning business owner who would no doubt have been chauffeured around in his Excellence.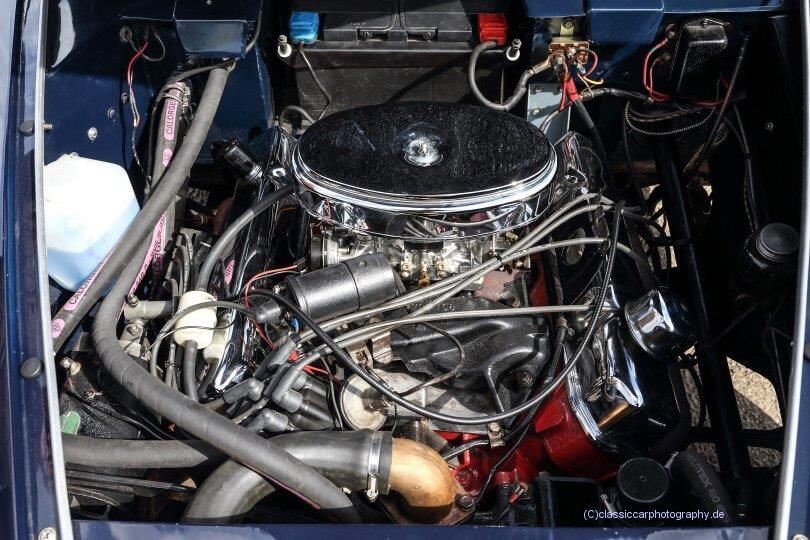 And then of course there is the Chrysler 361 360BHP hemi V8. If you are going to build a luxury sedan you might as well use a large and powerful V8 that makes the car sound just as good as it looks.
With only 137 examples of the Facel Vega Excellence EX 1 built, this is an extremely rare luxury saloon. We think it looks fabulous in dark blue with its biege leather interior. It makes quite a statement. While this car has been restored it is clear from the photographs that the gauges and bright work on the interior have a nice patina to them, ensuring that it doesn't feel too over restored. If we were in the market for a classic high end luxury barge to waft around in, then this Facel Vega Excellence EX 1 would be the one we'd choose.
This Facel Vega Excellence EX 1 is located in Kusel, Germany and has an asking price of £146,364 (€199,000).
More details and photos can be found here on the Classic Cars for Sale website.