Launched in 1961 at the Paris Motor Show, the Peugeot 404 Cabriolet immediately impressed thanks to its Italian styling. Penned by Pininfarina, its elegant lines harked back to the glory days of the great French cabriolets of Delahaye and Hotchkiss, adding a sense of flair and sophistication to the Peugeot's offering. The new cabriolet was based around the existing four door saloon platform and debuted with a 1608cc engine which produced 72BHP. A column shift four speed manual transmission was fitted as standard. The single Solex carb fed engine later received the optional Kugelfischer mechanical fuel injection system which raised power to an impressive 85BHP. With the added benefit of increased reliability from the new fuel injection system, the Peugeot 404 Cabriolet now had the power to match its sporting looks. Of the 1.8m Peugeot 404 saloons sold worldwide just 3,728 cabriolets were built between 1962 and 1968 making them very rare.
The Peugeot 404 Cabriolet is a fascinating and rare gem especially the one we have spotted for sale in Ireland. Said to be complete, this 404 was driven into storage over twenty years ago. The seller states that it received damage to the front end nine years ago when the steering locked as the car was being moved. The engine is said to be free, the clutch disengages, the gears select ok and the steering is also free. The brakes have not seized but they do not work. Included in the sale is a rare factory hardtop.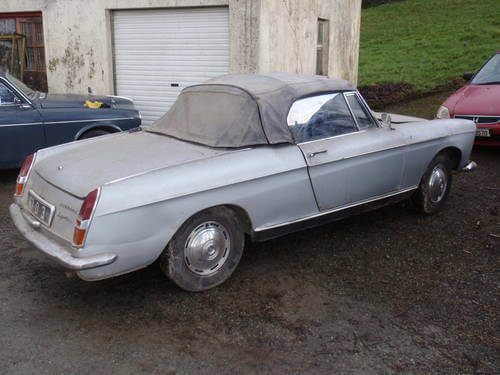 We have to say we were quite excited when we spotted the listing for this Peugeot 404 Cabriolet. For one to surface in our home country of Ireland makes this a very rare find indeed. These are very rare cars in general and for one to have made it to Ireland makes it quite special from an Irish perspective. This one clearly needs a full restoration but it does look complete from the photos. It is a shame it suffered that front end knock but a skilled classic car restorer should be able to straighten that out. Given the low production numbers, parts availability for the 404 Cabriolet is low so we hope the dented trim and grill can be repaired.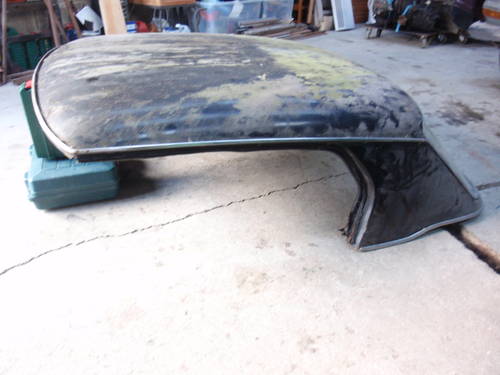 Apart from the front end damage the body work looks very straight and clean with minimal rust visible. It appears as though one of the side chrome strips is missing on the front right wing and there are some marks on the right rear wing. But again its nothing that can't be repaired.
The soft top is also intact. It is hard to judge its condition from here but it would be good if the hood could be saved, especially if it is the original one. A major plus with this car is the exceptionally rare factory hardtop that is included in the sale. This will certainly make it more of a complete package to buyers. Another plus is the intact wheel covers which we expect are hard to replace.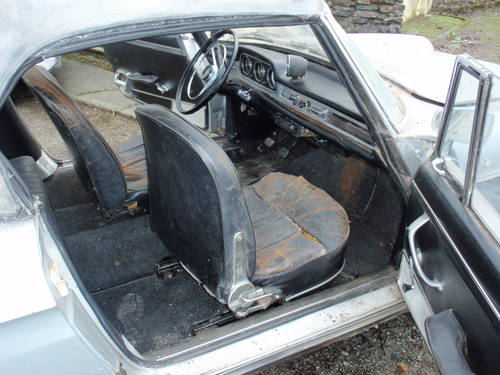 The interior appears to be pretty much intact and the front seats, which look a bit tired and grubby, may well respond to a sympathetic clean and revive. The rear bench seat on the other hand looks to be in excellent condition. There is also a gauge mounted on top of the dashboard which we assume is a later addition. It could be anything from a rev counter to a temperature gauge.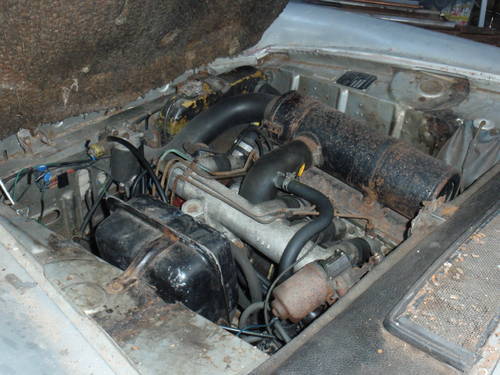 The seller stated in one of the listings we spotted for this car that he hasn't tried to start the engine. Which is a good thing. This Peugeot 404 Cabriolet has the mechanical fuel injection system which is good from a performance perspective, but more complicated from a restoration perspective. We suspect that it has gummed up with the car sitting in storage for so long. A full rebuild of this system by a specialist would be needed before any attempt is made to start the engine.
This Peugeot 404 Cabriolet really does deserve a full restoration. It's lines are classic Pininfarina and thanks to its Italian styling, it bears a resemblance to the Lancia Flaminia Berlina and the Fiat 2300 Coupe. You can also see hints of period Ferrari's in the design (the slight notch raised rear panels are very Ferrari 250 California convertible).
Back in the day the 404 Cabriolet was hailed for its combination of good looks and performance. And it looks just as good today, even in its current unrestored condition. It won't be a cheap restoration but with restored examples currently topping out at £40,000, it could make a potentially interesting investment. We would love to take on such an elegant convertible as this and return it to its former glory.
This Peugeot 404 Cabriolet is located in Midleton, County Cork, Ireland and has an asking price of £12,250 which is open to offers.
More details and photos can be found here on CarandClassic.co.uk.
Additional photos and details can also be found on DoneDeal.ie.