The heart warming classic car restoration TV show Car SOS is returning for its record 10th Series on National Geographic on the Thursday 10th March. The latest outing for Tim Shaw and Fuzz Townshend sees them restore even more rusty projects for deserving owners. And they reach the incredible 100th car makeover since the show started 10 years ago. Take to the Road sat down with Tim and Fuzz to have a good old natter about the shows, cars and yet more parts blagging.
Guys I have to say huge congratulations on the new 10th series of Car SOS and for reaching the phenomenal 100th restored car landmark. What an incredible achievement! Does it still feel like yesterday that you started filming the first episode?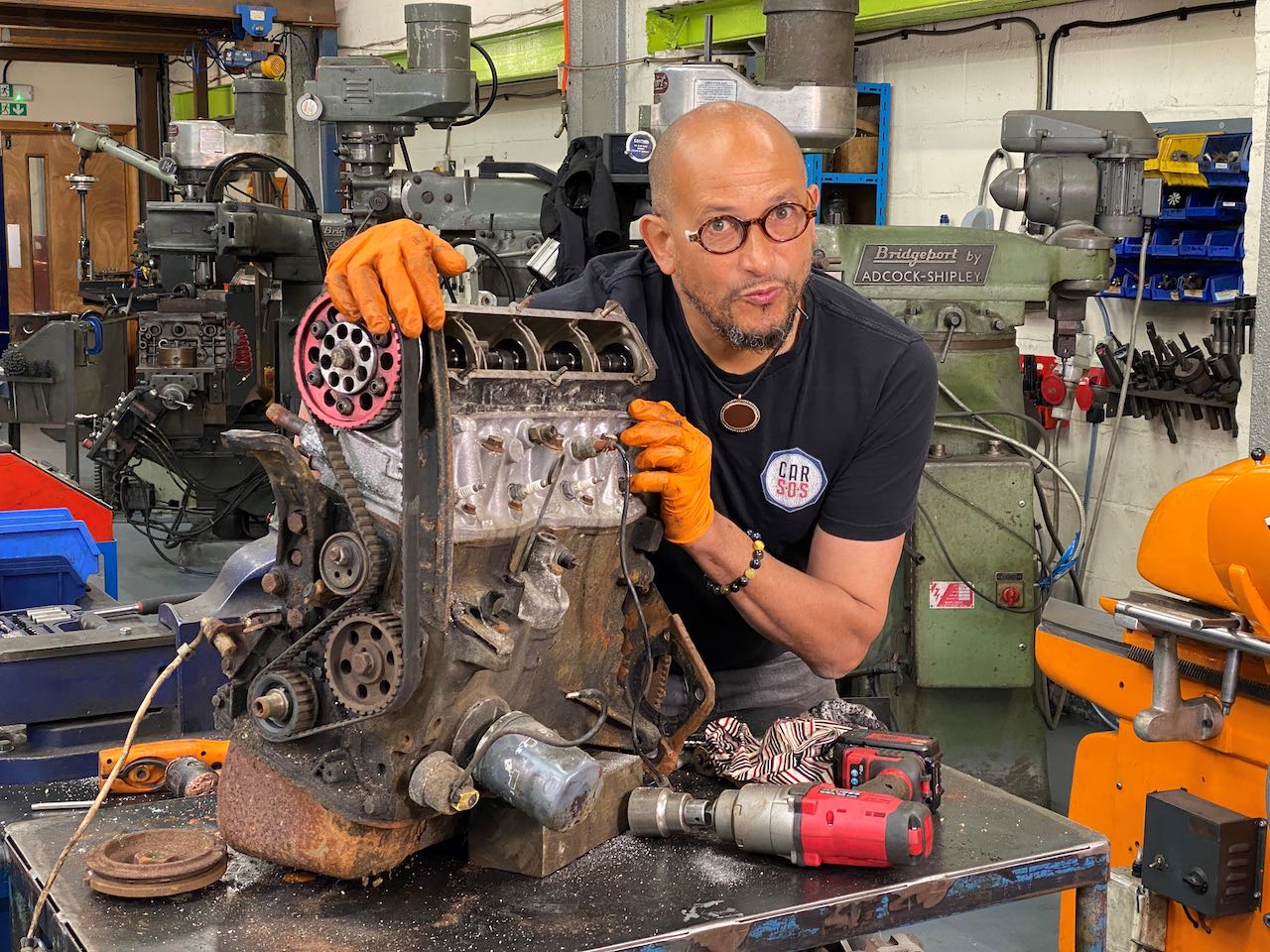 Tim – It doesn't feel real! And if you told me that we were celebrating 25 cars restored on the show, I think Fuzz and I wouldn't believe it. I actually struggle to believe that you could get 100 cars, line the all up, walk down them and go… there's 10 years of your life! Its been so busy and so enjoyable and such an emotional journey that it almost feels impossible. So much has gone on but it doesn't feel like 100 cars!
Fuzz – Yes it certainly does! We never would have imagined reaching this when we first started out! And its absolutely true what Tim has just said.
So Fuzz by my petrolhead maths you've had 1 million cups of tea and Tim you must have blagged 1 million parts as well by now!
Fuzz – Ha yeah that's probably right! If you think about it… yeah its many thousands of cups of tea for sure!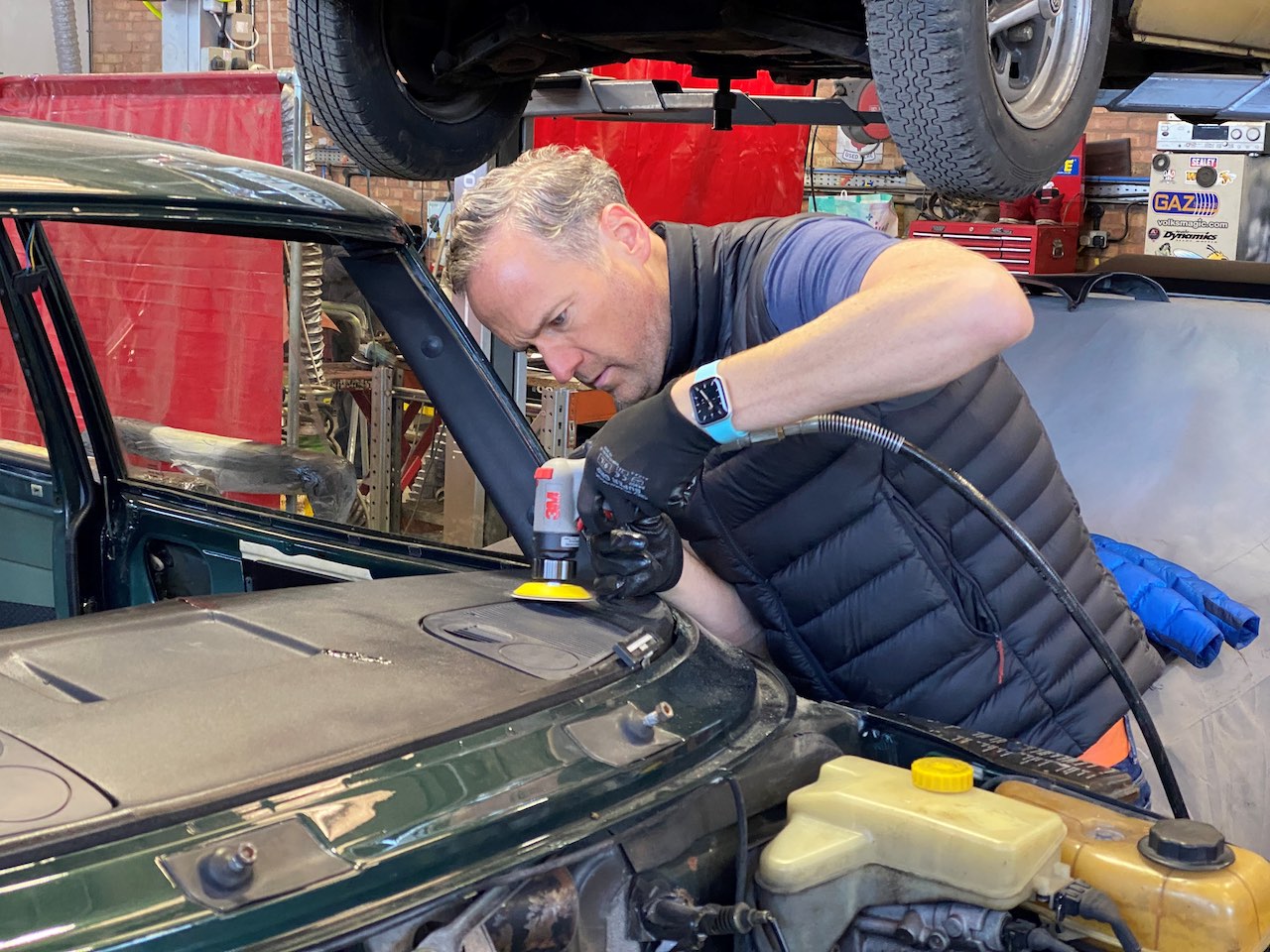 Tim – And millions of hairs pulled out of the top of your head Fuzz! Ha ha! He actually phoned me the other day and said he'd watched an early episode and told me we both looked really young and had more hair! Ha ha! So yeah… we've aged! And parts wise, oh dude I'm always at it. I'm sat in my car talking to you right now and I've even got blagging going on right here! Like this exhaust pipe for example, which is for another car we are restoring for Series 11. Seriously though I have blagged a lot and it is a lot of hard work and it has benefited the show, meaning we've had more time and money to spend on improving the quality of the restorations.
Kicking off the news series with the Fiat Uno couldn't be a better start and it is a nice follow on from the Bertone x1/9 from the last series. Given that the Uno Turbo engine was a popular swap for the x1/9 back in the day, especially when the rust struck and all that was left was the engine.
Tim – The Fiat Uno Turbo was one of those cars for me that I learned the hard way in the 80s and 90s… if you saw one you would race it… but you'd know you'd lose! I just loved it when that lag went away and it just boosted. It was hilarious! I remember being on a street in Sheffield along side an Uno Turbo and I was there in my VW Jetta GTi, you know the Golf with the boot. And I lost… disgracefully! But I was so pleased to start the series with the Uno Turbo, but not just any example, one with the Testarossa kit on it. You know its a time that's just gone now… no one buys a car now and when its a year old takes an angle grinder to it, cuts the wings off it and sticks on some fibre glass panels.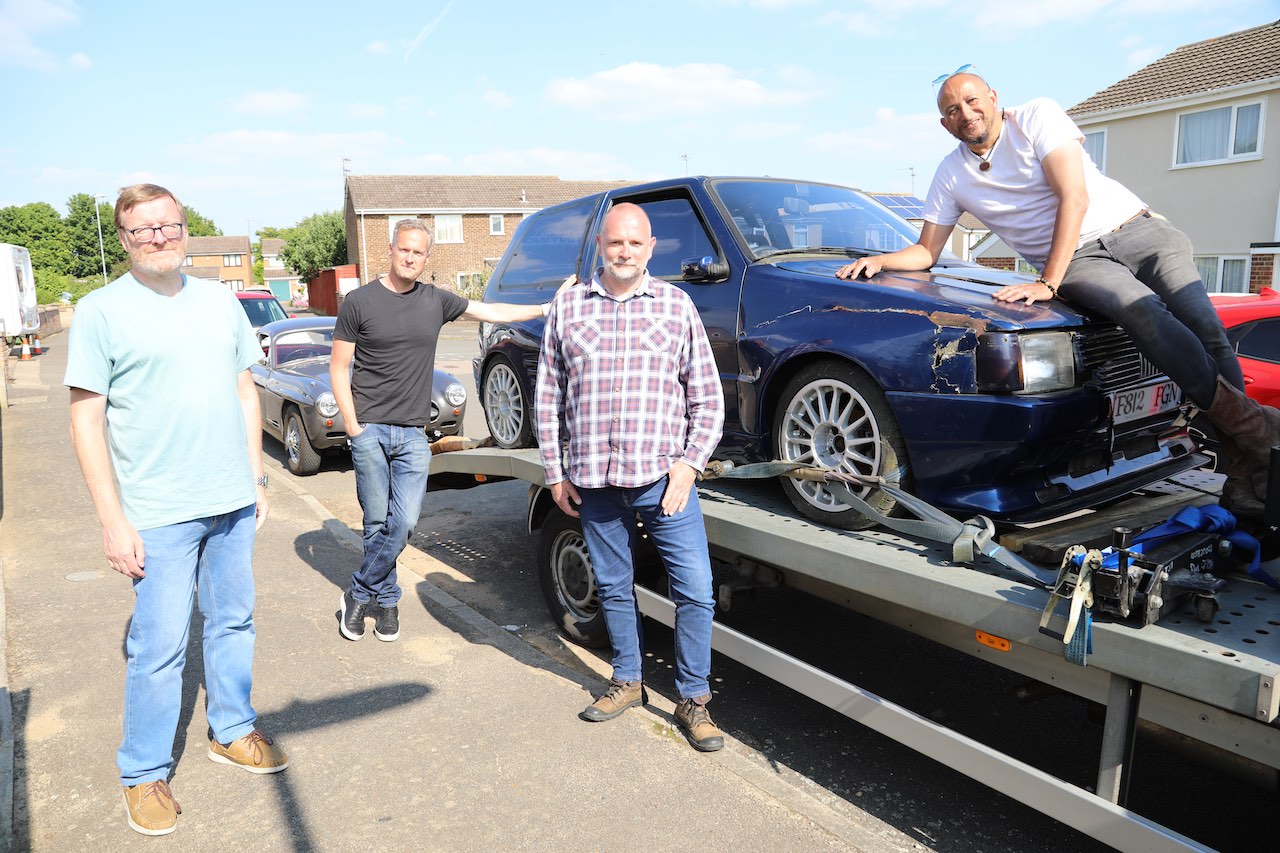 Fuzz – Come on Tim… you got your arse kicked! Ha ha! The only time you saw those cars was from the side when you looked at them blast past you! And yes, taking an angle grinder to it and sticking on fibre glass bits… those were the days. To be honest people really don't do anything now to their cars. Not like that.
And speaking of rust… The Uno Turbo was more Italian cheese than Swiss cheese wasn't it?
Fuzz – This was actually one of the cars that I had to advise the production company that we shouldn't do it because it needed so much work. But Gerry's story was so compelling and the will was there to fix it. We all wanted to do it but I knew it would be a step too far budget wise, but we did it anyway. So it was great to finish it. The whole thing about cars though is, you don't go up to someone and say what was your first car and they say "Oh I dunno". We always remember what our first car was. Everybody has a connection somewhere to a car.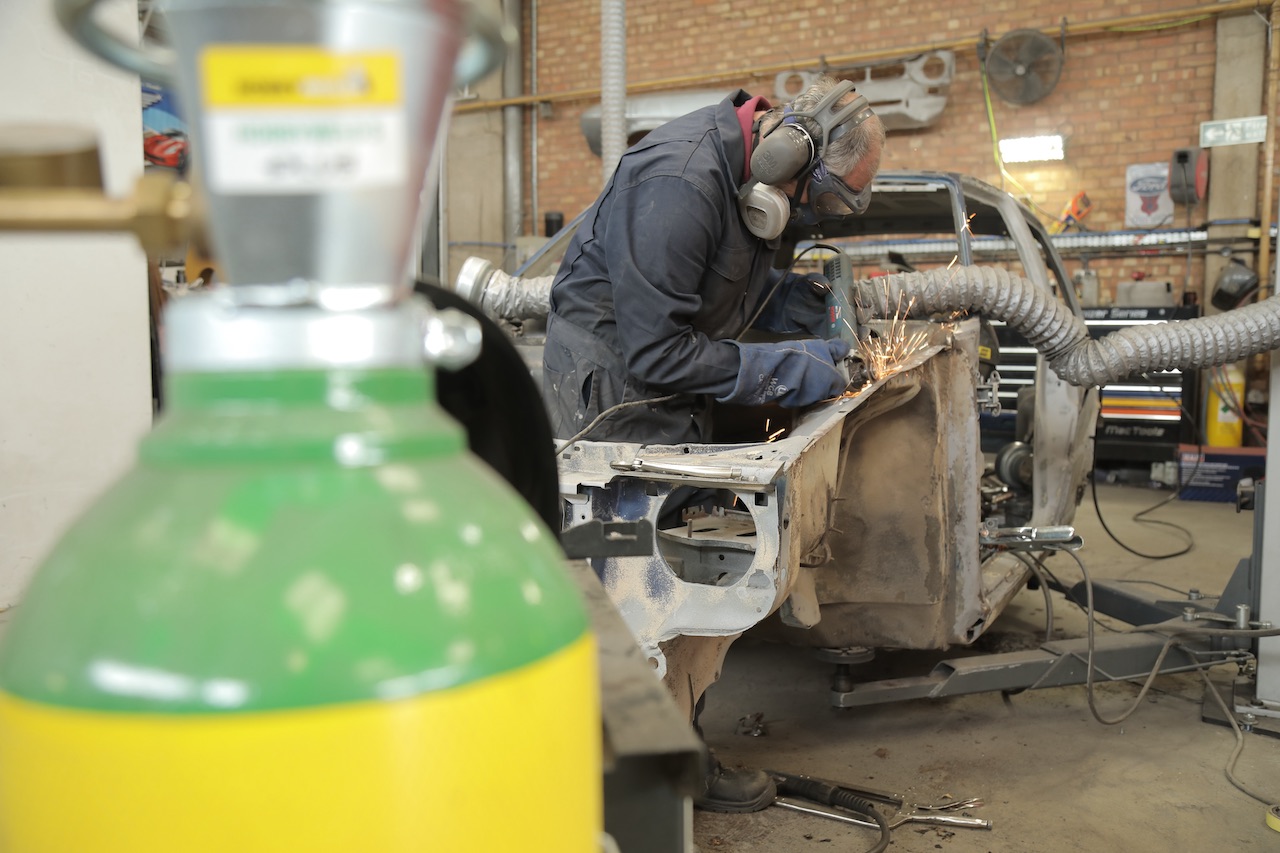 Tim – And Becks came on the show! David Beckham! He wished Gerry well on the day he got the car back, which was a lovely thing to do. He's a fan of the little hot hatches. You forget that despite being famous and a multi millionaire or what have you, that cars still play an important part in our lives. And he said he remembers the Uno Turbo, he had a Clio Williams at the time. So it was a lovely point of connection for Gerry who is a massive football fan. To have Beckham on the show and to get his Uno back just made his day, which is what we wanted. His partner Sal wanted to see a smile on his face again, as she hadn't seen him smile for a long time. She got it back though!
The other cars coming up in the show are absolute gems, the stand outs for me are the VW Corrado (being a VW Golf GTi owner), the Saab 900 and the Opel Manta. Which ones were your favourites? And is the Corrado a VR6 or a G60?
Tim – I've always wanted a Mk3 Golf GTi! I had a Mk4 R32 that I just sold and I have a Mk1 Rivage, but I've always wanted a Mk3 Gold Colour Concept. But they've gone mad money again. Even the Golf Harlequin! What a car!!! If you can find one now, they are worth good money! And the Corrado… don't… no stop it! No way… they are from the decade that separates us Fuzz. We 20v turbo'd it basically. The mistake VW made when they brought the Corrado out was the engine, the 1.8 16v… it was a heavier car than the Golf so it was a lot slower. Even the VR6 was under powered if I'm honest. But I think it was the best looking VW ever Fuzz! And its the sort of car you used to get and it was a starting point. And you'd say to your mates what you were going to do to upgrade it… I'm going to drop it, put a front splitter on it, coilovers, alloys, K&N filters… that was the fun!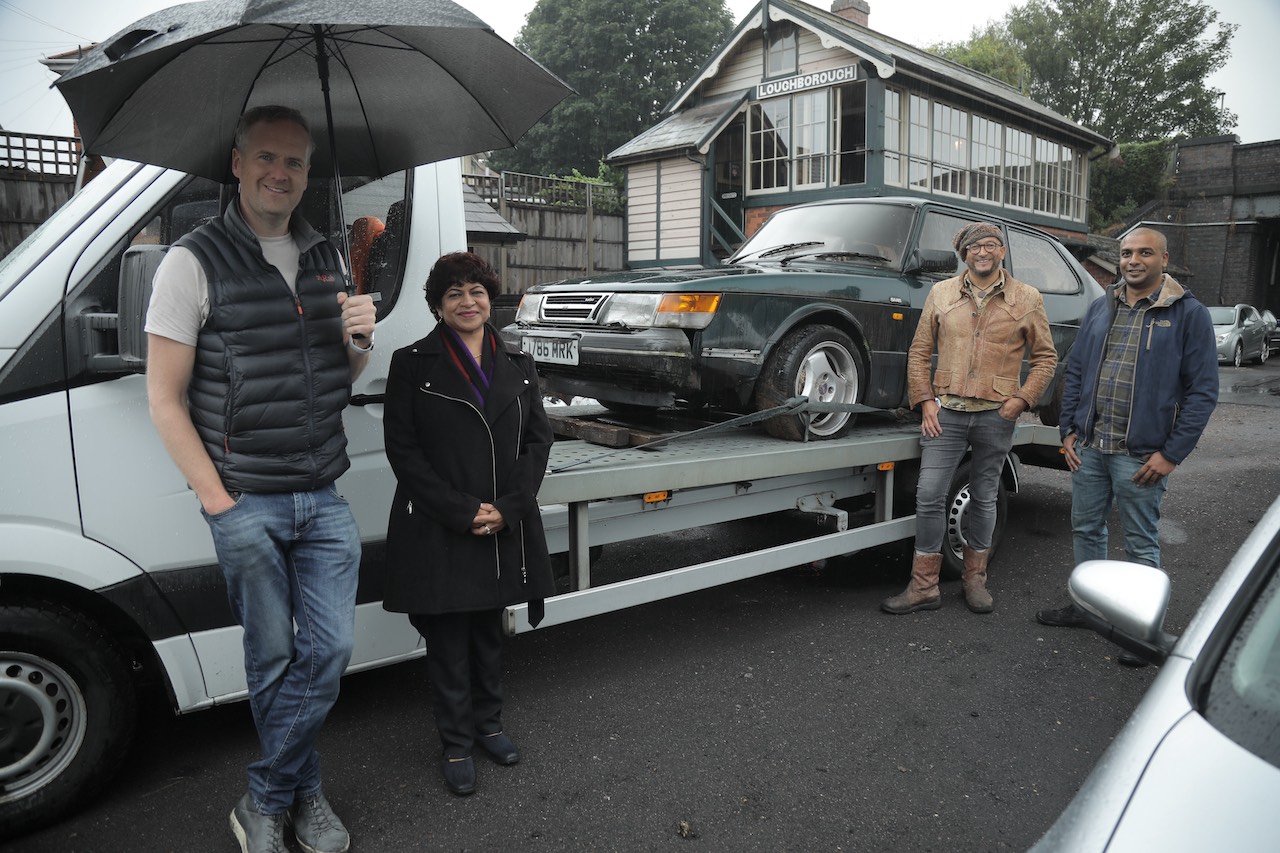 Fuzz – Honestly… really??? Listen… cars can bring people together but they can also be very divisive! And one of those Harlequins…. just no! But I suppose that was the 1990s wasn't it and a lot of people were doing a lot of weird stuff then, so I'm not surprised those cars came out. But there we are! The Corrado is a bog standard one so its just a 1.8 that had been modified a lot. The one thing that I have learned is that from this series is, if the car has been modified, try and walk away from it! They are a nightmare. It was a problem. It was a big can of worms! If only it had a decent powerplant from the beginning, then we wouldn't have had to mess about with it! We'd have done it standard and it would have been fine. Just get in it, drive it and enjoy it and don't make it ride worse or anything like that.
Fuzz were you excited doing the Dennis Fire Engine? Because its almost getting in bus territory. And I assume Tim got to dress up as a fireman…. again?
Fuzz – Yes! Its getting close! It is only one step away from a bus… and hopefully that will mean we can get to do a bus eventually. The trouble is though, buses and fire engines are big things and you can't fit them in our workshop so they are more difficult to work on. But who knew that the Dennis fire engines were built in the 1960s/70s with Jaguar engines! And a gearbox out of an Aston Martin DB5!!! Which is why they are worth more as scrap as everyone has bits out of them.
Tim – Yes I did dress up as a fireman again and we actually went on a training school which was great fun!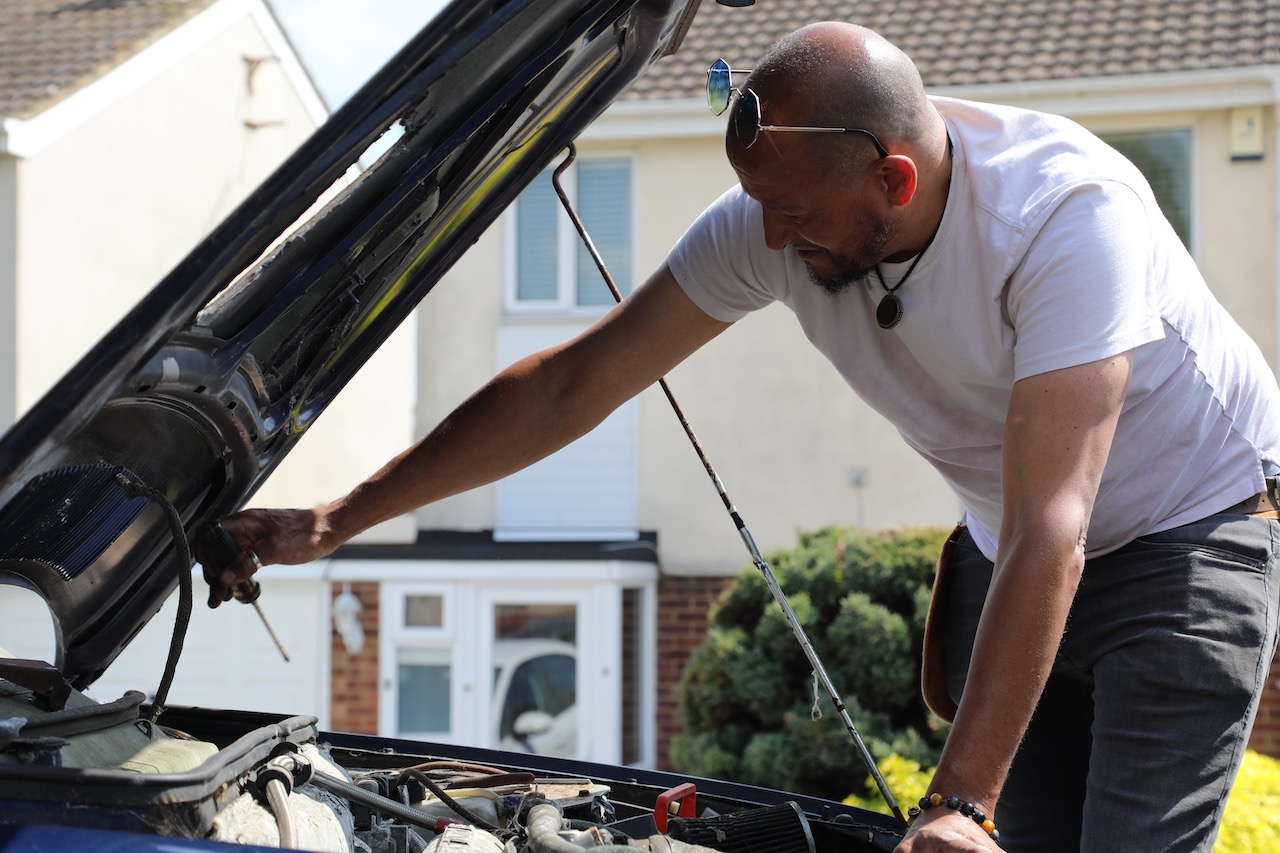 The line up of celebrity guests in this series is great and the one that is going to really send car fans wild is Edd China… will you be putting him to use in the workshop working on the spanners? Or will he offer advice and impart God like car restorative powers like Workshop Phil?
Fuzz – You'll have to wait and see!
Tim – You'll have to wait and see! But what we will tell you is that we approached Edd and asked him if he'd like to appear on his favourite classic car restoration TV show, globally, and he went "I'd love to come on Car SOS!"
Tim and Fuzz were talking to Niall Julian
Car SOS Series 10 Episode List:
Fiat Uno Turbo – 8pm, 10th March, National Geographic
Saab 900 – 8pm, 17th March, National Geographic
Ford Escort RS2000– 8pm, 24th March, National Geographic
VW Corrado – 8pm, 31st March, National Geographic
Dennis Fire Engine– 8pm, 7th April National Geographic
Toyota Supra Mk 4 – 8pm, 14th April, National Geographic
Opel Manta– 8pm, 21st April, National Geographic
Citroen Hy Van – 8pm, 28th April, National Geographic
Car S.O.S returns to National Geographic with a new Season 10 airing Thursdays at 8pm from 10th March