Auction Details: SWVA Auctions
Car: 1971 Maserati Indy
Lot no: 58
Auction Date: Friday 30 October 2015
Estimate – £21,000 – £28,000
For the latest Take to the Road Auction Watch we have selected a very interesting and rare 1971 Maserati Indy. This particular model has the 4.7ltr V8 and is a rare RHD Indy. This is the second Maserati Indy we have featured on Take to the Road and we expect it to cause quite a stir at SWVA Auctions at the end of the month.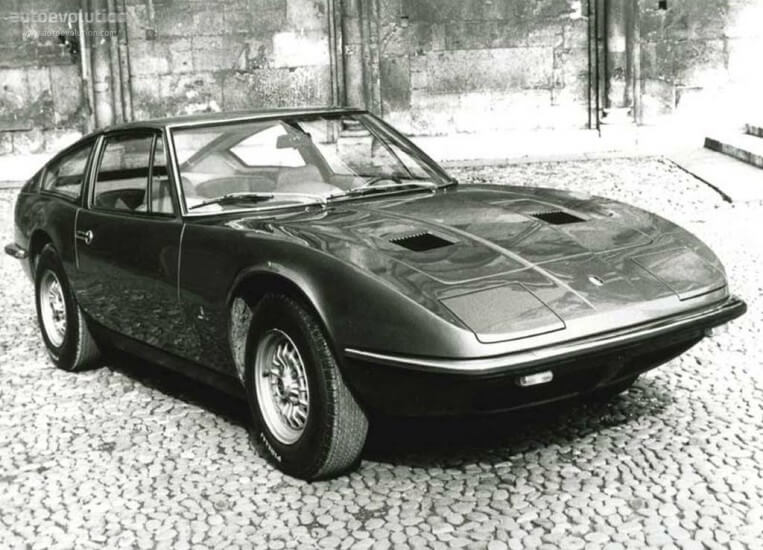 To recap on the Maserati Indy, it was launched in 1969 and was a replacement for the aging six cylinder Sebring. It was designed by the great Giovanni Michelotti while at Vignale and was named to honour Maserati's victories at Indianapolis in 1939 and 1940. It debuted with a 4.2ltr V8 which produced 260BHP, which was increased to 290BHP with the 4.7ltr in 1970. Engine output was increased again in 1972 with the 4.9ltr V8, which produced 320BHP.
The Indy was fitted with either a ZF 5-speed gearbox or the optional 3-speed Borg-Warner automatic. It had an independent front suspension with double wishbones, coil springs and an anti-roll bar. At the rear Maserati used a live axle on leaf springs which also had an anti-roll bar. Servo assisted and ventilated disc brakes were standard all round with power steering and a limited-slip differential available as optional extras. Thanks to it's aerodynamic design which gave the illusion of a two seater car, the Indy had a high tailgate which allowed more room for rear seated passengers. It also gave it a very respectable boot. In total just 364 Maserati Indy's were built.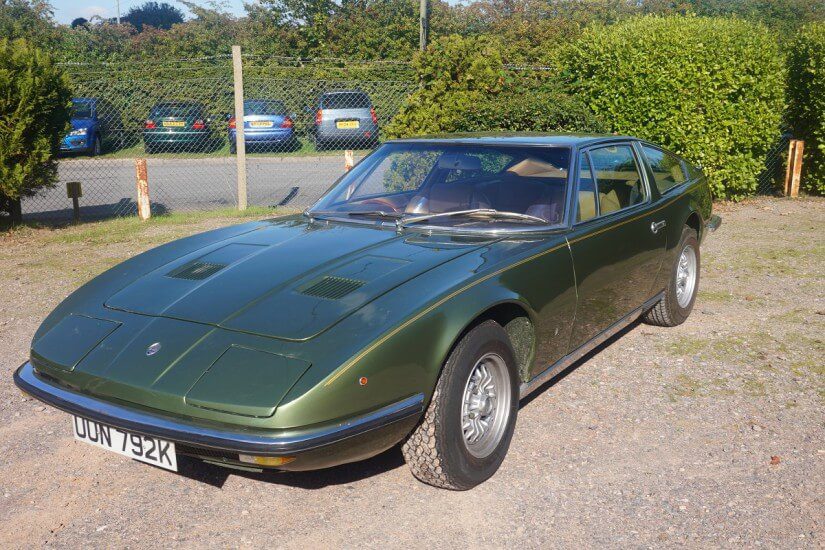 This particular manual transmission Indy was registered in 1971 and is said to have covered 75,542 which is warranted. It was purchased by the current owner in 1984 when it had 60,000 on the clock. So it has covered just 15,000 miles in 31 years. During the sellers ownership it has been subject to resprays and has had the heads skimmed, new front disc brakes fitted, along with a new exhaust and clutch. On the inside it has had new carpets and a new leather dashboard. The listing also states that the radiator has been re-cored and that the car holds good oil pressure and uses virtually no oil. It has a current MOT with no advisories until September 2016.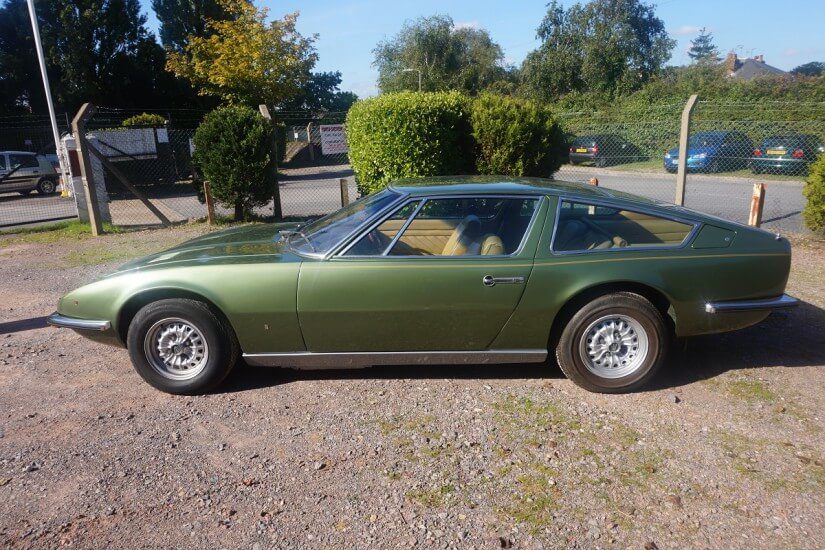 Lot number 58 caught our eye purely because it is a Maserati Indy. And our eyes lit up when we saw the estimate. At between £21,000 – £28,000 we feel it a little on the conservative side. The Indy we featured back in March was selling for just under £60,000, though it had the benefit or a respray and an engine rebuild. It was actually still good value for a classic Maserati. While the green paint on this 4.7 Indy might not be to everyone's taste, it presents well in the photos. The listing mentions it has had resprays but no further information is provided. It may have had a full respray or just localised repairs. 1970s Maserati's do like to rust so this one would need a close inspection.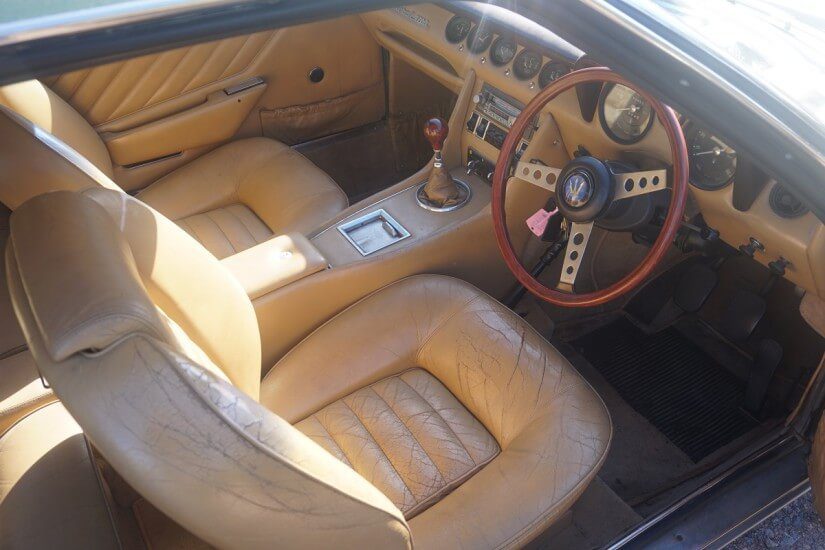 The interior is showing signs of wear but overall is pretty good. The drivers seat has the most wear and is cracked in places but this can be repaired. The front seats and door cards could do with a good sympathetic clean and revive. The rear seats appear to be unmarked. This Indy has had a new leather dashboard which is a plus. Moving to the rear, the boot rubber appears to be deteriorating. Little details like this do detract from the cars appearance but they are relatively straight forward to remedy. There is no mention of the spare tyre or whether the original toolkit is present.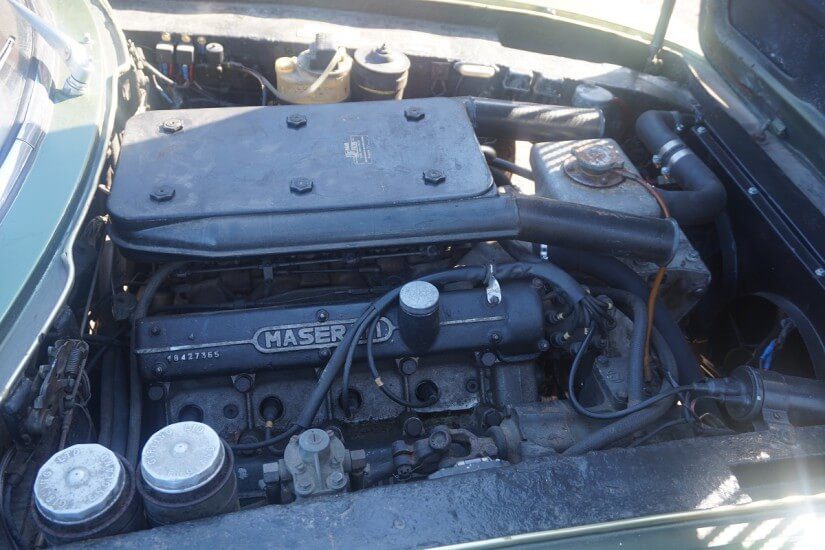 At the heart of the Indy sits the wonderful Maserati 4.7ltr 260BHP V8. Fitted with four Webers carbs, the Indy comes with dual fuel tanks which helps increase its range (26 gallons in total). The exhaust note from the all alloy V8 really is sublime, with a deep burble that is a little more civilised that an equivalent American V8. The engine bay on this Indy does need some detailing and it looks like the engine has never been out of this car.
It has had the heads off in the past, as they were skimmed. Rebuilds on these V8s are not cheap so we'd want to check its service records to be sure it has been properly maintained. Even if it has, a rebuild will no doubt be needed at some point in future. On the plus side the radiator has been re-cored and looks fresh. The hoses and clips also appear to be new.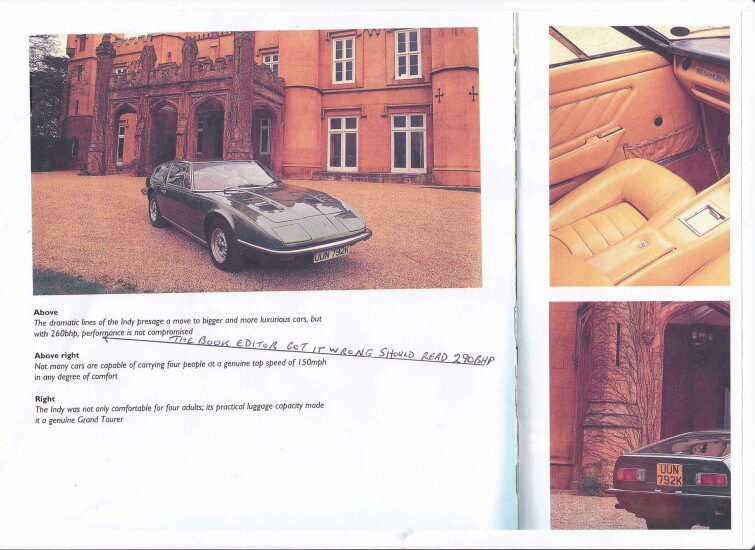 Our overall impression is that this Maserati Indy is a very nice driver that appears to have not had a full restoration. We like the fact it is a RHD model which makes it quite rare indeed. With its wonderful V8 engine upfront, 2+2 seating and a large boot, the Indy makes for a very comfortable GT cruiser.
While it has always played second fiddle to the larger and more powerful Ghibli, we think this Indy is an excellent opportunity to acquire one of the last true classic era Maserati's before the De Tomaso take over in 1976. With a little detailing work it should make for a very solid investment. The long MOT with no advisories does give the prospective new owner some peace of mind, though we would budget for an engine rebuild just to be on the safe side. It will be very interesting to see how much this Indy makes at auction.
More details on this Maserati Indy can be found on the SWVA website.