BMW are well known for their sports cars, their M Sport badge causing petrolhead hearts to skip a beat when they spot one emblazoned on the body work. Aggressive, loud and just a little brutish, the M5 and M3 are German cars where the rule book has been thrown away. The BMW Z8 however is not one of those cars despite its M5 sourced V8. It stands out as one of the most beautiful modern day models ever released. It therefore doesn't come as a surprise when you look back through the German marques archives and find the inspiration for the BMW Z8. It came in the form of the incredibly beautiful and incredibly rare BMW 507.
Launched in 1955 at the Frankfurt Motor Show, the elegant two seat roadster was powered by a 3.2ltr V8 aluminium engine. Intended for the US market, it conjured images of boulevard cruising with more than a touch of class and sophistication. Despite its good looks, capable V8 engine and celebrity status (Elvis bought a white one while stationed with the US army in Germany in 1959), only 253 were built. It was a financial failure that almost bankrupted BMW. It was an unfortunate end for what promised to be one of the worlds greatest ever roadsters.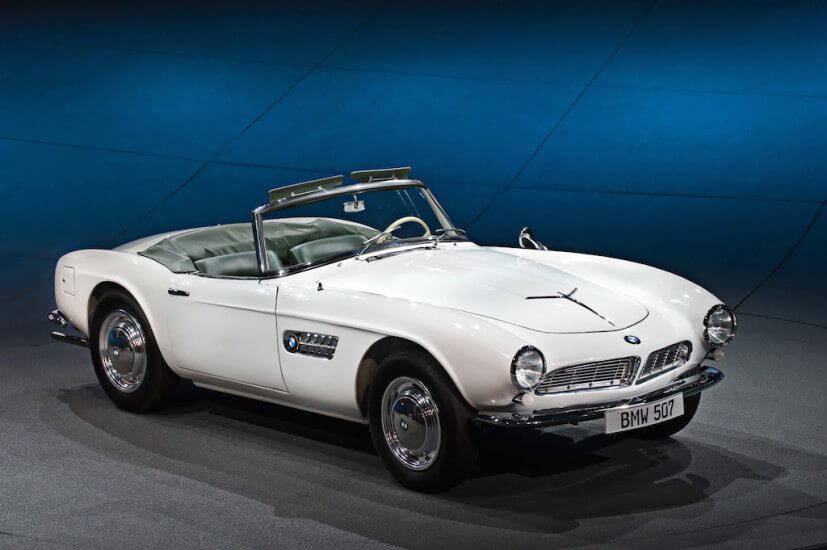 Fast forward to 1993 and the story of the birth of the BMW Z8 begins. Apparently BMW bosses Bernd Pischetsrieder and Wolfgang Reitzle, who had arranged a display of BMW heritage vehicles for a colleagues leaving party, admired a 507 that was part of the display. No doubt struck by a sense of nostalgia, the decision was made that BMW needed a new luxury V8 powered roadster. Four years later the BMW Z07 concept was unveiled at the Tokyo Auto Show and was immediately given classic status. Designed by Henrik Fisker, the impressive Z07 shared cues from the 507. Most notable were the chrome side grills, the twin wide mouth chrome front grill and the slight prominent headlights on the front wings.
The combination of modern styling and retro looks were all details that paid homage to the past. Production was given the go ahead and the hand built Z8 roadster was launched in 2000. Utilising the 394bhp, 4941cc V8 from the M5, the Z8 had a specially designed light weight aluminium space frame chassis on to which the aluminium outer panels were bolted. A six speed manual was supplied as standard. Thanks to the power of the M5 engine and its light weight construction, the Z8 was good for 0-60mph in under 5 seconds. In order to stay faithful to the original concept, each car was supplied with a hard top, though this differed from the double bubble style used on the Z07.
Despite its sporting pretences, the BMW Z8 proved a handful on the track even with its stiff suspension. It also suffered with being considered one of the most ineffective Bond cars ever, when a pre-release Z8 was sliced in half in Die Another Day (released in 1999). A certain Jeremy Clarkson was also very critical of the car when he tested one on Top Gear. And added to this were the BMW run flat tyres which were notorious for their rough ride. Despite these misgivings the Z8 enjoyed a much more successful production run than the 507, with 5703 built. All were left hand drive and the 70 examples that were allocated each year to the UK market were also left hand drive.
Under appreciated and misunderstood in its time, the BMW Z8 is now being recognised as the true classic it has always been. It is a comfortable long distance cruiser with a wonderful V8 that is very relaxing under 4,000rpm, yet sounds like thunder when you put your foot down. Thanks to its low production numbers, values have steadily increased over the years with most examples selling for well over its original £80,000 price tag. A classic from day one, it is now in the collectors price category, so is sadly out of reach for most of us. Like a rare fine wine, it has matured and improved with age and it looks just as good today as the day it was launched.
Offered for sale at ACA Classic Car Auctions on the 22nd August is a rare 2001 BMW Z8 Roadster. Sold new in the Middle East, this Euro spec example is said to be one of just 77 models finished in red with a Sportred/Black leather interior. It has covered 34,000 miles and was recently serviced by a UK BMW main dealer. It is supplied with its original factory hard top (and rear wind breaker), spare key, owners manual and service book. As this car is an import it has been registered with NOVA and is currently going through its UK registration.
For us, the BMW Z8 is one of our favourite of all modern BMWs. Its styling is just timeless and it hasn't aged at all. We love the design cues to the old 507 which in itself is a work of automotive art. We have seen a couple of Z8s in the flesh and they are very striking cars, particularly in silver. Over 50% of all Z8s were ordered in silver which makes this red example quite rare. Personally we prefer the understated and more classy look of a silver Z8. But obviously we wouldn't say no if we were given this one. Its colour actually suits the epic V8 and we expect we'd spend most of the day flooring it. Not exactly the sort of behaviour considered appropriate for a rare beast like the Z8 it. You can't say its not tempting however. It must be quite an experience to drive a manual V8 like this, to have proper control over that M5 engine and not have it held back by an automatic. Its a proper drivers car.
This example looks to be in excellent condition, as you would expect for such a rare car. It is a real head turner. We particularly love the factory hard top on this one. It complements the cars curves superbly while adding some all weather practicability. With an estimate of between £140,000 – £160,000, the price is roughly in the range for low mileage and well looked after Z8s. Models with rare colour options can push Z8 prices higher so we expect this one could well reach its top end estimate. With the current market leaning heavily towards older classics, this BMW Z8 presents an opportunity to acquire a modern classic that, thanks to its rarity and collector status, can only increase further in value. It may not have been the greatest Bond car. But it sure is beautiful. Just like the 507.
More details on this BMW Z8 and the ACA Auction on the 22nd August can be found here.