Every so often we come across a gem of a classic that is not only awesome, but incredible cool, retro and a little bit special. And that is exactly what we thought when we spotted this exceptionally rare 1974 Honda Z600 coming up for sale in Classics Central Auctions May sale.
Auction House: Classics Central Auctions
Car: 1974 Honda Z600
Lot no: NA
Auction Date: Sunday 15 May 2016
Estimate – £20,000 – £22,000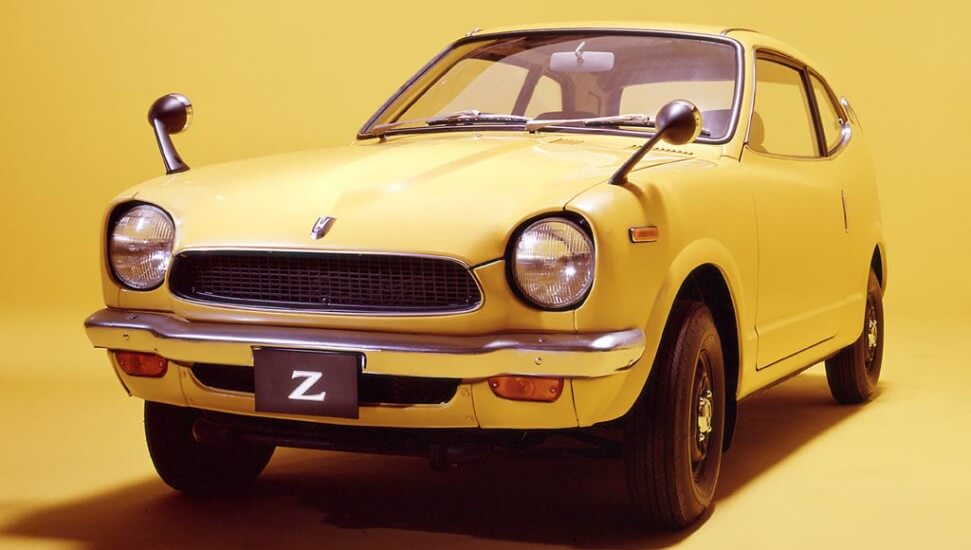 Launched in 1967, the Honda N was a compact Kei-class car developed for the Japanese market. Designed to meet the strict size and emissions rules of the Kei Car category, the new Honda N360 debuted with an air cooled two cylinder 354cc 31BHP engine. Power was sent to the front wheels via four or five speed transmission. An independent front suspension was fitted to the front with a leaf sprung fixed axel at the rear. The 354cc engine was then upgraded in 1968 to a more powerful 598cc unit which increased power to 36BHP at an impressive 6,000RPM. The revised engine size lead to the car being renamed the Honda N600.
The Honda Z600 Coupe was essentially a sportier version of the N600 and pushed the limits of the Kei class rules. But it was capable of 40MPG which was a big deal in the run up to the 1970s oil crisis. The two door sedan body was tweaked to give it a more sporting look and UK bound cars were treated to an orange paint job with a black side stripe. Over 40,000 were built from 1973 to 1974.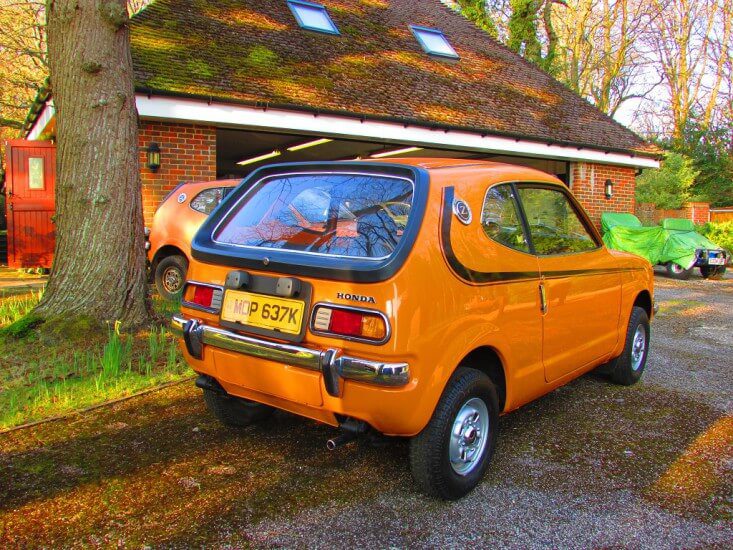 The 1974 Honda Z600 being offered at Classics Central Auctions sale on the 15th May is described as being show room fresh and has covered a remarkable 705 miles from new. It apparently spent time in a Honda museum in Ireland before making its way to the UK.
We don't know how many Honda Z600s are left around the world. Apparently there are currently only three surviving in the UK (there was 85 in 2001!). Which is a shame as we think this compact little coupe is just brilliant. This particular 1974 example is more than a time warp survivor. It is probably one of the best preserved low mile Z600s outside of Honda's own museum. Having covered just 705 miles, this is one very special Kei car.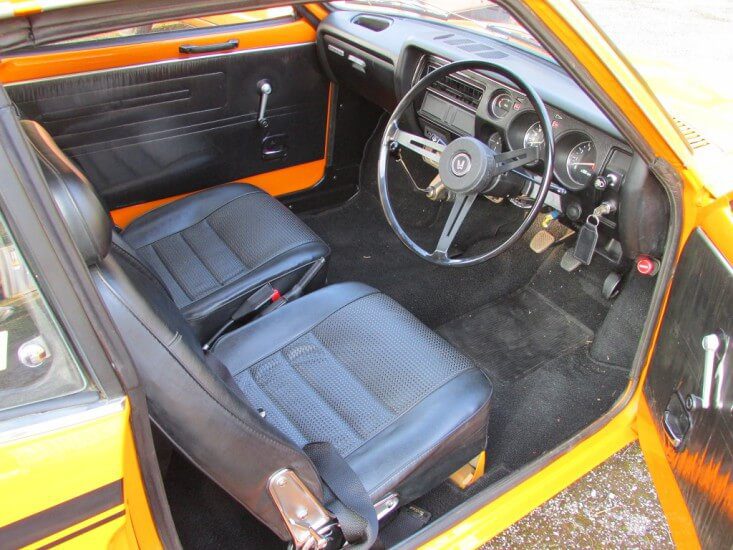 What strikes us most about this Z600 is how cute it looks. It has one of those little faces you associate with small cars and it is as characterful as an Austin Healey Sprite. To us Europeans it looks incredibly small, especially when compared to the bloated modern vehicles we are accustomed with today.
But despite its tiny size, it has a sporty aggression to it, thanks to the Starsky and Hutch style paint job and side stripe. Japanese car makers were very clever in the 1960s/70s, taking inspiration from their western rivals in order to gain a foothold in the market. And little tweaks liked this helped gain sales and a loyal following.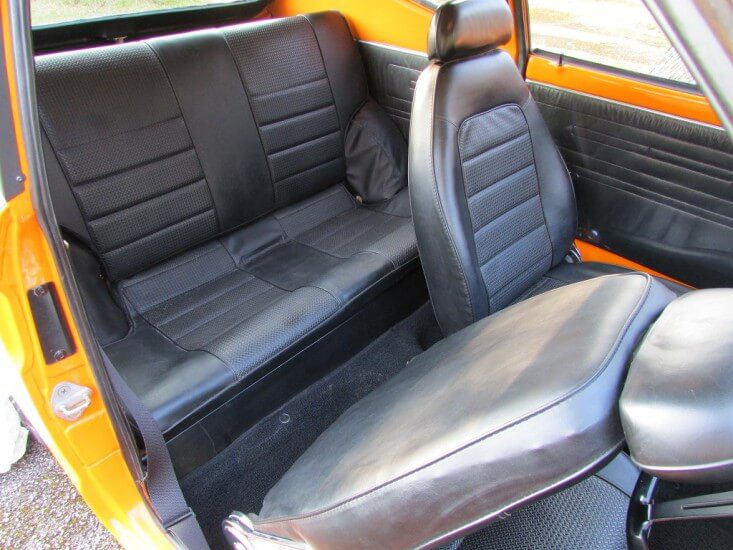 The Honda Z600 may have punched above its weight with its tiny little engine, but the 2 cylinder unit is lively and loves to rev. The front grill and headlight arrangement has a slightly aggressive look to it, the power blue in the bonnet suggesting there's more under there than there actually is. Also the side Z badge clearly took some cues from the Ford Mustang's rear centre badge. And the orange paint and sporting side stripes enhance the two door coupe look. It may not have the power but it has the character to back it up.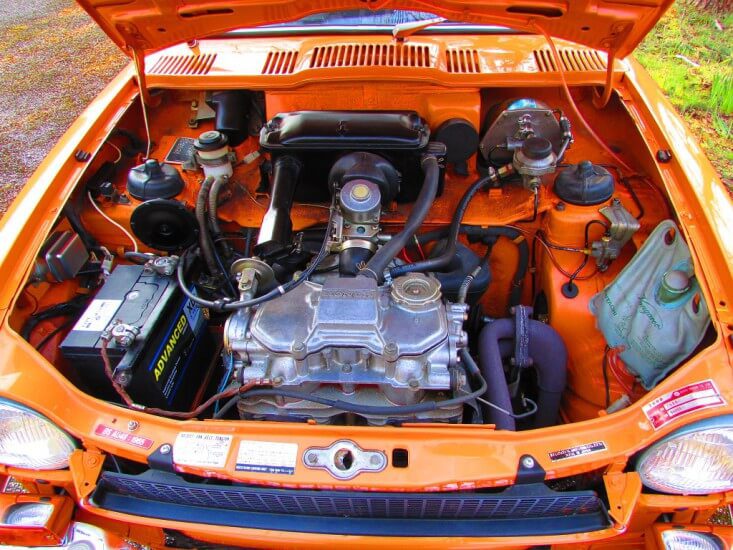 With a guide price of between £20,000 – £22,000 this is an expensive little Honda. But it does present a once in a life opportunity to acquire what is probably one of the best preserved low mile Honda Z600s on the planet. Given its condition and mileage, this Z600 would be the centre piece of any collection and it would make a superb addition to any automotive museum collection.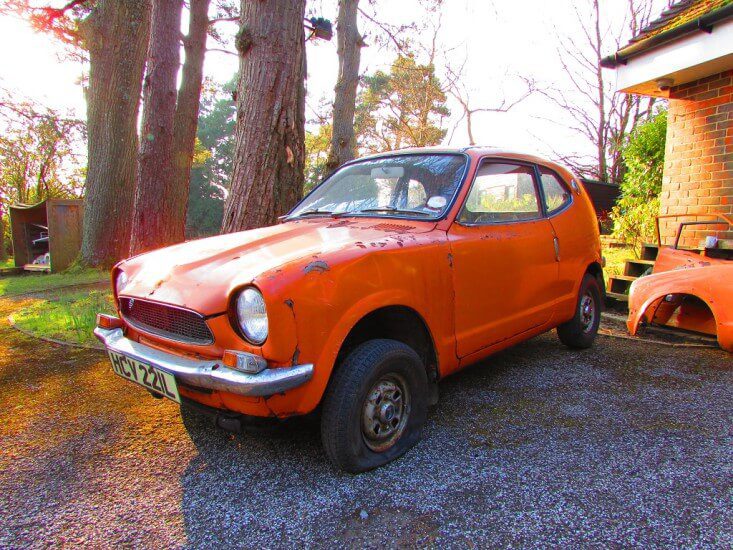 Also worth a mention is the fact that Classics Central also have a 1973 restoration project Honda Z600 available in the same sale. This one is not as showroom fresh as the other but it does come with spare repair panels, which we expect are hard to come by. With a guide of £3,000 – £5,000 it would make an ideal summer project and a very worthy car to get back on the road. With only three allegedly left on UK roads, the new buyer could potentially walk away with the majority of the UK's surviving Honda Z600s. Now that is something that doesn't happen very often.
More details on this Honda Z600 can be found on Classic Centrals website.
And more information on the project Honda Z600 can be found here.
Classics Central Auctions sale is taking place on Sunday 15th May. More details can be found here.