Aston Martin is marking the anniversary of the original V12 Vanquish, which was first revealed 20 years ago. The new supercar debuted at the 2001 Geneva Motor Show and was the most sophisticated and technologically advanced model produced by Aston Martin.
The new V12 Vanquish instantly became Aston Martin's flagship model. It was built at Newport Pagnell and used cutting edge technology such as a drive-by-wire throttle and Formula 1 inspired gearshift paddles paddles.
Lauded for its sublime design, exceptional power and brutish performance, V12 Vanquish quickly secured positive reviews from the expert media of the day. Motortrend in the United States said: "Aston Martin's new Vanquish is one of the most superbly designed front-engine GTs of all time." British magazine evo were moved to say: "It devours the straight bits with relish, but it also has a ravenous appetite for corners," while The Sunday Times later called it "an automotive masterpiece".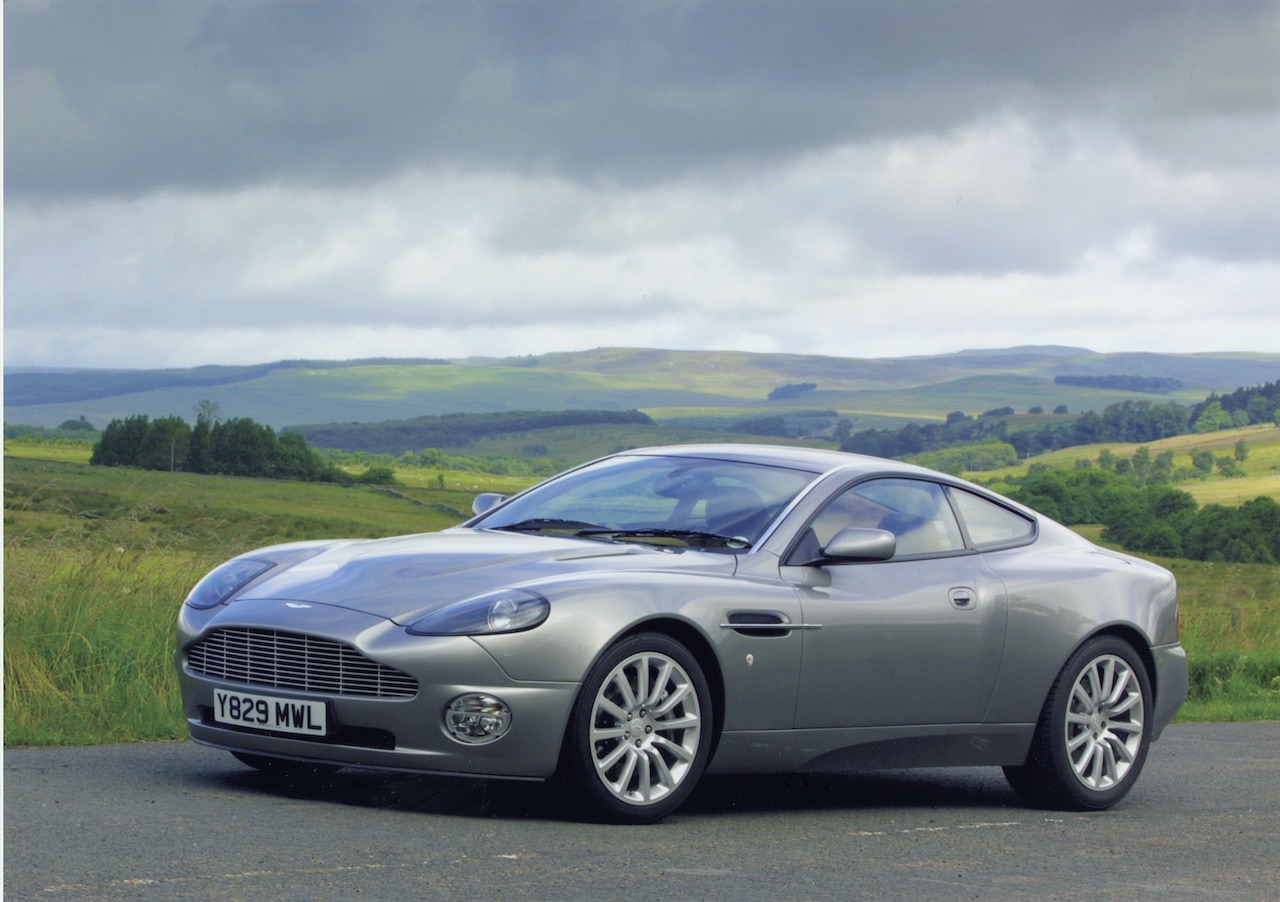 Today, Paul Spires, President of Aston Martin Works said: "The original V12 Vanquish represented an important and timely development for our marque. It was, and is, a great super GT with all the character, style and power that is rightly expected of an Aston Martin sports car.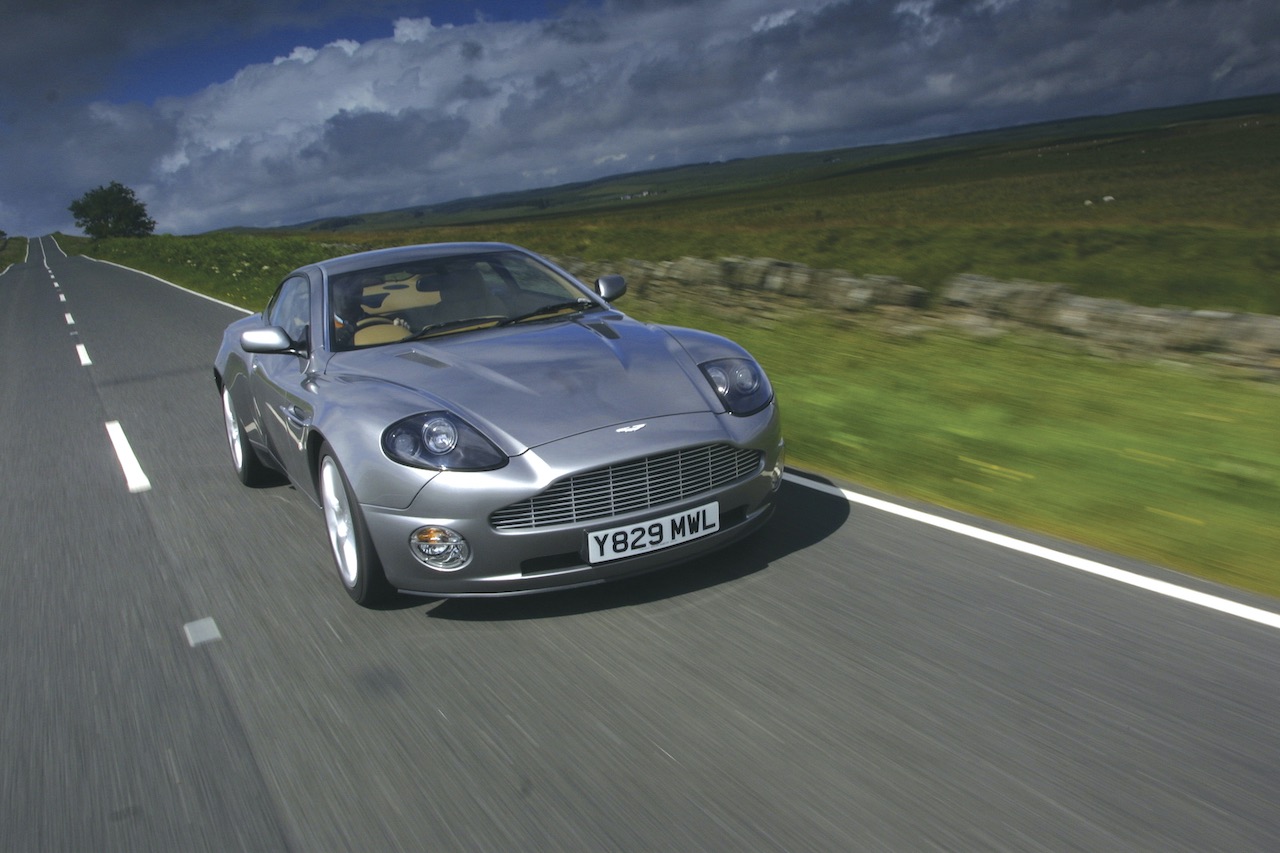 "20 years on from that debut, the V12 Vanquish remains a proud part of the marque's heritage which we celebrate here at Newport Pagnell. It is an exceptional piece of our history, and a car that we can rightly look back on with considerable pride."
The V12 Vanquish story began with a concept sports car named 'Project Vantage'. Developed by Aston Martin through the mid-90s, and exhibited for the first time at the 1998 Detroit Motor Show, Project Vantage was an apparently almost production-ready supercar designed by then styling chief Ian Callum.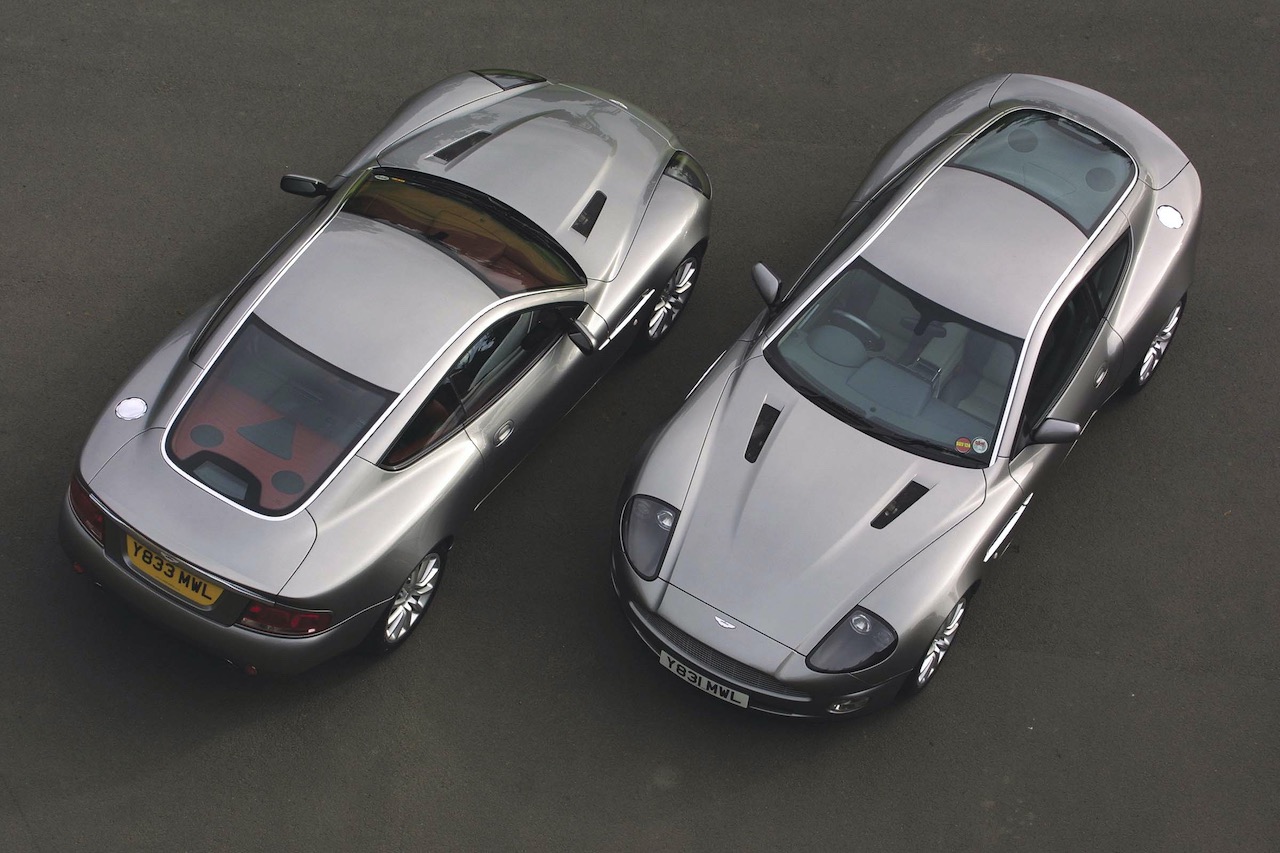 The car featured a new 6.0-litre V12 engine with an output of 460 bhp, mated to a paddle shift gearbox. It used a cutting-edge aluminum tub and composite body panels, and at the time represented a major leap in both design and technology for the luxury marque.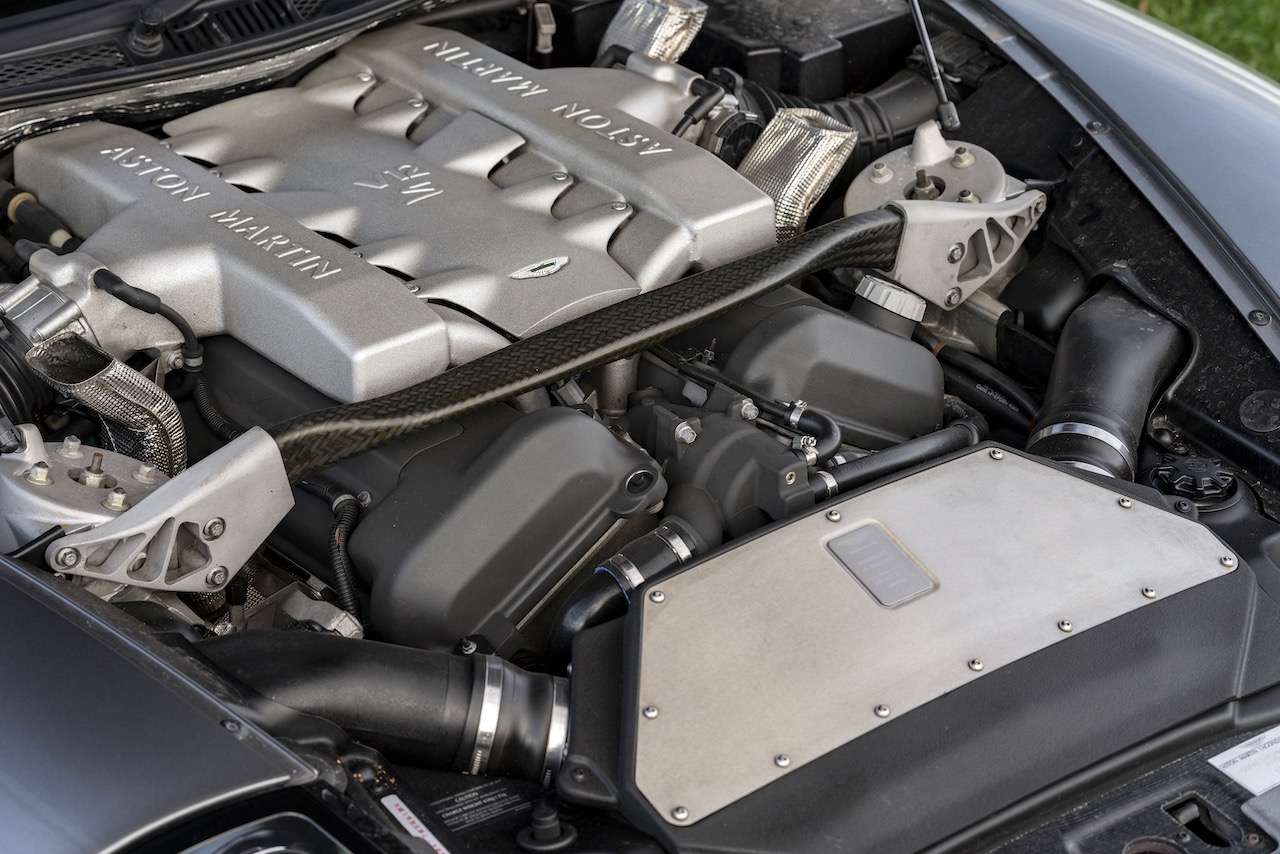 Development work continued on the programme and, in the autumn of 2000, a selection of key media was given the opportunity to see a pre-production V12 Vanquish, which clearly owed much to the Project Vantage.
V12 Vanquish design and body engineering
Ian Callum's elegant, classic body design for the two-door sports car – which was offered in 2+0 or 2+2 configurations – was shaped to reflect the pedigree, heritage and tradition of Aston Martin. It was seen as both bold and dynamic, with finely detailed features for the interior and the exterior.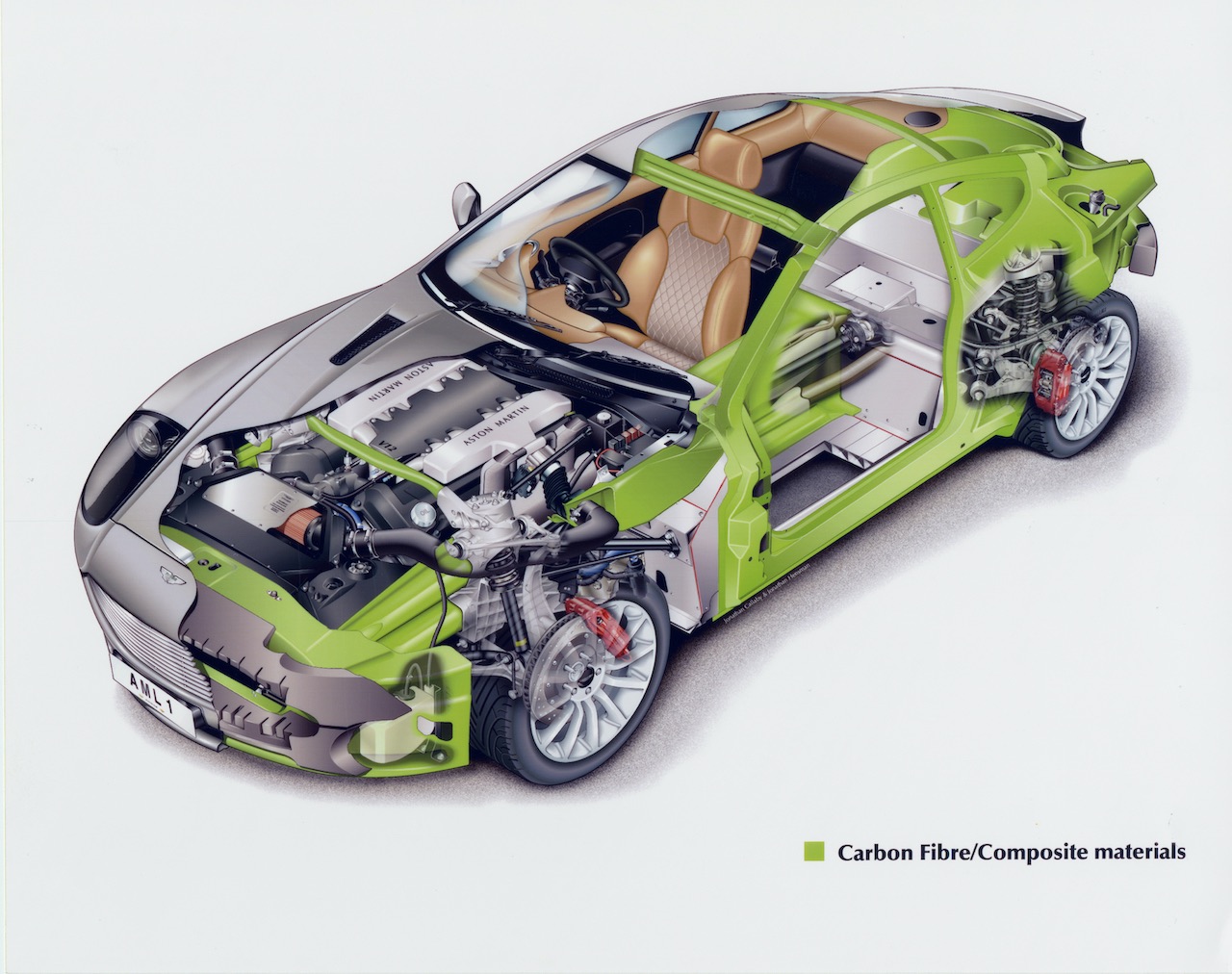 Deeply sculptured sill and door panels added visual appeal, while the prominent rear wheel arches with the short tail section and rear spoiler incorporated in the boot lid complement the classic overall proportions of the V12 Vanquish.
All the exterior body panels were constructed from aluminium, with each individual panel hand tailored to the central structure. The car's body structure, including the floor and the front and rear bulkheads, was formed from extruded aluminium sections bonded and riveted around the central transmission tunnel which was constructed entirely from carbon fibre.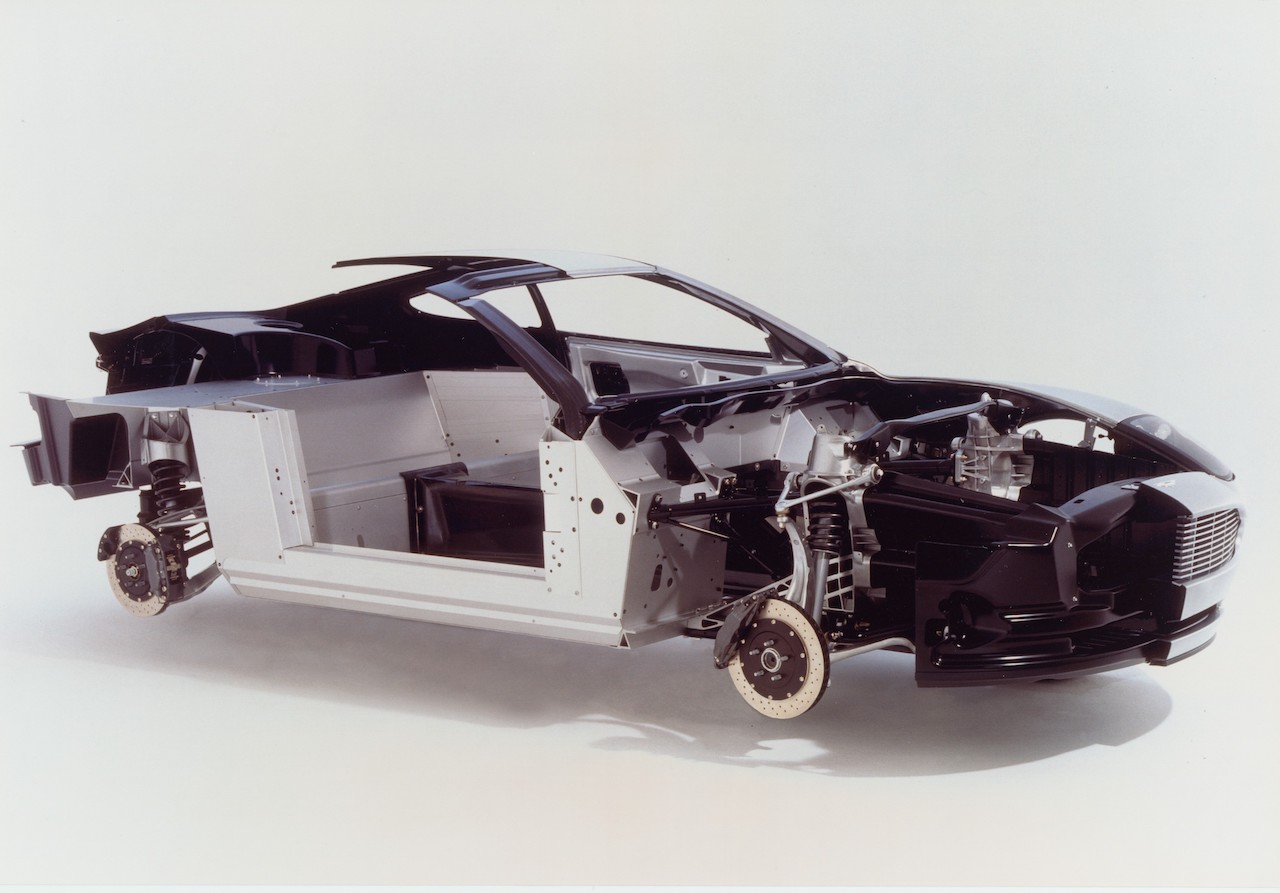 Single piece composite inner body side sections with carbon fibre windscreen pillars were also bonded to the central structure to create a high strength safety cell.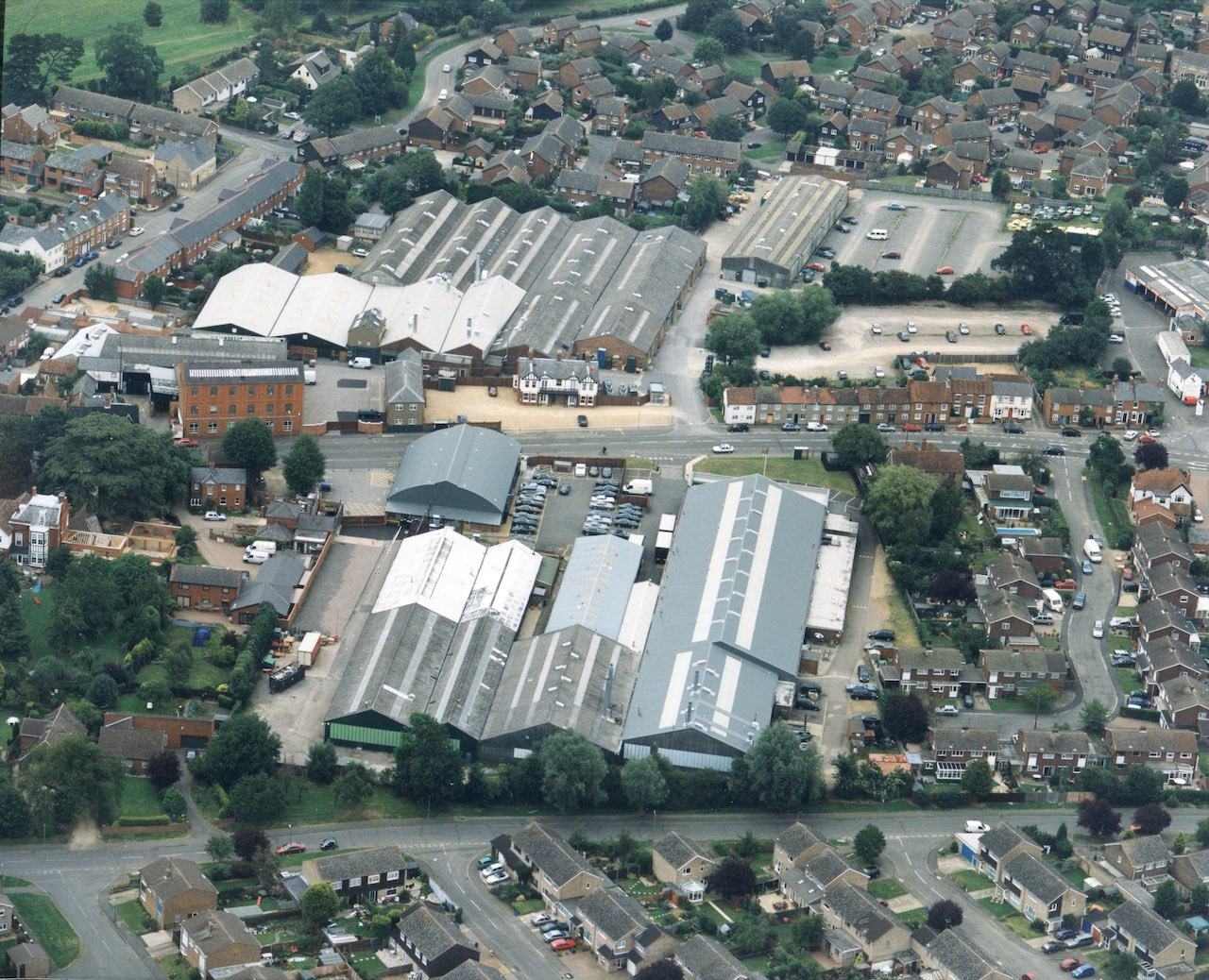 In all, it took eight full weeks to build each V12 Vanquish at Newport Pagnell, and the business initially set out to create around 300 of the cars each year. As demand soared, however, and waiting lists ran into years, that build figure grew closer to 500 cars per year.
V12 Vanquish engine and gearbox
The all-alloy twin overhead camshaft 48 valve 6.0-litre V12 engine was capable of generating 460 bhp at 6,500 rpm, and 556 Nm of torque at 5,000 rpm, and on to 190 mph. The V12 engine benefited from new design inlet manifolds, camshafts, valve gear, crankshaft and a new exhaust system which combined to increase power by seven per cent.
To ensure that heat from the engine and exhaust system was insulated from the body structure the entire exhaust system and the front bulkhead is clad in a heat resistant material first developed for the aerospace industry.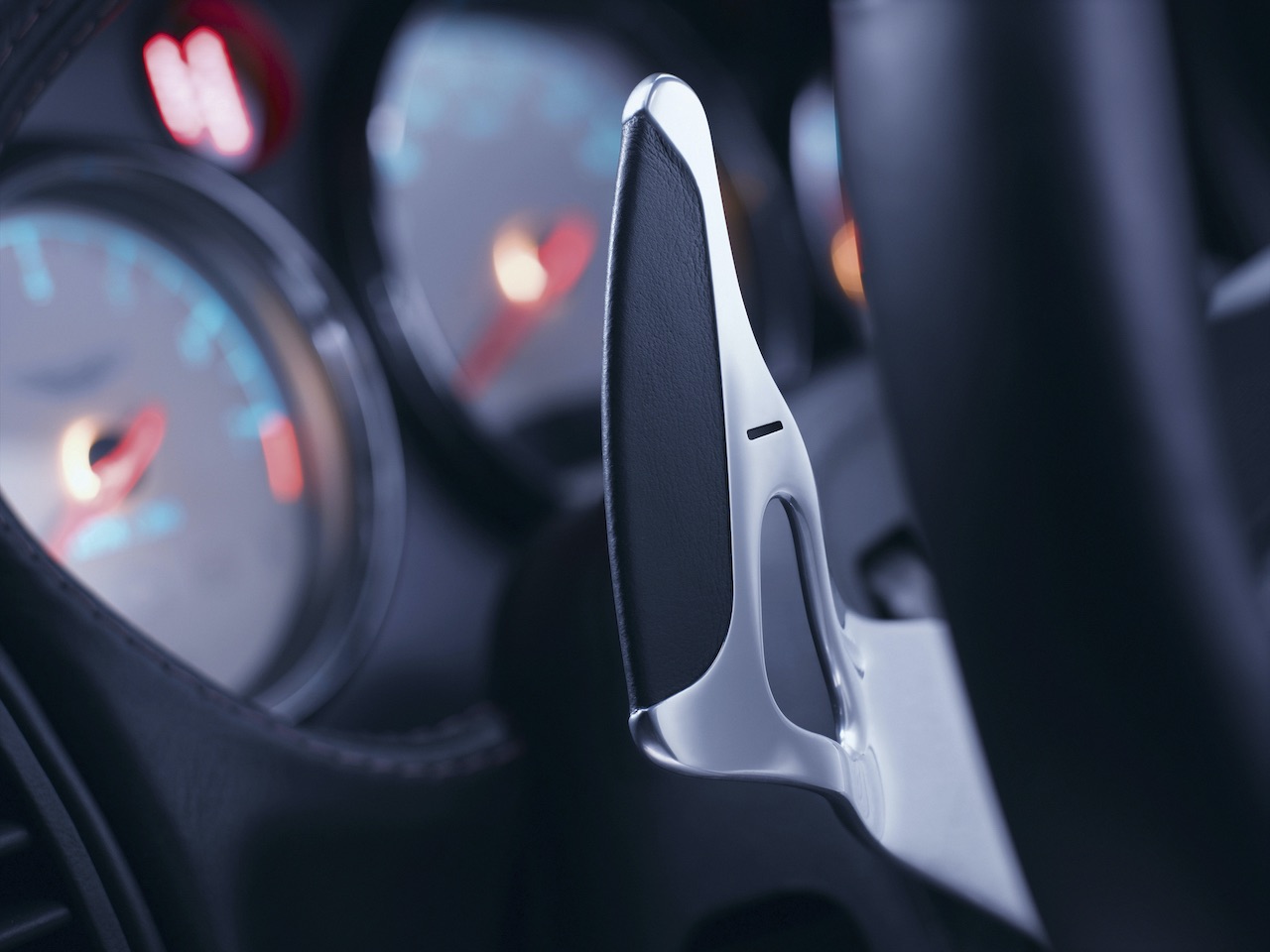 The six-speed close ratio manual transmission in the V12 Vanquish is linked to the car's electronic drive-by-wire throttle and controlled through twin paddles mounted on the steering column.
Famously dubbed "flappy paddles" by leading writer and automotive journalist Jeremy Clarkson, the cutting edge F1©-inspired gearbox debuted in the V12 Vanquish incorporated electronics matched to hydraulics to facilitate faster gear changes. Sophisticated electronics also permitted the manual transmission to operate automatically with the additional facility of a programme for winter driving conditions.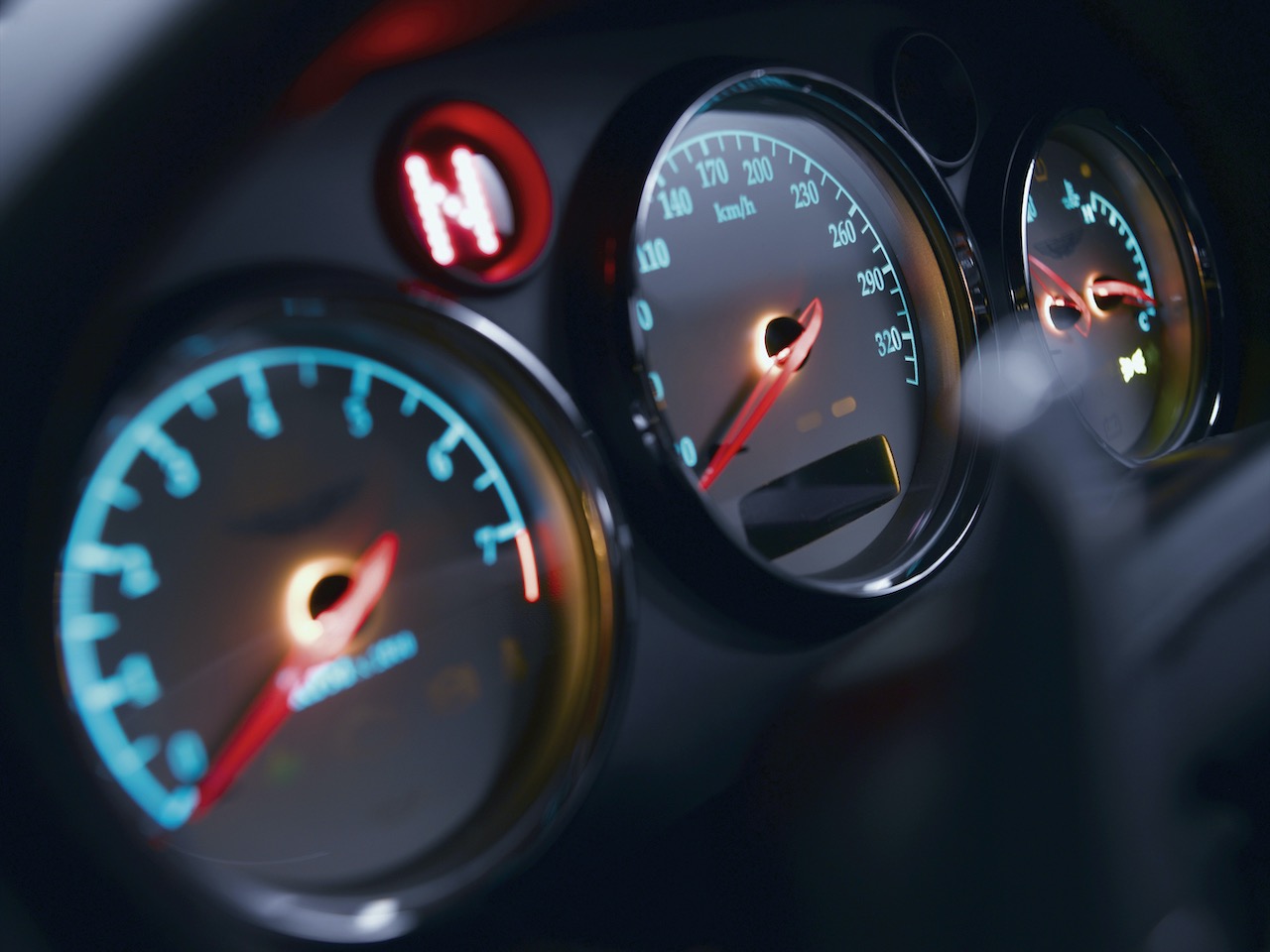 More recently, a manual conversion package has been engineered by Aston Martin and offered to owners via the brand's in-house heritage centre and new car dealership: Aston Martin Works. So far, around 130 original Vanquish models have been converted to manual transmission, with an average of around ten cars per year making their way to Works for the conversion process to be carried out.
V12 Vanquish S – Aston Martin's fastest production sports car yet
At the time the fastest production model yet built by Aston Martin, the V12 Vanquish S made its world debut at the Paris Motor Show in September, 2004.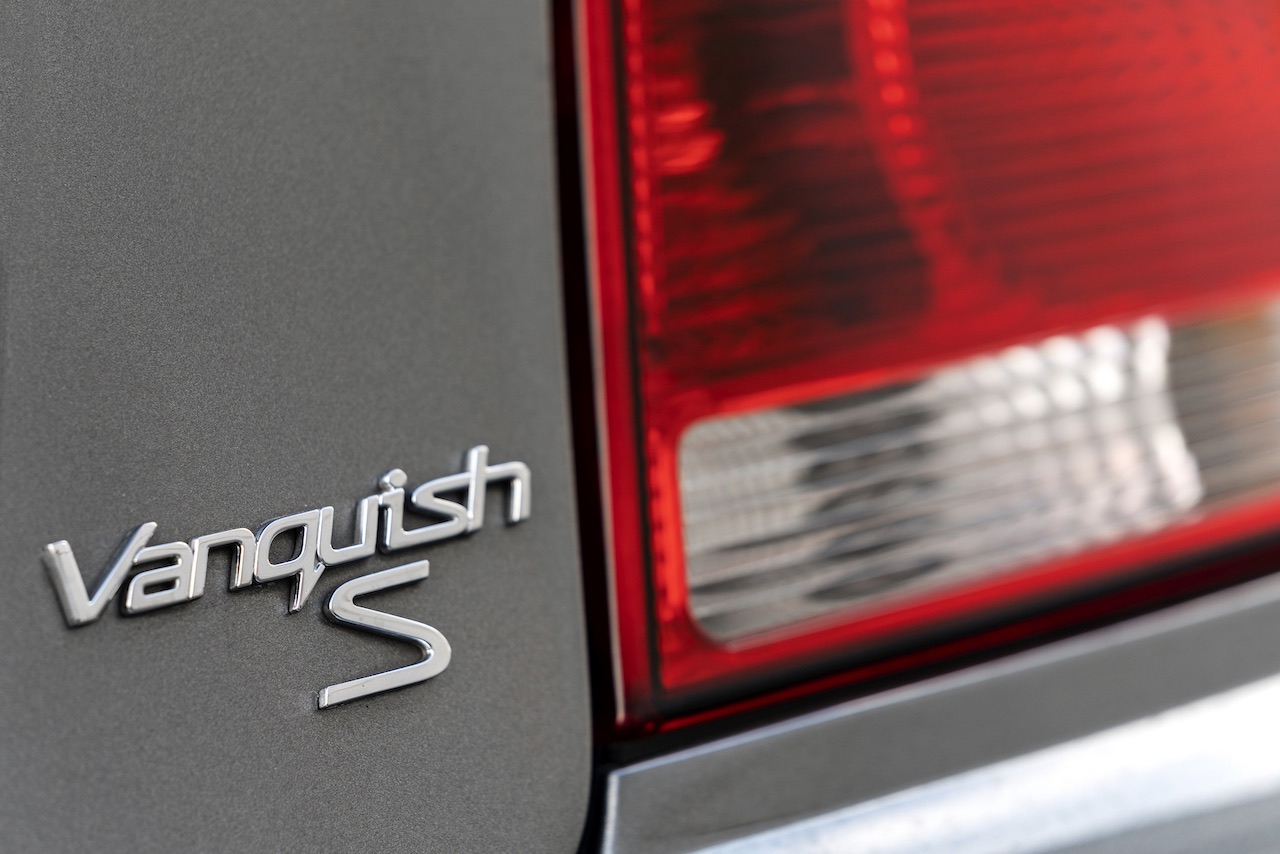 With a maximum speed in excess of 200 mph (321 km/h) and a 6.0-litre V12 engine now developing 520 horsepower, the V12 Vanquish S was designed to deliver even greater performance, complemented by subtle suspension and steering changes and a number of interior and external style revisions.
Further development of Aston Martin's all alloy, quad-overhead camshaft, 48 valve, 6.0-litre V12 engine generated an increase in power from 460 bhp to 520 bhp (388kW) @ 7000 rpm and torque was boosted to 425 lb ft (577 Nm) @ 5800rpm.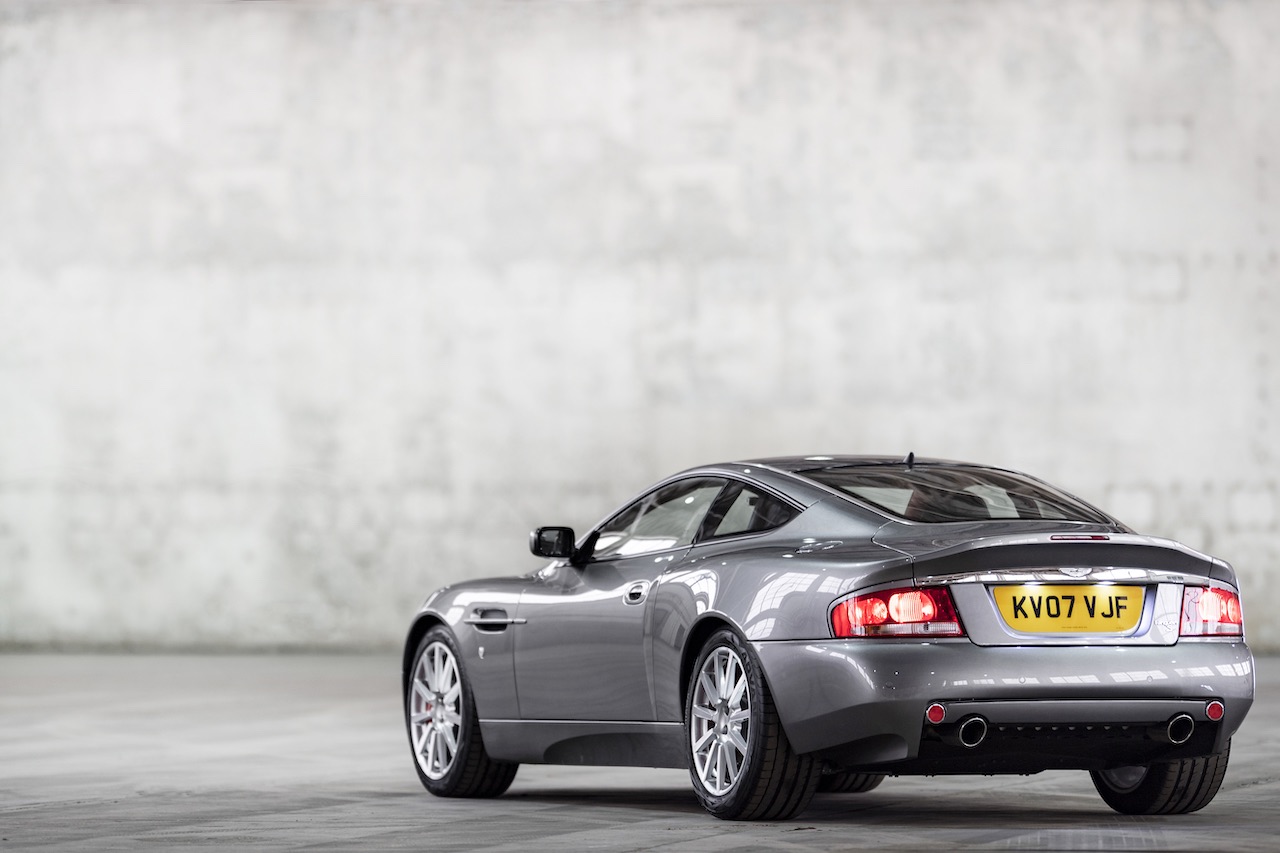 Engine enhancements included new cylinder heads with fully machined inlet ports and combustion chambers to improve airflow, revised engine mapping and new fuel injectors.
V12 Vanquish S Ultimate marked the end of an era
In February 2007, Aston Martin announced what was – until the development of the marque's successful Continuation programme in 2017 – the end of new car production at Newport Pagnell.
This emotional 'moment in time' was celebrated through the creation of a strictly limited number of V12 Vanquish S Ultimate Edition sports cars. Each of the 40 cars was made available by special request to customers wishing to celebrate the last iteration of a clearly significant car in Aston Martin's history.
A specific colour and trim combination marked out these hugely desirable cars. The coachwork was painted a unique metallic shade called 'Ultimate Black' while, inside, the cars were all trimmed in a semi-aniline leather with coarse stitching, leather headlining and black chrome finish interior fittings. Each car was also fitted with personalised sill plaques denoting its limited edition number.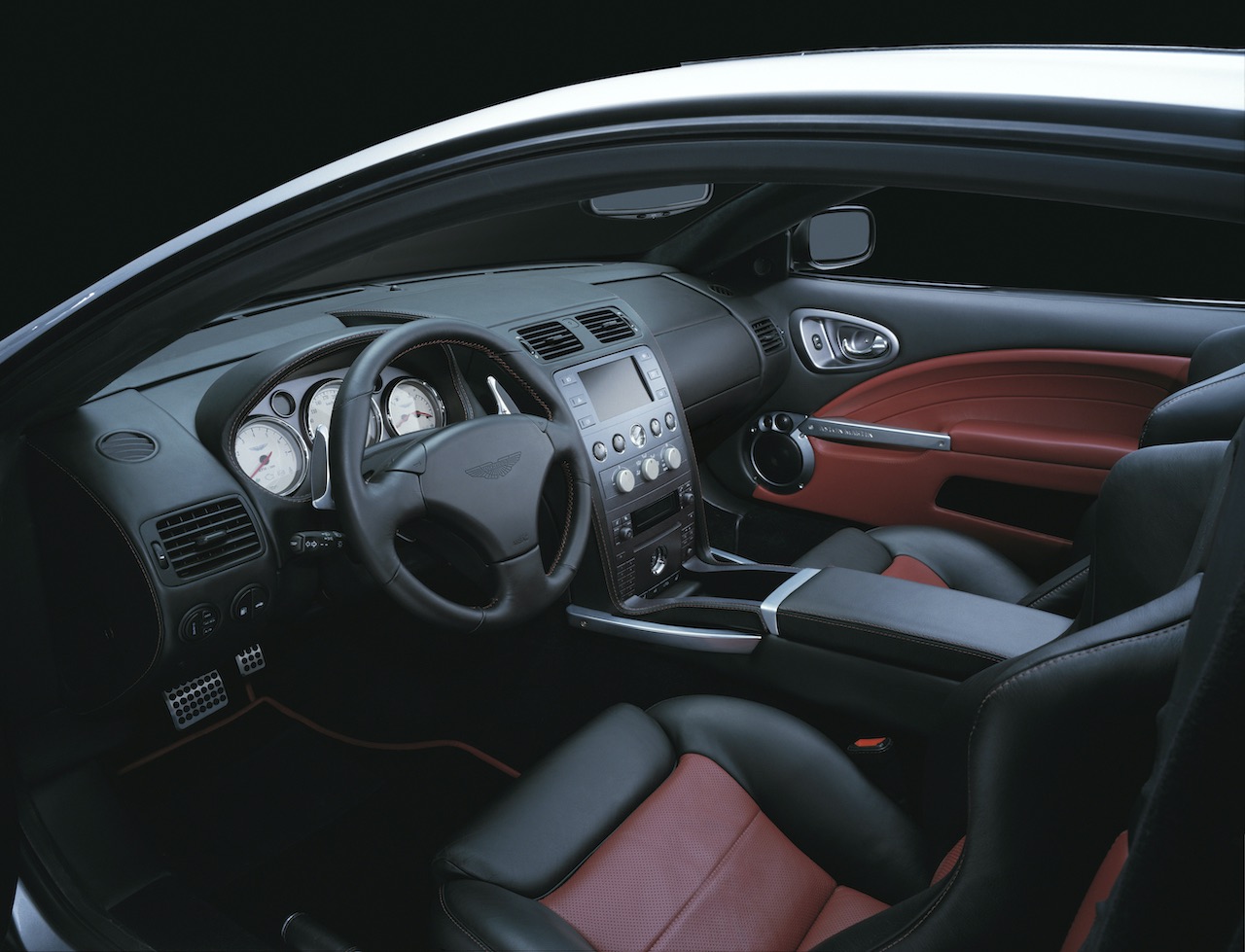 Paul Spires, added: "Here at Newport we rightly celebrate the heritage of this great British sports car marque, with particular emphasis on icons such as the DB5 which were almost all built in this seemingly sometimes sleepy corner of Buckinghamshire.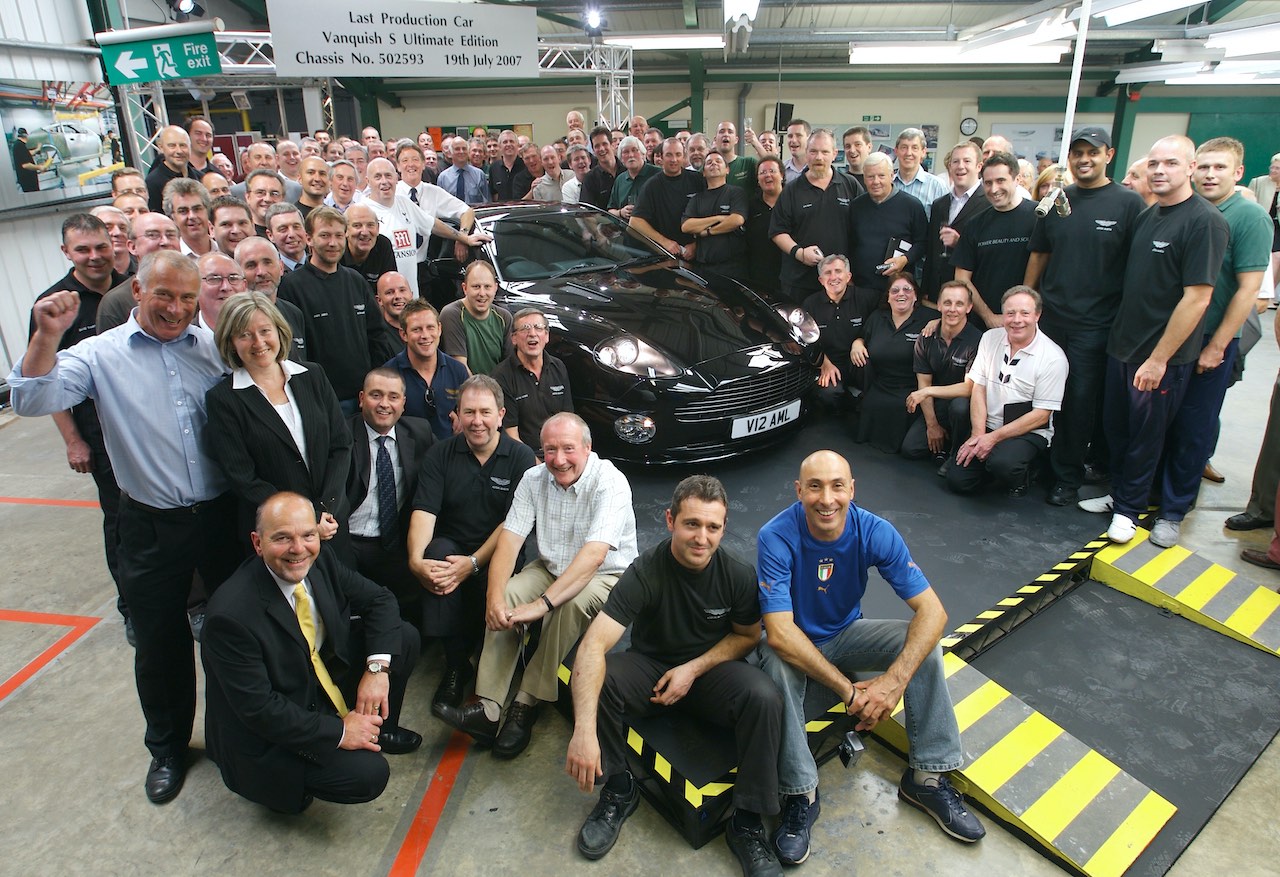 "However, to also be able to lay claim to a 'modern classic' such as the original V12 Vanquish is a great honour for us, and I'm sure that in time people will come to view these cars with the same reverence that is afforded to the early DB cars."